Woodland Park, Colorado: A Gateway to Mountain Living
Posted by Liam Christie on Friday, August 18, 2023 at 11:00 AM
By Liam Christie / August 18, 2023
Comment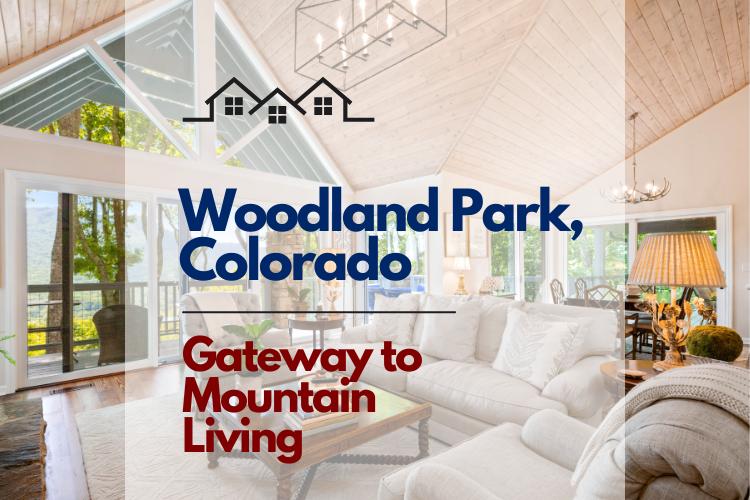 Are you dreaming of a serene, nature-filled lifestyle within a short drive of Colorado Springs? Often called "The City Above the Clouds," might be the perfect place for your next home.
This charming city's altitude of 8,465 feet offers spectacular views of Pikes Peak and the surrounding mountains. With its abundance of open spaces, mature pine forests, and scenic hiking trails, this area offers a unique mountain-town experience.
Outdoor enthusiasts will find a lot to love here. From hiking and biking in the summer to snowshoeing and cross-country skiing in the winter, the options are endless. Let's delve deeper into the myriad features that make this such an attractive place to live.

Schools Near Woodland Park
Woodland Park schools are part of the Woodland Park School District RE-2, known for its emphasis on academic success and community involvement.
Here are some of the schools serving Woodland Park:
Gateway Elementary School: This school serves students in grades PK-5. Gateway Elementary School is known for its innovative learning approaches, including project-based learning. The school also offers a special education program to cater to the needs of all students.
Columbine Elementary School: Serving grades PK-5, Columbine Elementary School offers a nurturing and engaging environment for young learners. The school is known for its strong literacy program and its emphasis on character education. The school also offers a gifted and talented program.
Woodland Park Middle School: This school serves students in grades 6-8. The middle school is known for its strong STEM program and its commitment to fostering a love of learning. The school offers a variety of extracurricular activities, including a robotics club and a drama club.
Woodland Park High School: Serving grades 9-12, Woodland Park High School is the pinnacle of education in the district. The school offers a wide range of AP courses, a robust athletics program, and a variety of clubs and activities that cater to every student's interests. Their state-of-the-art facilities provide an optimal learning environment for students to thrive.

Where to Eat Near Woodland Park
Woodland Park offers a variety of culinary delights that cater to different tastes. Here are some notable places:
Hungry Bear Restaurant: Known for its hearty breakfast and lunch menus, this eatery offers a warm, welcoming atmosphere. Located at 111 E Midland Ave, Woodland Park, CO 80863.
Grandmother's Kitchen: A family-run breakfast and lunch restaurant serving wonderful food with friendly service. 212 E US Highway 24, Woodland Park, CO 80863.
Swiss Chalet Restaurant: Specializing in Swiss and European cuisine, this restaurant is known for its unique dining experience. Located at 19263 E US Hwy 24, Woodland Park, CO 80863.

Convenience & Shopping Near Woodland Park
Gold Hill Square South: This shopping plaza offers an assortment of retailers, services, and dining options.
Woodland Park Plaza: This local shopping center provides a variety of shops and essential services to cater to residents' needs.
Tamarac Square: Offering a selection of stores, eateries, and services, this center meets your everyday shopping needs.
Nature & Outdoor Activities Near Woodland Park
Red Rock Reserve: A perfect spot for hiking and bird-watching, with stunning views of Pikes Peak.
Manitou Lake Park: Ideal for fishing, picnicking, and wildlife viewing, this park is a favorite among locals and tourists alike.
Pike National Forest: Covering over a million acres, this forest offers countless trails for hiking, mountain biking, and camping.

Other Things to Do Near Woodland Park, Colorado Springs
Rocky Mountain Dinosaur Resource Center: A world-class museum that offers a look into the world of dinosaurs and other prehistoric creatures.
Pikes Peak Historical Society Museum: Dive into the rich history of the Pikes Peak region at this interesting museum.
Shining Mountain Golf Course: Enjoy a round of golf on this beautiful 18-hole course that offers breathtaking views of the mountains.

Summary
Woodland Park offers a unique blend of mountain living, convenient amenities, and quality education. Its scenic beauty, array of recreational activities, and strong community spirit make it a highly sought-after locale within the Colorado Springs area.
Whether you're planning to move or seeking a peaceful and active lifestyle, Woodland Park has so much to offer.
If you'd like to learn more about the area, fill out the form to contact Best CS Homes and our team of local, highly-experienced agents or click here to see homes for sale in Woodland Park. We look forward to working with you!
Did we miss anything about Woodland Park (or get something wrong)? Leave us a comment here or message us on Social Media to let us know!
This post was written for Best CS Homes by Liam Christie (Lexcan)