Wolf Ranch, Colorado Springs: Active Family Lifestyles
Posted by Liam Christie on Wednesday, August 2, 2023 at 10:00 AM
By Liam Christie / August 2, 2023
Comment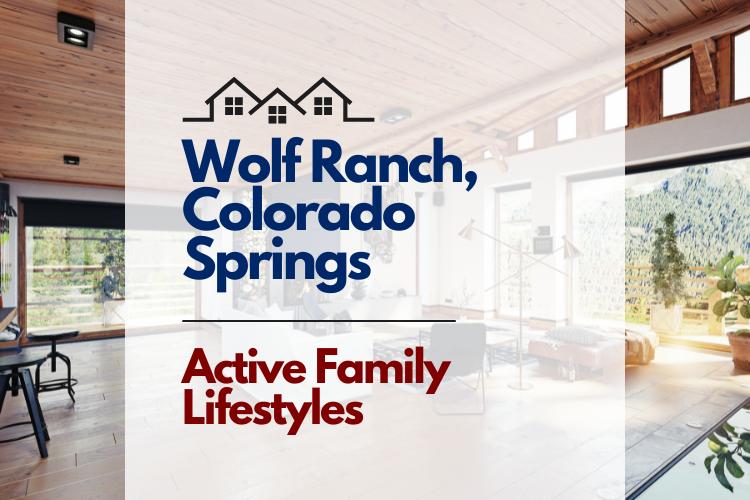 If you're looking for places to live in Colorado Springs, consider Wolf Ranch in the northeast of the city!
The neighborhood's well-planned design incorporates open spaces, parks, and walking trails that accentuate the scenic charm. In Wolf Ranch, you'll find playgrounds, community events, and recreational facilities. The neighborhood focuses on well-being and safety, making it an ideal place to raise children and make friends.
In this article, we'll look at what makes Wolf Ranch and the Colorado Springs area a wonderful place to live.
Schools Near Wolf Ranch
Schools in Wolf Ranch are part of the renowned Academy School District 20, one of Colorado's top-performing school districts.
Here are the specific schools serving the Wolf Ranch community:
Ranch Creek Elementary School: An International Baccalaureate school serving grades K-5, Ranch Creek students begin a rigorous, multi-dimensional learning journey as they grow into global thinkers. The campus is welcoming, genuine, and equal for all.
Timberview Middle School: This school serves grades 6-8 and offers a comprehensive curriculum with a variety of elective courses. It has a strong athletics program and offers a variety of clubs and activities.
Liberty High School: Serving grades 9-12, Liberty High School encourages students to take ownership of their learning, creating uniquely distinct places for themselves and their classmates. The school motto is "Give me a place to stand and I will move the earth."

Where to Eat Near Wolf Ranch
Residents of Wolf Ranch have a variety of dining options to explore. Here are a few notable mentions:
Kohnami Sushi: An authentic Japanese restaurant that offers a variety of sushi and sashimi options. Located at 7673 N Union Blvd, Colorado Springs, CO 80920.
Ted's Montana Grill: A rustic, upscale steakhouse where you can enjoy the finest cuts of meat. Located at 1685 Briargate Pkwy, Colorado Springs, CO 80920.
Vaqueros Mexican: A festive Mexican restaurant known for its delicious tacos and vibrant atmosphere. Located at 0605 Prominent Point, Colorado Springs, CO 80924.

Convenience & Shopping Near Wolf Ranch
The Promenade Shops at Briargate: Experience a premier shopping experience at The Promenade Shops at Briargate. With a mix of local boutiques and national retailers, the lifestyle center offers everything from fashion to home goods.
Union Heights: Discover a unique shopping experience at Union Heights. This shopping center offers a diverse mix of stores, services, and eateries, ensuring there's something for everyone.
Wolf Ranch Town Center: With a variety of retail stores and services, Wolf Ranch Town Center makes shopping convenient for all residents.

Nature & Outdoor Activities near Wolf Ranch
Wolf Lake Park: Take in the great outdoors at Wolf Lake Park! With its beautiful walking trails, picnic areas, and playground, it's an ideal location for a family outing.
Gateway Park: This serene park offers a tranquil setting with lush greenery and a peaceful pond. Perfect for relaxation or a family picnic.
Stetson Hills Open Space: Enjoy the vast open spaces and well-maintained trails. Perfect for jogging, hiking, and biking.

Other Things to Do Near Wolf Ranch, Colorado Springs
ProRodeo Hall of Fame: Immerse yourself in the rich history of rodeo at the ProRodeo Hall of Fame. Interactive exhibits and memorabilia make it an interesting visit for all ages.
Rocky Mountain Motorcycle Museum: A must-visit for motorcycle enthusiasts. The museum showcases a collection of classic and vintage motorcycles.
Sky Zone Trampoline Park: An indoor trampoline park that's a great spot for family fun, fitness classes, and even dodgeball games.

Summary
With stunning views of the Pikes Peak and the Front Range, residents of Wolf Ranch enjoy breathtaking landscapes and natural beauty.
The neighborhood's well-planned design incorporates open spaces, parks, and walking trails that accentuate the scenic charm.
Wolf Ranch encourages an active and healthy lifestyle.
Residents also have access to numerous options for outdoor activities, including biking, walking, and jogging trails.
Wolf Ranch distinguishes itself with its stunning views, family-friendly atmosphere, and promotion of an active lifestyle.
If you'd like to learn more about the area, fill out the form to contact Best CS Homes and our team of local, highly-experienced agents or click here to see homes for sale in Wolf Ranch. We look forward to working with you!
Did we miss anything about Wolf Ranch (or get something wrong)? Leave us a comment here or message us on Social Media to let us know!
This post was written for Best CS Homes by Liam Christie (Lexcan)