Rolling Hills, Colorado Springs: A High-Altitude Haven
Posted by Liam Christie on Wednesday, August 16, 2023 at 11:00 AM
By Liam Christie / August 16, 2023
Comment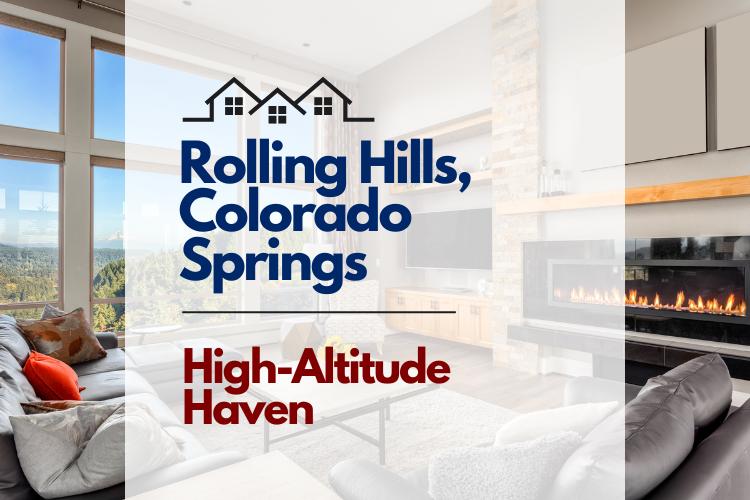 Looking for a peaceful, friendly community in the heart of Colorado Springs? Rolling Hills, a charming neighborhood in the popular Meridian Ranch planned community, might just be the place you're looking for!
Stunning views of the mountains, wide-open spaces, and a strong sense of community give this area a quiet, idyllic lifestyle. Its green spaces, walking paths, and an array of wildlife, perfectly balance suburban living and nature.
Moreover, Rolling Hills has plenty to offer for outdoor lovers. Its proximity to trails, parks, and open spaces allows for easy access to activities like hiking, cycling, and bird watching. Now, let's explore the wealth of features that make Rolling Hills a great place to live in Colorado Springs.

Schools Near Rolling Hills
Schools serving Rolling Hills fall under the jurisdiction of Academy School District 20.
Here's a brief look at some of these schools:
Ranch Creek Elementary School: Ranch Creek Elementary is an International Baccalaureate school serving grades K-5. Students begin a rigorous, multi-dimensional learning journey as they grow into global thinkers.
Discovery Canyon Campus School. DCC is the only pre-K through 12 International Baccalaureate campus in the Northern Hemisphere.
The campus comprises three schools: DCC Elementary School, DCC Middle School, and DCC High School. Each school has its unique approach to education:
The DCC Elementary School provides an entry to education like no other, where students learn through creativity and curiosity.
The DCC Middle School pushes the limits of learning through investigation and exploration. Through inquiry, students create an education that fits them and not the other way around.
The DCC High School is where education and experience come together. It drives students to pursue passions and make personal connections.

Liberty High School: Serving grades 9-12, Liberty High School encourages students to take ownership of their learning. It does this by creating uniquely distinct places for students and their classmates. Liberty High School's motto is "Give me a place to stand and I will move the earth."
Where to Eat Near Rolling Hills
Residents of Rolling Hills enjoy access to a diverse selection of culinary delights. Here are some stand-out options:
The Famous Steak House: A fine dining establishment known for its prime steaks and seafood dishes. Located at 31 N Tejon St, Colorado Springs, CO 80903.
Nano 108 Brewing Company: A local favorite, this brewery offers a variety of handcrafted beers and rotating food trucks. Located at 2402 Waynoka Rd Colorado Springs, CO 80915.
Bird Dog BBQ: Serving delicious, authentic barbecue in a relaxed, family-friendly environment. Located at 5984 Stetson Hills Blvd, Colorado Springs, CO 80922.

Convenience & Shopping Near Rolling Hills
First & Main Town Center: A modern shopping destination offering an eclectic mix of boutiques, national retailers, and entertainment options.
Creekside Shopping Center: Located conveniently close, this center boasts a mix of essential services and retail outlets.
The Citadel Mall: One of the largest shopping malls in Colorado Springs, offering a wide range of stores, eateries, and services.

Nature & Outdoor Activities Near Rolling Hills
Palmer Park: An extensive city park with stunning views, hiking and biking trails, and picnic spots.
Austin Bluffs Open Space: A natural oasis, perfect for hiking, wildlife viewing, and enjoying the beauty of the Colorado landscape.
Villa Loma Park: A community park offering sports fields, a playground, and a lovely picnic area.

Other Things to Do Near Rolling Hills, Colorado Springs
National Museum of World War II Aviation: Explore the history of aviation in World War II at this comprehensive museum.
Peterson Air & Space Museum: Visit this museum to learn about the fascinating history of our nation's air and space endeavors.
Sky Zone Trampoline Park: A family-friendly indoor entertainment venue that's fun for all ages.

Summary
Rolling Hills in Colorado Springs is a captivating gem, offering mesmerizing mountain views, excellent schools, diverse amenities, and abundant recreational opportunities. Rolling Hills offers the best of both worlds - city conveniences and nature's tranquility.
If you'd like to learn more about the area, fill out the form to contact Best CS Homes and our team of local, highly-experienced agents. We look forward to working with you!
Did we miss anything about Rolling Hills (or get something wrong)? Leave us a comment here or message us on Social Media to let us know!
This post was written for Best CS Homes by Liam Christie (Lexcan)