Rock Ledge Ranch
Posted by Mark Main on Monday, September 12, 2022 at 7:00 PM
By Mark Main / September 12, 2022
Comment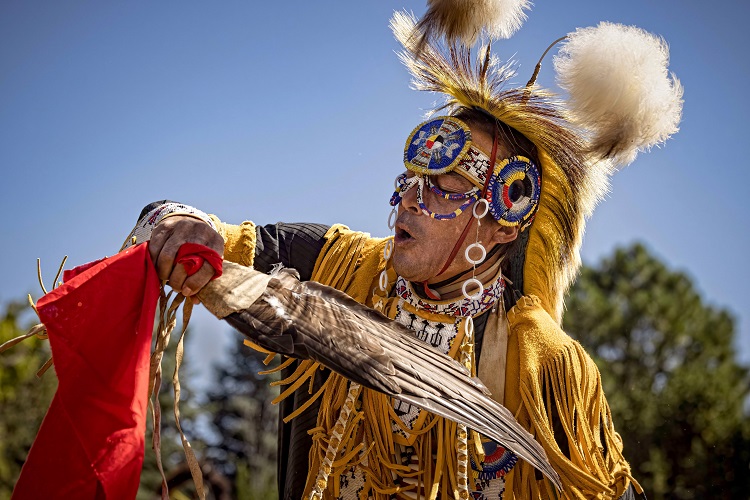 Rock Ledge Ranch
Located at Garden of the Gods, Rock Ledge Ranch Historic Site allows you to step back in time and imagine Colorado Springs in its early days. Experience historical interpreters dressed in historic clothing and participate in tours, demonstrations, and hands-on learning activities. In addition, many special events occur throughout the year.
About Rock Ledge Ranch
This living history museum spans 230 acres. When visiting, you can experience the daily lives of people that lived, hunted, worked, herded, and raised families on this land. It all starts with the occupation of the Camp Creek Valley by the Ute people between 1775 and 1835. You can sit in an authentic buffalo or elk-hide tipi or get out of the sun under the shade arbor.
Next, you can see what the rustic, pre-railroad lifestyle was like in Colorado Springs. Check out the reconstructed homestead cabin of pioneer Walter Galloway. Relax by the fire or make a traditional corn husk doll. Also, visit the farm animals near the vegetable garden. Expect to see chickens, horses, sheep, and a cow.
After this, see what life was like in the Victorian era. Explore the original 1875 Chambers Family Rock Ledge House and test your coordination by walking on stilts or playing the game of graces.
Finally, go see the 1907 Edwardian Orchard House, which was built for the Sclater Family by Colorado Springs founder, General W. J. Palmer. Appreciate the work of domestic servants by helping with the laundry or calling for them using the annunciator. Before you go, you can also watch the blacksmith work in the shop or buy treats and handmade goods at the General Store.
Visiting Rock Ledge Ranch
The ranch grounds are open from dawn to dusk. However, the buildings are only open during the Summer Living History Program and special events. Fees are required for the living history program and special events. If you visit outside of the summer season, you can grab a map from the Ranch's restroom facilities for a free, self-guided tour.
Rock Ledge Ranch is located in West Colorado Springs at this address:
3105 Gateway Rd.
Colorado Springs, CO 80904
Admission Prices and Memberships
You can purchase tickets on-site at the General Store or in the TB (Admissions) Hut.
Adults (18-54): $8

Active or Retired Military: $6

Seniors (55+): $5

Youth (6-17): $4

Children 5 and under: free
Reservations are required for any group of 10 or more. There is a maximum of 60 people per reservation with a 1:10 supervision ratio required. The admission price for groups is $4 each.
If you live in Colorado Springs and plan to visit Rock Ledge Ranch often, consider a membership. The costs are as follows:
Seniors (55+): $20 (includes 2 guest passes)

Senior Couple: $25 (includes 2 guest passes)

Individual: $30 (includes 2 guest passes)

Family: $50 (includes 2 guest passes)

Contributing: $100 (includes 5 guest passes)

Supporting: $250 (includes 5 guest passes)

Benefactor: $500 (includes 5 guest passes)

Legacy: $1,000 (5-year membership plus 10 guest passes)
Educational Opportunities at Rock Ledge Ranch
There are several opportunities to immerse your young learners in the history of the ranch. Here are your options.
Barnyard Buddies
Barnyard buddies is a preschool program that includes storytime, craft, and snack at the ranch. This is held the first Thursday of every month from March through October from 10:30 a.m. to 11:30 a.m. The program is for children six and under and takes place outdoors, so will occur weather permitting.
School at the Ranch
Homeschoolers in the region are invited to consider participating in School at the Ranch. This program is a 34-week enrichment program that is geared toward homeschoolers in kindergarten through 5th grade. Children learn about the Chambers family, who opened the first school in the area at Rock Ledge Ranch in 1875, nature, culture, and history.
Kindergarten through second grade meets on Tuesdays at the Ranch from 9 a.m. to 3 p.m.
3rd through 5th grade meets on Wednesdays at the Ranch from 9 a.m. to 3 p.m.
Annual Events at Rock Ledge Ranch
In addition to educational opportunities, there are many special events held at the Ranch each year. Read more about the events and find links to purchase tickets here.
Sheep Shearing Day
Each year at the beginning of June, Sheep Shearing Day takes place at Rock Ledge Ranch. This is a fun day where you can come watch sheep sheared with traditional and modern equipment. In addition, there are spinning, weaving, dyeing, and carding demonstrations.
Labor Day Baseball
When Labor Day rolls around next year, consider marking your calendar for the annual vintage 1880s-style baseball match. Watch the game and enjoy old-fashioned sodas, popcorn, peanuts, and cracker jacks. Bring a lawn chair or blanket for seating.
Powwow
In 2022, the powwow will take place on September 17 from 10 AM to 5 PM. This event honors and celebrates Native American cultures and history. Experience songs, dances, and traditions. This gathering brings people together and allows them to enjoy dancers, storytellers, food, vendors, and much more.
Autumn Homeschool Day
Homeschool families are invited to Rock Ledge Ranch on Wednesday, October 26, 2022, from 10 AM to 2 PM. This fun day will include both geological experiences at the Garden of the Gods Visitor and Nature Center and historical inquiry at Rock Ledge Ranch. The cost is $4 per person, with children under two being free. You can purchase tickets online, at the Ranch, or at the Visitor and Nature Center.
Harvest Festival
Celebrate the harvest the old-fashioned way at Rock Ledge Ranch. The Harvest Festival will take place on Saturday, October 1, 2022, from 10 AM to 5 PM. There will be wagon rides, old-time music, the chance to visit the blacksmith and Historic Homes, food vendors, and more. Bring small bills for pumpkins, bull rides, and food/beverages.
Holiday Evening
Mark your calendars for Saturday, December 10th from 4 PM to 8 PM to come to experience Holiday Evening at Rock Ledge Ranch. The Ranch is transformed by the sights, sounds, and smells of the festive season. Get into the spirit of the season with wagon rides, old-time musical entertainment, storytelling, Victorian celebrations in the houses, Blacksmith Shop demonstrations, and more. Sip on hot cider, cocoa, and other sweet treats, and stop into the Studio to make a holiday craft.
Living Near Rock Ledge Ranch
Situated in West Colorado Springs, the area near Rock Ledge Ranch is a desirable place to live. There are many luxury homes in the area and residents enjoy the beauty of the foothills and nearby mountains. If you are interested in making this area of Colorado Springs your home, work with an experienced realtor. Mark Main is a trusted name in real estate and always puts the best interests of his clients first. Begin your home search at Best CS homes and contact Mark Main today.