Pueblo West Unveiled: Where Colorado's Spirit Thrives
Posted by Liam Christie on Friday, September 22, 2023 at 10:00 AM
By Liam Christie / September 22, 2023
Comment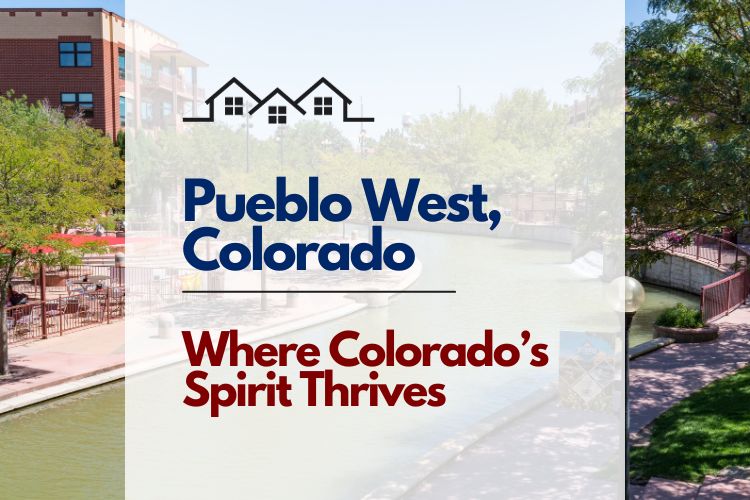 Step into Pueblo West, Colorado, a vibrant community where the spirit of the West is alive and well. Located just a short drive from Pueblo and nestled near the Arkansas River, this town offers a dynamic mix of recreational activities and cultural experiences. One of our top places to live near Colorado Springs, here you can kayak on the river in the morning and explore local art galleries in the afternoon.
Pueblo West is more than a geographical point; it's a state of mind. It's where the sense of community is as strong as the coffee at the local café. Whether you're an outdoor junkie, a history buff, or someone looking for a fresh start, Pueblo West extends an open invitation.
In the article ahead, we'll dig into the compelling features that make Pueblo West a standout choice for your next visit or potential new home. From its diverse outdoor offerings to its lively community events, prepare to be enamored by the unique character of Pueblo West, Colorado.

Schools Near Pueblo West
Pueblo West, Colorado, offers a variety of educational options for families, each with its own unique approach to learning and community engagement. From public schools to charter academies, there's a fit for every student's needs. Let's dive into what each school brings to the table.
Liberty Point Elementary School
Liberty Point Elementary School in Pueblo West is a public school that focuses on a comprehensive curriculum, including STEM subjects. The school has a strong emphasis on community involvement and offers a variety of extracurricular activities such as art and music programs.
Liberty Point International School
Liberty Point International School, also in Pueblo West, is a public school that provides a well-rounded education. The school offers a diverse curriculum that includes advanced courses and a variety of extracurricular activities like sports and arts.
Swallows Charter Academy
Swallows Charter Academy is a public charter school in Pueblo West that offers a balanced academic program. The school has courses in performance arts and aims to close the achievement gap among underserved students. It also offers extracurricular activities to enrich student life.
Pueblo West High School
Pueblo West High School is a public high school that is part of the Pueblo County School District 70. The school is committed to providing a non-discriminatory environment and offers a wide range of educational programs and activities. It also focuses on inclusivity and offers services for students with special education needs.
Where to Eat Near Pueblo West
Hen House Cafe
Looking for a cozy spot to enjoy a hearty breakfast or lunch? Hen House Cafe in Pueblo West is the place to be. Known for their delicious omelets and homemade biscuits, this cafe offers a warm and inviting atmosphere. It's a local favorite for a reason—come find out why!
Located at 53 E Palmer Lake Dr, Pueblo West, CO 81007.
Pho 50
If you're a fan of Vietnamese cuisine, Pho 50 is the place to go. Specializing in pho and other Vietnamese dishes, this restaurant offers a cozy atmosphere and authentic flavors. It's a hidden gem that you won't want to miss.
Located at 191 S Purcell Blvd, Pueblo, CO 81007.
Buckshot Bar & Grill
If you're looking for a lively atmosphere and great food, Buckshot Bar & Grill is your destination. This bar and grill offers a variety of American classics, from burgers to steaks, all while you enjoy live music or a game on the big screen. It's the perfect spot for a night out with friends.
Located at 190 W Palmer Lake Dr, Pueblo West, CO 81007.
Convenience and Shopping Near Pueblo West
Big R of Pueblo: Big R serves the community with a wide range of products. From farm and ranch supplies to outdoor clothing and even home decor, you can find almost anything you need for rural living. Plus, it's a great place to get advice on local needs such as livestock care or farming tips.
Loaf 'N Jug: For quick and convenient shopping, this chain of convenience stores offers snacks, drinks, and basic household items. A reliable option for most day-to-day necessities.
Nature & Outdoor Activities Near Pueblo West
Pueblo West Nature Center: The center serves as an ideal starting point for nature lovers, offering guided tours and educational sessions on local flora and fauna. From here, you can access trails that wind through a variety of landscapes.
Desert Hawk Golf Course: It's more than a place to swing a club; it's a total golfing experience set against a beautiful desert backdrop. As you traverse the course, you'll enjoy wide-open vistas and the area's unique natural beauty.
Liberty Point: This scenic overlook provides panoramic views of Pueblo Reservoir and the surrounding mountains. With picnic tables and plenty of space, it's an excellent spot for a peaceful outdoor lunch or sunset viewing.
Other Things to Do Near Pueblo West
Pueblo West Sportsman's Club: Far more than just a shooting range, this club is a hub for those interested in archery, shotgun sports, and pistol shooting. They host regular competitions and provide training for beginners.
Civic Center Park: Beyond its scenic beauty, this park is often the venue for community events like food truck rallies, outdoor movie nights, and seasonal festivals. It's a vibrant gathering spot for locals.
Swallows Road House: More than a bar or restaurant, it's a motorcycle-friendly spot that features live bands on weekends, making it a unique setting for those looking to enjoy a meal and music under the open sky.

Summary
Pueblo West, Colorado, is more than just a place on the map; it's a community brimming with life and opportunities. Whether you're an outdoor enthusiast, a foodie, or a parent looking for quality education for your kids, this town has something for everyone. From kayaking on the Arkansas River to savoring Vietnamese cuisine at Pho 50, Pueblo West offers a rich blend of recreational and cultural experiences. Schools like Liberty Point Elementary focus on comprehensive curriculums, while spots like Civic Center Park serve as community hubs for events and gatherings.
In a nutshell, Pueblo West is a hidden gem that promises a balanced lifestyle. It's a place where you can enjoy the tranquility of nature at Liberty Point, get your adrenaline pumping at the Sportsman's Club, or simply enjoy a hearty breakfast at Hen House Cafe. With its strong sense of community, diverse educational options, and a plethora of dining and recreational activities, Pueblo West is not just a destination but a potential home. So whether you're planning a visit or considering a move, Pueblo West extends an open invitation to experience its unique character.
Let us know if you'd like to learn about real estate in Pueblo West and other homes for sale near Colorado Springs. Just fill out the form below, and a member of Best CS Homes' local, highly-experienced agents will be in touch!
Did we miss anything about Pueblo West (or get something wrong)? Leave us a comment here or message us on Social Media to let us know!
Written by Liam Christie (Lexcan) for Best CS Homes.