Peyton, Colorado: The Heartland of Adventure and Comfort
Posted by Liam Christie on Thursday, September 21, 2023 at 10:00 AM
By Liam Christie / September 21, 2023
Comment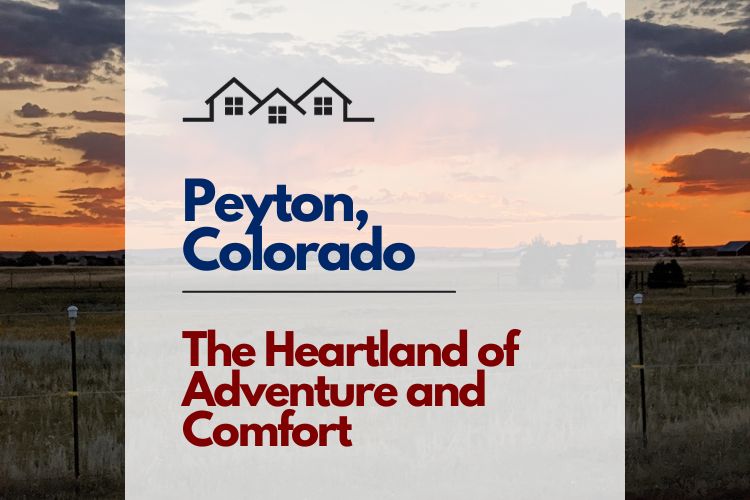 Welcome to Peyton, Colorado, where the open plains meet the rugged Rockies. Situated northeast of Colorado Springs, Peyton offers a unique blend of rural charm and easy access to urban amenities. Picture a life where you can ride horses through sprawling fields by day and enjoy a night out in the city with just a short drive.
Peyton is not merely a location; it's a lifestyle. It's a place where the community gathers for Friday night football games and Sunday farmers' markets. Whether you're a family looking for room to grow, an adventurer seeking new terrains, or someone contemplating a quieter life, Peyton has a unique allure that's hard to resist.
In the upcoming article, we'll reveal the distinctive aspects that make Peyton a must-see, must-experience destination. From its scenic beauty to its warm, community-focused atmosphere, get ready to be charmed by the multifaceted appeal of Peyton, Colorado.

Schools Near Peyton
The area offers a couple of schools that focus on academic excellence and holistic development. Here's a quick rundown of Peyton Elementary School and Peyton Junior-Senior High School.
Peyton Elementary School
Located in Peyton, CO, Peyton Elementary School is a public institution serving grades PK to 6. The school has a student-teacher ratio of 15 to 1 and boasts proficiency rates of 32% in Math and 65% in Reading. The school also offers a variety of extracurricular activities, although specific details are limited.
Peyton Junior-Senior High School
Also part of the Peyton School District, Peyton Junior-Senior High School offers a wide range of sports and activities. The school ensures academic eligibility with weekly reviews and charges activity fees for sports participation. It also has various clubs and organizations, including drama and academic teams, providing a well-rounded educational experience.
Where to Eat Near Peyton
The Prime Cut at Latigo
Indulge in a fine dining experience at The Prime Cut at Latigo in Peyton, Colorado. This upscale restaurant specializes in premium cuts of steak, cooked to perfection. With an extensive wine list and a cozy, elegant atmosphere, it's the perfect spot for a romantic dinner or a special occasion. Don't miss their signature Prime Rib, a melt-in-your-mouth delight that will leave you craving for more.
Located at 13710 Halleluiah Trail, Elbert, CO 80106.
Madera's Grill and Cantina
Spice up your life at Madera's Grill and Cantina! This Peyton-based restaurant offers authentic Mexican cuisine that's bursting with flavor. From enchiladas to margaritas, Madera's has it all. The vibrant atmosphere and friendly staff make it a local favorite for both lunch and dinner.
Located at Antler Creek Dr unit 115, Black Forest, CO 80831.
Purple Toad Social Tap and Grill
Looking for a place to unwind? Head over to Purple Toad Social Tap and Grill in Peyton. This laid-back spot offers a wide range of beers on tap, along with a menu that includes everything from burgers to seafood. It's the perfect place to catch a game or enjoy some live music.
Located at 11870 Stapleton Dr, Peyton, CO 80831.
Convenience and Shopping Near Peyton
High Plains Feed & Supply: If you're looking for agricultural or pet supplies, this local store offers a range of products including feed, hardware, and more.
Sweetwater Trading Post: A general store type of establishment where you can find basic supplies, gifts, and snacks.
Peyton Junction Mercantile: This shop focuses on handcrafted items, antiques, and home decor. It's a great place to find unique and locally made gifts.
Nature & Outdoor Activities Near Peyton
Homestead Ranch Regional Park: The park offers varied outdoor activities from hiking to fishing in the pond. Several well-marked trails provide options for all skill levels, and the park's picnic areas are perfect for a family outing.
The Paint Mines Interpretive Park: It's an open-air museum of geological wonders. The colorful clay formations are not just a sight to behold but also offer an educational glimpse into the area's geological history.
Antler Creek Golf Course: This isn't just about the 18 holes; it's also about the stunning mountain views that accompany you throughout your game. It's a challenging course that rewards you with scenic beauty at every turn.
Other Things to Do Near Peyton
Homestead Ranch Regional Park: This park is a hidden gem offering fishing ponds, hiking trails, and picnic areas. It's a natural oasis perfect for solo or group outings.
Peyton Farmers Market: This isn't just a place to buy veggies; it's a weekly gathering spot for the community. Expect not only fresh produce but also food trucks, live music, and craft stalls.
Dragonfly Paddle Yoga: An unusual twist on regular yoga, it takes the practice onto the water. It's an adventurous and challenging way to achieve zen while balancing on a paddleboard.

Summary
Peyton, Colorado is more than just a scenic spot; it's a lifestyle destination that offers a bit of everything. From its strong sense of community to its diverse range of activities, Peyton is a place that caters to families, adventurers, and those seeking a peaceful life. Whether you're interested in quality education, fine dining, or outdoor adventures, this charming town has got you covered.
In a nutshell, Peyton is where rural tranquility meets modern convenience. With its unique blend of natural beauty and community-focused atmosphere, it's no wonder that Peyton is becoming a must-see, must-experience destination. So if you're looking for a place that offers both adventure and comfort, Peyton, Colorado should be at the top of your list.
Let us know if you'd like to learn about real estate in Peyton and other homes for sale near Colorado Springs. Just fill out the form below, and a member of Best CS Homes' local, highly-experienced agents will be in touch!
Did we miss anything about Peyton (or get something wrong)? Leave us a comment here or message us on Social Media to let us know!
Written by Liam Christie (Lexcan) for Best CS Homes.