Peregrine, Colorado Springs: A Mountainous Sanctuary
Posted by Liam Christie on Wednesday, August 9, 2023 at 11:00 AM
By Liam Christie / August 9, 2023
Comment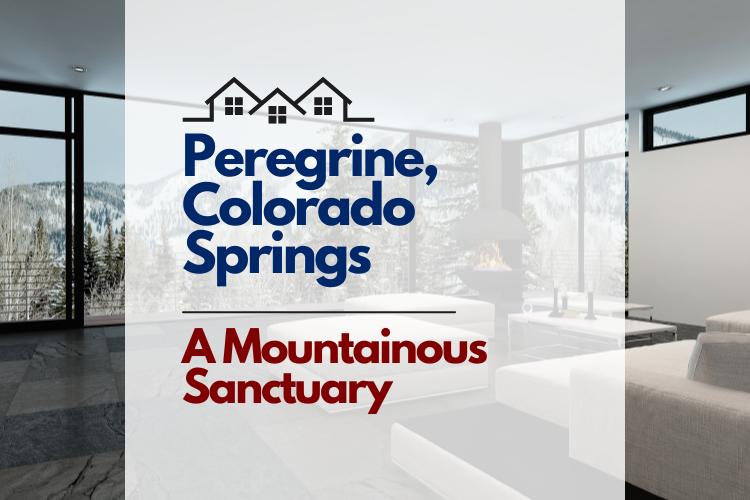 Considering a move to Colorado Springs? Peregrine, a scenic neighborhood perched on the city's northwest side, should undoubtedly be on your radar! Nestled against the backdrop of the picturesque Rocky Mountains, the neighborhood offers a serene and peaceful living environment. Peregrine's abundance of mature trees, scenic trails, and wildlife sightings provide residents with a close connection to nature.
Peregrine is also a haven for outdoor enthusiasts. An abundance of nearby trail networks and open spaces make it perfect for hiking, mountain biking, and trail running. Residents have easy access to the beautiful natural surroundings, allowing them to explore and enjoy the great outdoors.
Let's delve into the myriad features that contribute to Peregrine's appeal as a living destination.
Schools Near Peregrine
The schools in Peregrine are part of Academy School District 20, one of Colorado's most esteemed educational districts.
Here's a brief overview of the specific schools that serve Peregrine:
Woodmen-Roberts Elementary School: This school serves grades K-5 and offers a comprehensive curriculum with a focus on literacy, math, science, and social studies. It also offers art, music, and physical education.
Eagleview Middle School: Serving grades 6-8, this school provides a rigorous academic program with an emphasis on science, technology, engineering, and math (STEM). It offers a variety of extracurricular activities, including sports, clubs, and music programs.
Air Academy High School: A unique public school where all students can be successful. Students gain a competitive edge through STEAM coursework, hands-on experiences, and teachers collaborate to create a learning environment steeped in character and care. The school mascot is the Kadet.

Where to Eat Near Peregrine
Residents of Peregrine can indulge in a wide array of gastronomic delights. Here are some notable mentions:
Marigold Cafe & Bakery: This French-inspired eatery serves a medley of delectable pastries and gourmet dishes. Located at 4605 Centennial Blvd, Colorado Springs, CO 80919.
Biaggi's Ristorante Italiano: An Italian restaurant known for its inviting ambiance and authentic dishes. Located at 1805 Briargate Pkwy, Colorado Springs, CO 80920.
Back East Bar & Grill: A vibrant sports bar featuring classic American cuisine and a wide range of beer selections. Located at 9475 Briar Village Point #168, Colorado Springs, CO 80920.

Convenience & Shopping Near Peregrine
The Promenade Shops at Briargate: Indulge in a luxurious shopping experience at The Promenade Shops at Briargate. This lifestyle center features an eclectic mix of local boutiques and national retailers.
University Village Colorado Shopping Center: Conveniently located, this shopping center offers a diverse mix of stores and services to meet your everyday needs.
Briargate Crossing: Fulfill your retail needs at Briargate Crossing, which hosts a range of stores and services, from fitness centers to beauty salons, as well as various dining options.

Nature & Outdoor Activities Near Peregrine
Blodgett Peak Open Space: Enjoy a day out in nature at Blodgett Peak Open Space! Its hiking trails offer panoramic views of the city and mountains.
Ute Valley Park: This natural reserve provides an ideal setting for hiking, mountain biking, and wildlife viewing.
Marshall Sprague Park: A charming community park with sports fields, a playground, and picnic areas.

Other Things to Do Near Peregrine, Colorado Springs
ProRodeo Hall of Fame: Experience the thrill of the West at the ProRodeo Hall of Fame, which pays tribute to the sport of Rodeo.
Garden of the Gods Visitor & Nature Center: Explore the geologic wonders and diverse flora and fauna of the region at the Garden of the Gods.
Rock Ledge Ranch Historic Site: Step back in time and learn about the region's history at this living history museum.

Summary
Peregrine offers more than just picturesque mountain views. Its well-regarded schools, quality amenities, and array of recreational opportunities make it a highly sought-after locale within the Colorado Springs area.
Whether you're scouting for a new home or looking for a lifestyle filled with comfort and convenience, Peregrine has plenty to offer.
If you'd like to learn more about the area, fill out the form to contact Best CS Homes and our team of local, highly-experienced agents or click here to see homes for sale in Peregrine. We look forward to working with you!
Did we miss anything about Peregrine (or get something wrong)? Leave us a comment here or message us on Social Media to let us know!
This post was written for Best CS Homes by Liam Christie (Lexcan)