Northwest Colorado Springs: Your Gateway to Elevated Living
Posted by Liam Christie on Friday, September 29, 2023 at 10:00 AM
By Liam Christie / September 29, 2023
Comment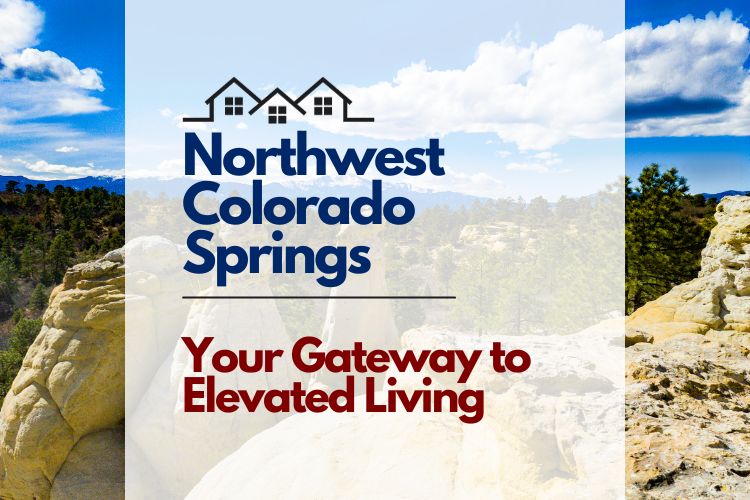 Welcome to Northwest Colorado Springs, where the essence of mountain living blends seamlessly with urban convenience. Situated in the city's northwest quadrant, this area offers a rich tapestry of experiences, from upscale dining to rugged outdoor adventures. Picture yourself savoring a gourmet meal one moment and hitting the mountain trails the next.
In today's installment of our Beyond the Springs series, we'll look at why this is such a popular place to live near Colorado Springs.

Schools Near Northwest Colorado Springs
Northwest Colorado Springs school districts offer a variety of educational options for families. Here's a quick rundown of some schools you might consider.
Woodmen Roberts Elementary School
Woodmen Roberts Elementary School is a public school serving Pre-K to 5th grade. It offers a variety of programs, including special education and gifted and talented programs.
Hope Montessori Academy
Hope Montessori Academy is a private school that focuses on the Montessori Method, known for its positive impact on children's education.
Coronado High School
Coronado High School is situated on the west side of Colorado Springs, near the base of Pikes Peak and overlooking the Garden of the Gods. The school is renowned for its award-winning robotics and music programs, as well as its strong community involvement, highlighted by its annual Homecoming Parade.
Where to Eat Near Northwest Colorado Springs
3.14 Pi Bar
A new restaurant in the area that opened during COVID, the Pi Bar offers a wide variety of savory pot pies, sweet pies, custom cocktails, and craft beer. Located at 5152 Centennial Blvd, Colorado Springs, CO 80919.
Josh & John's
This ice cream parlor is famous for its naturally slow-churned ice cream and its variety of unique and classic flavors. Located at 6896 Centennial Blvd, Colorado Springs, CO 80919.
Wyatt's Pub
A classic neighborhood bar where you can enjoy a cold beer and hearty pub food in a laid-back atmosphere. Located at 806 Village Center Dr, Colorado Springs, CO 80919.
Flying W Ranch & Chuckwagon Supper
A unique experience offering a taste of the Old West, complete with a chuckwagon supper and live Western entertainment. Located at 3330 Chuckwagon Rd, Colorado Springs, CO 80919.

Convenience and Shopping Near Northwest Colorado Springs
University Village Colorado Shopping Center: This large center has a mix of big-name stores and local boutiques. You can find everything from clothing to electronics to home goods.
King Soopers: King Soopers is a one-stop shop for groceries, household items, and even clothing. You can also find a pharmacy and a fuel center, making it convenient for errands.
Trader Joe's: For unique grocery items and delicious snacks, Trader Joe's is a great choice for everyday shopping and special finds.

Nature & Outdoor Activities Near Northwest Colorado Springs
Ute Valley Park: Tucked between suburban life and natural beauty, Ute Valley Park offers an excellent variety of trails for both hiking and mountain biking. With beautiful sandstone formations and an array of pine forests, you can escape the city's hustle and bustle without going far.
Blodgett Peak Open Space: This is more than a walk in the woods. The trail challenges you with its steep inclines, but the reward is a breathtaking 360-degree view of Colorado Springs and the surrounding area. It's a strenuous but rewarding venture.
Wilson Ranch Pool: Hot Colorado summers are no match for this swimming oasis. This outdoor area features a variety of pools to fit all ages, including a splash area for toddlers, making it a family-friendly place to cool down.

Summary
If you're in the market for a well-rounded community that offers a bit of everything, look no further. Northwest Colorado Springs' unique blend of natural beauty, educational opportunities, and culinary delights make for a compelling option. From outdoor enthusiasts to foodies to quality education, you can elevate your expectations in Northwest Colorado Springs.
Let us know if you'd like to learn about real estate in Northwest Colorado Springs and other homes for sale near Colorado Springs. Just fill out the form below, and a member of Best CS Homes' local, highly-experienced agents will be in touch!
Did we miss anything about Northwest Colorado Springs (or get something wrong)? Leave us a comment here or message us on Social Media to let us know!

Written by Liam Christie (Lexcan) for Best CS Homes.