Northgate, Colorado Springs: Blending Comfort and Adventure
Posted by Liam Christie on Thursday, September 28, 2023 at 10:00 AM
By Liam Christie / September 28, 2023
Comment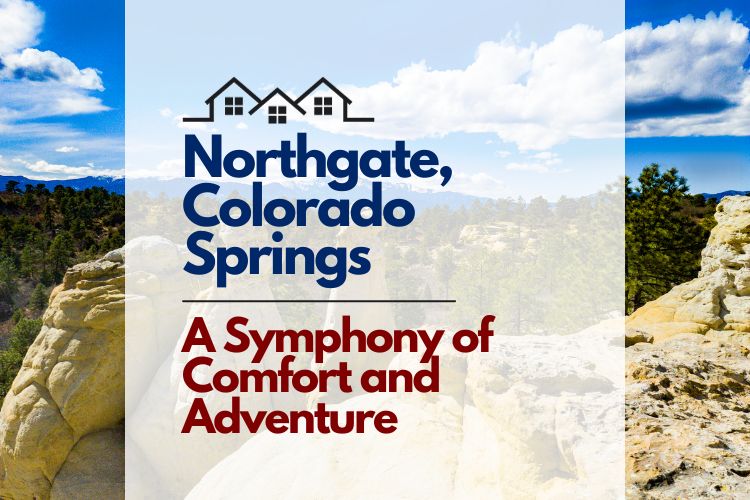 The Northgate area of Colorado Springs is a vibrant corner where comfort meets adventure, serving as a gateway to the Air Force Academy and the Rocky Mountains.
More than a geographical location, Northgate blends modern living with the call of the wild, offering diverse experiences for all ages.
Today, we feature Northgate as part of our Beyond the Springs series and explore what makes it such a desirable place to live near Colorado Springs.

Schools Near Northgate, Colorado Springs
This area is a goldmine of educational opportunities, each school offering its own unique blend of academics and extracurriculars.
The Da Vinci Academy
The Da Vinci Academy is a breeding ground for young innovators and thinkers, with a curriculum that fosters excellence across arts and sciences.
The Classical Academy
The Classical Academy is where tradition meets modernity, combining classical education with the excitement of contemporary learning.
Challenger Middle School
Challenger Middle School is where academic dreams take flight. High test scores and a diverse student body create a melting pot of talent and ambition.

Where to Eat Near Northgate
Momma Pearl's Cajun Kitchen
Spice up your life with Momma Pearl's Cajun Kitchen! This restaurant offers a rich tapestry of flavors from the bayou, right here in Colorado Springs, from gumbo to jambalaya. Located at 162 Tracker Dr, Colorado Springs, CO 80921.
Bourbon Brothers Smokehouse & Tavern
Bourbon Brothers Smokehouse & Tavern is a must-visit for those who appreciate the smoky goodness of BBQ. With a menu that boasts a variety of smoked meats and tasty desserts, it's a culinary experience you won't forget. Located at 13021 Bass Pro Dr, Colorado Springs, CO 80921.

Convenience and Shopping Near Northgate
Bass Pro Shops: In the Polaris Pointe shopping area, Bass Pro Shops is a haven for outdoor enthusiasts. With its vast inventory, you can find almost anything outdoor-related, making it a one-stop shop for outdoor gear.
Sprouts Farmers Market: For those who prefer organic and natural groceries, Sprouts offers a wide range of healthy options. From fresh produce to natural supplements, it's a grocery store focusing on well-being.
The Promenade Shops at Briargate: This open-air shopping center features various retail stores, including big-name brands and smaller boutiques.

Nature & Outdoor Activities Near Northgate
Fox Run Regional Park: Nestled amidst pine forests, Fox Run Regional Park offers an expansive space for all kinds of outdoor fun and activities.
Springs Ranch Golf Course: Golfing here is like an art form, accentuated by the natural beauty of Colorado's landscape, including panoramic views of Pikes Peak and the Front Range.
Trampoline World Gymnastics: The professional-grade outdoor trampoline offers more than a few minutes of leisurely jumping. It's designed for those who take their flips and aerial tricks seriously!

Other Things to Do Near Northgate
Western Museum of Mining & Industry: While the main exhibits are indoors, the museum grounds offer mining equipment displays and farm animals. It's a perfect way to combine learning with outdoor exploration.
Eisenhower Golf Course: This isn't just another golf course; it's one with an Air Force Academy backdrop. Here, you can swing your club against the scenic panorama of the surrounding mountains.

Summary
Northgate in Colorado Springs is a haven for those seeking a balanced lifestyle combining modern comforts and outdoor adventures. From its proximity to the Air Force Academy and the Rocky Mountains to the many available schools, Northgate offers something for everyone.
Let us know if you'd like to learn about real estate in Northgate and other homes for sale near Colorado Springs. Just fill out the form below, and a member of Best CS Homes' local, highly-experienced agents will be in touch!

Did we miss anything about Northgate (or get something wrong)? Leave us a comment here or message us on Social Media to let us know!

Written by Liam Christie (Lexcan) for Best CS Homes.