Northeast Colorado Springs: Modern Living & Natural Splendor
Posted by Liam Christie on Wednesday, September 27, 2023 at 11:30 AM
By Liam Christie / September 27, 2023
Comment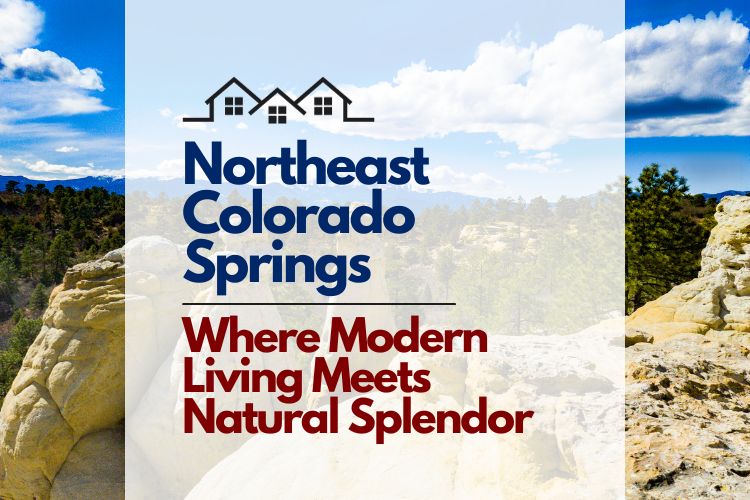 Welcome to Northeast Colorado Springs, where contemporary amenities blend with the great outdoors. This vibrant and conveniently located area offers a balanced lifestyle for both urbanites and nature lovers.
This article explores the unique attributes that make this area compelling for living, working, and playing. From modern shopping centers to scenic parks, get ready to discover the diverse offerings of Northeast CO Springs.

Schools Near Northeast Colorado Springs
Northeast Colorado Springs school districts offer various options catering to different educational needs and preferences. Whether you're looking for a school that emphasizes academic rigor, fosters creativity, or provides a close-knit community, you'll find something that fits the bill.
Trailblazer Elementary School
Trailblazer Elementary School goes beyond strong academics and extracurriculars, offering special programs for gifted and talented students and special education services. Community involvement is a big part of the Trailblazer experience, with an active PTA and various community events.
Eagleview Middle School
Eagleview Middle School offers a challenging academic environment with the availability of Advanced Placement courses. Students can also engage in various extracurricular activities, from sports to music and clubs.
CIVA Charter High School
CIVA Charter High School is a unique institution that offers a blend of academic rigor and creative expression. The school provides AP courses and strongly focuses on arts and performing arts. Extracurricular activities include sports like climbing and fencing.

Where to Eat Near Northeast Colorado Springs
Narai Thai Restaurant
Narai Thai Restaurant is your go-to spot in Northeast Colorado Springs if you're yearning for authentic Thai flavors. Serving high-quality Thai cuisine since 2008 in the Rockrimmon area and since 2014 in the Broadmoor/Cheyenne Mountain area, this local favorite never disappoints. Located at 805 Village Center Dr, Colorado Springs, CO 80919.
Black Bear Diner
Black Bear Diner in Northeast Colorado Springs is your go-to spot if you're yearning for hearty, home-style cooking. Known for its generous portions and friendly atmosphere, this diner offers a wide range of comfort foods, from fluffy pancakes to savory meatloaf. Located at 1340 Garden of the Gods Rd, Colorado Springs, CO 80907.
Bonefish Grill
For seafood aficionados, Bonefish Grill is a culinary oasis. Situated in Northeast Colorado Springs, this upscale casual dining restaurant specializes in market-fresh fish from around the world. Located at 5102 North Nevada Avenue, Colorado Springs, CO 80918.
BJ's Brewhouse and Bar
If you're looking for a place that offers great food and craft beer, BJ's Brewhouse and Bar is the place to be. Located at 5150 North Nevada Avenue, Colorado Springs, CO 80918.

Convenience and Shopping Near Northeast Colorado Springs
King Soopers: This grocery chain is a staple for many Coloradans. Offering a broad array of food items, toiletries, and household products, King Soopers is a one-stop shop for daily necessities.
Chapel Hills Mall: This shopping mall provides a broad selection of shopping options. From department stores like JCPenney to specialty shops and dining options, you'll find an array of retail experiences.
The Promenade Shops at Briargate: Located within a 5-minute drive, this upscale outdoor shopping area offers a variety of stores ranging from fashion to home goods. Brands like Athleta, Williams-Sonoma, and Lululemon have stores here, providing a mix of high-quality shopping options in a pleasant atmosphere.

Nature & Outdoor Activities Near Northeast Colorado Springs
Palmer Park: This park is an outdoor enthusiast's paradise, offering everything from hiking and mountain biking trails to horseback riding.
The Club at Flying Horse: If luxury and outdoor activities are your blend, this club offers tennis courts and a heated outdoor pool far from ordinary.
Colorado Balloon Lift-Off: This event goes beyond the excitement of watching colorful hot air balloons ascend into the sky.

Summary
If you're looking for places to live near Colorado Springs, the Northeast of the city offers the best of urban and natural worlds. Whether you're into hiking or prefer a day of shopping and fine dining, Northeast Colorado Springs has something for everyone.
Let us know if you'd like to learn about real estate in Northeast Colorado Springs and other homes for sale near Colorado Springs. Just fill out the form below, and a member of Best CS Homes' local, highly-experienced agents will be in touch!
Did we miss anything about Northeast Colorado Springs (or get something wrong)? Leave us a comment here or message us on Social Media to let us know!

Written by Liam Christie (Lexcan) for Best CS Homes.