Mountain Arts Festival
Posted by Mark Main on Monday, July 25, 2022 at 7:00 PM
By Mark Main / July 25, 2022
Comment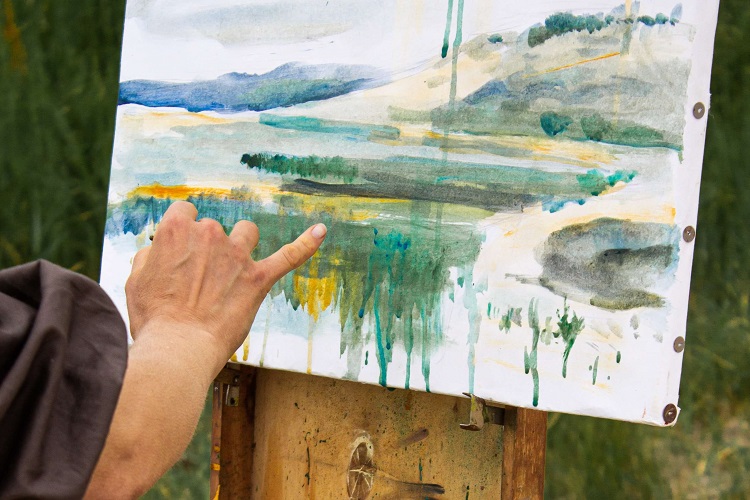 It's always a pleasure to appreciate local and national art. All residents of the Pikes Peak region are invited to do so at the 37th Annual Mountain Arts Festival. This event will take place in Woodland Park on Saturday, August 7, from 10 AM to 5 PM, and Sunday, August 8, from 10 AM to 4 PM. Come to the Ute Pass Cultural Center for the festival. If you live in Colorado Springs, it's an easy drive up Ute Pass to get to Woodland Park. Make a day of it and grab a bite to eat, do some shopping, or go for a hike in the City Above the Clouds.
Details About the Mountain Arts Festival
The Mountain Arts Festival will take place on the grounds of the Ute Pass Cultural Center. Walk around the beautiful grounds and experience art from 75-80 artists. Those who have registered will feature many different types of art. Expect to see acrylic, oil, and watercolor paintings. In addition, view woodworking, pottery, metal work, jewelry, and weavings. Art enthusiasts from the entire region enjoy gathering for this event.
Entry to the festival is free and $20 coupons will be drawn every hour for attendees. Use these coupons to purchase art from one of the artisans. If you are looking for some great art pieces for your home or for a gift, this is a great place to shop. Plus, many artists will be doing demonstrations. Watch them work and ask questions about their craft.
Come hungry because food vendors will also be at this event. You can grab lunch while you walk around and view the art in a relaxed, small-town environment.
Participating in the Mountain Arts Festival
At this point, the application deadline for this festival has passed. However, if you are a local artist that would like to participate, keep this event in mind for next year. Each artist must fill out an application and agree to the terms of the event. Only those who create their art by hand are allowed to participate.
A committee of members of the Mountain Artists judges all applications and look for quality, salability, and uniqueness. The registration fee is $175 for a 10'x10' booth or $200 for a booth with electricity. If you are not selected as a participant, this fee will be returned to you. In addition to this requirement, each artist must submit three digital images in JPEG format. Participants may share a booth with a maximum of one other person, but images of both artists' work need to be submitted.
About The Mountain Artists
The Mountain Artists is a group of people who are passionate about art and igniting interest in it. The group encourages and supports art in the areas of Cascade, Green Mountian Falls, Chipita Park, Crystola, Woodland Park, Divide, Florissant, Lake George, Cripple Creek, Victor, and Deckers. Colorado offers a beautiful setting for art and this group feels lucky to call it home. This group feels joy in putting on the Mountain Arts Festival each year and looks forward to sharing art with both locals and visitors. Find more information about this group and the festival here.
About the Ute Pass Cultural Center
The Ute Pass Cultural Center is located at:
210 Midland Ave.
Woodland Park, CO 80863
This venue is the premier place to host events in Woodland Park. The facility has been converted from a 1936 schoolhouse and offers a rustic charm. Many community events happen here throughout the year, and the facility is also available for rent for parties, gatherings, and special occasions.
The North Room and Community Room are smaller and work great for small gatherings, baby showers, and fitness classes. The Main Room is a larger space, which works well for wedding receptions, annual celebrations, and conferences. In addition, the outdoor Midland Pavilion is located on the grounds of the UPCC and offers a nice green space with a wooden pavilion. Guests enjoy stunning views of Pikes Peak and it provides a nice atmosphere for concerts, movies, and weddings.
Read more about the Ute Pass Cultural Center and find a calendar of upcoming events and information about renting a space here.
Additional Activities in Woodland Park
If you come for the Mountain Arts Festival, consider supporting additional local stores, restaurants, and attractions. The scenery is beautiful, and there is much to do. Just be sure to bring sunscreen and water, because the city sits at 8,481 feet. Here are a few ideas:
Top Restaurants in Woodland Park
Swiss Chalet Restaurant

AJ's Stone Oven American Pizzeria

Fusion Japan

Joanie's Deli

Fiesta Mexicana Family Restaurant

Donut Mill

Carmen, A Tapas Grill and Bar

Hungry Bear Restaurant

BierWerks Brewery
Things to Do Near Woodland Park
Go shopping! Check out all the shops along Midland Ave.

Learn about the past at the

Rocky Mountain Dinosaur Resource Center

.

Go for a hike in Mueller State Park or on a popular trail in the Pike National Forest.

Go fishing at Manitou Lake or fishing or boating at Rampart Reservoir.

Explore the Florissant Fossil Beds or Elevenile Canyon

Rent an ATV and go on an adventure.
Living in Woodland Park
For those that desire to live in a smaller town in the mountains, Woodland Park could be a great fit. This city offers mountain beauty and peacefulness, but residents also enjoy easy access to restaurants, stores, and medical care. Plus, it's just a quick drive down the pass to get to Colorado Springs. For many, this is the perfect combination of mountain living without the extreme rural environment. However, if you are looking for rural mountain property, there are plenty available in surrounding communities.
If you are interested in making Woodland Park your home, reach out to an experienced local realtor. Mark Main has the experience and dedication to get results for his clients. Whether you are looking to buy or sell, Mark is dedicated to helping his clients. He puts their interests above all else. Learn more about Mark and start your home search with Best CS homes today.