Meridian Ranch, Colorado Springs: Scenic Serenity
Posted by Liam Christie on Monday, July 31, 2023 at 10:03 AM
By Liam Christie / July 31, 2023
Comment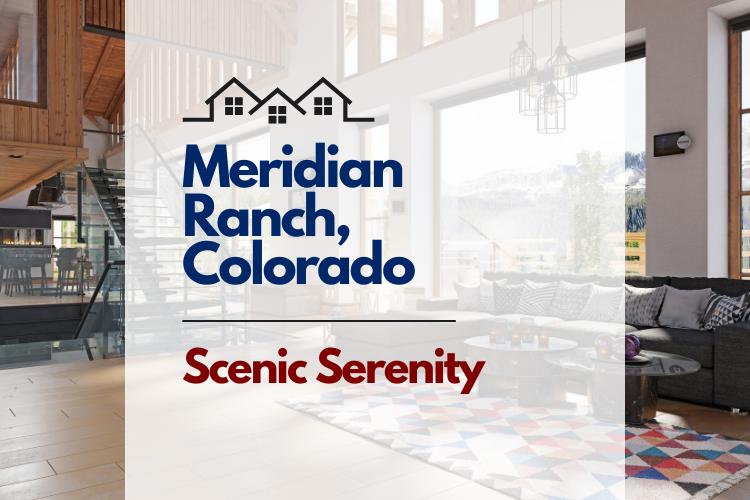 Looking for community in Colorado Springs that has a little bit of everything? Then you should take a look at Meridian Ranch. You can find this master-planned community just 14 miles northeast of downtown Colorado Springs.
Meridian Ranch is surrounded by breathtaking natural beauty, with picturesque views of the Rocky Mountains and the rolling plains. The neighborhood offers residents a serene and visually stunning environment.
One of the most unique aspects of Meridian Ranch is its peaceful atmosphere. Away from the hustle and bustle of the city, residents can enjoy a tranquil setting, perfect for relaxation and unwinding.
The community also features amenities such as a community center, swimming pools, fitness facilities, and recreational programs.
Let's dive into some of the features that make Meridian Ranch an exceptional place to live.

Schools Near Meridian Ranch
Meridian Ranch is part of the reputable Falcon School District 49, recognized for its commitment to academic excellence.
Here are the schools that serve the Meridian Ranch community:
Meridian Ranch Elementary School: This school serves grades Pre-K to 5. It offers a comprehensive curriculum that includes art, music, physical education, and technology. The school has a strong focus on character education and offers a variety of clubs and activities.
Falcon Middle School: Serving grades 6-8, this school provides a rigorous academic program with an emphasis on science, technology, engineering, and math (STEM). It offers a variety of extracurricular activities, including sports, clubs, and music programs.
Falcon High School: This school serves grades 9-12 and offers a comprehensive curriculum that includes Advanced Placement (AP) and honors courses. It has a strong athletics program with various sports teams. The school mascot is the Falcon.

Where to Eat Near Meridian Ranch
Meridian Ranch residents are within a comfortable driving distance from several delightful dining options. Here are some must-try locations:

Convenience & Shopping Near Meridian Ranch
Meridian Ranch Marketplace: A modern shopping center offering a mix of retail stores, services, and eateries. Whether you're looking to stay on top of fashion trends, grab some groceries, or dine out, the Marketplace caters to your needs.
The Shops at Meridian Ranch: Conveniently located within the community, this shopping center offers a range of stores and services to meet your everyday needs.
Nature & Outdoor Activities near Meridian Ranch
Meridian Ranch Recreation Center: This state-of-the-art facility features a gymnasium, outdoor pool, and fitness classes. It also hosts community events and activities throughout the year.
Antler Creek Golf Course: A beautifully manicured, public golf course right within the community. It's known for being Colorado's longest golf course and offers stunning views of Pikes Peak.
Longview Park and Trails: Offers multiple walking trails, picnic spots, and a playground. This is a perfect spot for family outings or leisurely walks.

Other Things to Do Near Meridian Ranch, Colorado Springs
The Paint Mines Interpretive Park: An archeological district with colorful clay hoodoos and spires. A network of walking trails allows you to explore this unique geological area.
Homestead Ranch Regional Park: A large park with picnic pavilions, playgrounds, a fishing pond, and hiking trails. It's a great place for an outdoor family outing.
Dragon Man's Military Museum: An extensive private collection of military memorabilia, with guided tours that offer a glimpse into U.S. military history.
Summary
Meridian Ranch pairs the tranquility of suburban living with a vibrant community spirit, a strong education system, and plentiful recreational opportunities. It's no wonder that Meridian Ranch is becoming one of the most sought-after locations in the Colorado Springs area.
If you'd like to learn more about the area, fill out the form to contact Best CS Homes and our team of local, highly-experienced agents or click here to see homes for sale in Meridian Ranch. We look forward to working with you!
Did we miss anything about Meridian Ranch (or get something wrong)? Leave us a comment here or message us on Social Media to let us know!
This post was written for Best CS Homes by Liam Christie (Lexcan)