Manitou Springs: Colorado Springs Area's Enchanting Retreat
Posted by Liam Christie on Tuesday, September 19, 2023 at 10:00 AM
By Liam Christie / September 19, 2023
Comment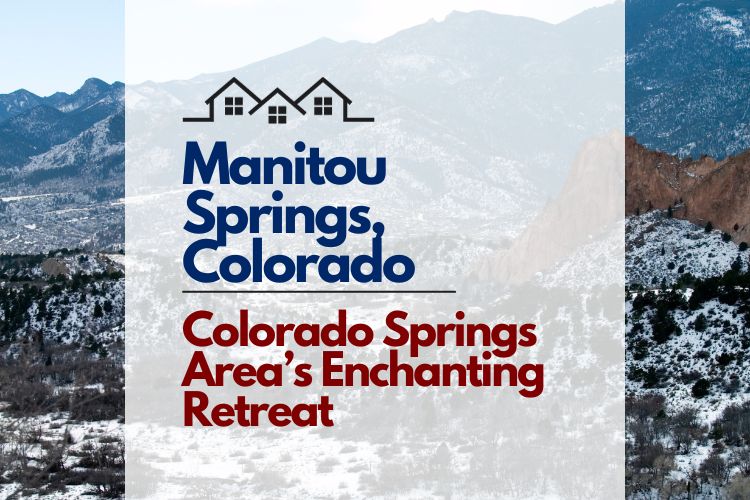 Welcome to Manitou Springs, a Colorado treasure where the mountains kiss the sky. Located just a stone's throw from Colorado Springs, this quaint town is a sanctuary for those seeking both adventure and serenity. Picture yourself strolling through historic streets, sipping mineral spring water, and taking in panoramic mountain views—all in a single day.
Manitou Springs is more than a destination; it's an experience. The town offers a rich tapestry of natural wonders, artistic flair, and historical intrigue. Whether you're a thrill-seeker, a culture vulture, or someone scouting for the perfect place to call home, Manitou Springs has a magic that speaks to everyone.
In this article, we'll delve into the captivating elements that set Manitou Springs apart from any other Colorado locale. From its mystical healing springs to its bustling arts scene, get ready to fall head over heels for this Rocky Mountain gem.
Schools Near Manitou Springs
Manitou Springs Elementary School
Manitou Springs Elementary School is a public school in Manitou Springs with a GreatSchools rating of 7/10. The school focuses on academic progress and has above-average test scores. It offers a strong curriculum and a peaceful environment, and parents appreciate the school's commitment to student success.
Manitou Springs Middle School
Manitou Springs Middle School is part of Manitou Springs School District 14, serving communities like Manitou Springs, Cascade, and Green Mountain Falls. The school offers a "small town" educational environment driven by "Relationships, Rigor, and Opportunity." It provides a challenging academic curriculum along with comprehensive art, physical education, and after-school programs.
Coronado High School
Coronado High School is a public high school in Colorado Springs, part of the Colorado Springs School District 11. Located near Manitou Springs, the school overlooks scenic areas like Pikes Peak and Garden of the Gods. It offers a wide range of academic and extracurricular opportunities, making it a popular choice for families in the area.

Where to Eat Near Manitou Springs
Ruffrano's Hell's Kitchen Pizza
Craving some New York-style pizza with a twist? Ruffrano's Hell's Kitchen Pizza is your go-to spot in Manitou Springs. This pizzeria offers a unique selection of spicy pizzas that will set your taste buds on fire—in a good way! From the "Hellfire" to the "Damnation," each pizza is a culinary masterpiece. Pair it with a cold beer for the ultimate experience.
Located at 9 Ruxton Ave, Manitou Springs, CO 80829.
Norbu's Himalayan Hut
Embark on a culinary journey to the Himalayas at Norbu's Himalayan Hut. This restaurant offers an authentic taste of Tibetan and Nepalese cuisine, from momos to thukpa. The cozy atmosphere and friendly service make it a must-visit spot for food adventurers.
Located at 915 Manitou Ave, Manitou Springs, CO 80829.
The Keg Lounge
Looking for a laid-back atmosphere with great food? The Keg Lounge is your answer. This local favorite offers a variety of American classics, from burgers to wings, all while you enjoy the scenic views of Manitou Springs. It's the perfect place to unwind after a long day.
Located at 730 Manitou Ave, Manitou Springs, CO 80829.
Mona Lisa Fondue Restaurant
For a romantic and interactive dining experience, Mona Lisa Fondue Restaurant is the place to be. Specializing in gourmet fondue, this restaurant offers a variety of dipping options, from cheese to chocolate. It's a delightful experience that's perfect for date night or special occasions.
Located at 733 Manitou Ave, Manitou Springs, CO 80829.
Convenience and Shopping Near Manitou Springs
Manitou Outpost & Gallery: This place is a combination of an art gallery and a retail shop. You'll find local artwork as well as outdoor gear and souvenirs.
Commonwheel Artists Co-op: Specializing in art, this store showcases work from local artists. Think paintings, pottery, and handcrafted jewelry.
Anna's Apothecary: Focused on natural health, this shop sells herbal remedies, teas, and organic beauty products.
Ruxton's Trading Post: For a western flair, this shop offers cowboy boots, hats, and other western apparel.

Nature & Outdoor Activities Near Manitou Springs
The Manitou Incline: This hiking trail is a serious workout, rising over 2,000 feet in less than a mile. Though the climb is intense, reaching the top offers unbeatable views of the surrounding area.
Garden of the Gods: Just a short drive away, this park offers an array of hiking trails and rock climbing. The towering red rock formations serve as a unique backdrop to any outdoor activity you choose.
Cave of the Winds Mountain Park: Beyond just exploring underground caves, you can take the adventure above ground with their zip line and rope courses. It's a blend of educational and adrenaline-pumping fun.
Other Things to Do Near Manitou Springs
Miramont Castle Museum: A visit to this Victorian-era castle is like stepping back in time. Offering detailed guided tours, a tea room, and an intricate garden, it's a multi-sensory historical experience.
The Iron Spring: This natural mineral spring is not only a refreshing stop but also holds historical significance for the Ute tribe. Bring your refillable water bottle and take home some mineral-rich water.
Penny Arcade: This arcade is a delightful blend of nostalgia and fun. From pinball machines to modern video games, it's a place where adults can revisit childhood and kids can discover the classics.

Summary
Manitou Springs is not just a town; it's a vibrant tapestry of experiences waiting to be explored. From its top-rated schools and diverse dining options to its rich art scene and thrilling outdoor activities, this Colorado gem offers something for everyone. Whether you're an adventure junkie, a foodie, or someone looking for a peaceful retreat, Manitou Springs is a destination that promises both excitement and tranquility.
In summary, Manitou Springs is more than just a scenic backdrop; it's a community rich in culture, history, and natural beauty. With its unique blend of educational excellence, culinary delights, and outdoor adventures, it's no wonder why this town captures the hearts of residents and visitors alike. So, if you're looking for a place that offers a little bit of everything, Manitou Springs is your go-to Colorado retreat.
Let us know if you'd like to learn about real estate in Manitou Springs and other homes for sale near Colorado Springs. Just fill out the form below, and a member of Best CS Homes' local, highly-experienced agents will be in touch!
Did we miss anything about Manitou Springs (or get something wrong)? Leave us a comment here or message us on Social Media to let us know!
Written by Liam Christie (Lexcan) for Best CS Homes.