Kissing Camels: A Sanctuary in the Heart of Colorado Springs
Posted by Liam Christie on Monday, August 21, 2023 at 11:00 AM
By Liam Christie / August 21, 2023
Comment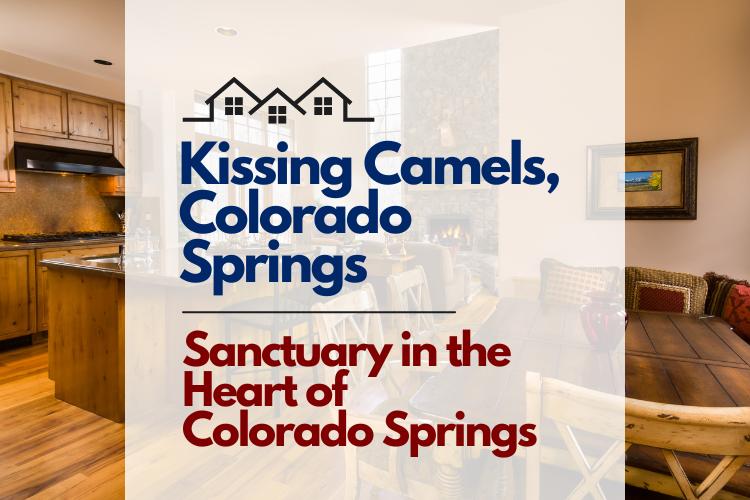 If you are seeking a neighborhood in Colorado Springs that offers the perfect blend of city living and natural splendor, Kissing Camels should certainly top your list.
The community is nestled on the western side of the city, known for its panoramic mountain views and iconic red rock formations.
Kissing Camels is more than just a picturesque living destination; it provides a tranquil and luxurious lifestyle with its spacious properties, well-maintained landscapes, and easy access to a wealth of amenities.
Outdoor enthusiasts would delight in the community's proximity to Garden of the Gods, an urban park known for its spectacular sandstone rock formations.
With opportunities for hiking, rock climbing, and wildlife viewing right at your doorstep, Kissing Camels truly is a haven for nature lovers.
Let's delve deeper into the numerous features that add to the allure of Kissing Camels.
Schools Near Kissing Camels
Kissing Camels falls under Colorado Springs School District 11, renowned for its commitment to academic excellence.
Here's a brief rundown of the schools that serve Kissing Camels:
Howbert Elementary School: This school serves students in grades PK-5. Howbert Elementary School is known for its strong academic program and commitment to fostering a nurturing and engaging environment for young learners.
Holmes Middle School: Serving students in grades 6-8, Holmes Middle School offers a comprehensive curriculum that includes a strong focus on STEM subjects. The school also provides a variety of extracurricular activities to enrich student learning.
Coronado High School: This high school serves students in grades 9-12. Coronado High School offers a robust academic program, including AP courses, and a wide range of clubs and activities. The school is known for its commitment to student success and preparation for post-secondary education.
Where to Eat Near Kissing Camels
Residents of Kissing Camels have an array of dining options to explore:
Pepper Tree Restaurant: Enjoy high-quality seafood and steaks prepared tableside in a chic setting with stunning views of the cityscape. Located at 888 W Moreno Ave, Colorado Springs, CO 80905.
Jake & Telly's Greek Taverna: An authentic Greek restaurant serving traditional dishes in a comfortable and welcoming atmosphere. Located at 2616 W Colorado Ave, Colorado Springs, CO 80904.
Carlos' Bistro: Known for its gourmet dishes and fine wine selection, this bistro is perfect for special occasions. Located at 1025 S 21st St, Colorado Springs, CO 80904.
Convenience & Shopping Near Kissing Camels
University Village Colorado Shopping Center: A comprehensive shopping destination offering a variety of retail outlets, services, and eateries.
West Wind Shopping Center: Located conveniently close, this center hosts a range of essential services and retail stores.
King Soopers: For all your grocery needs, King Soopers offers fresh produce, a bakery, a pharmacy, and more.

Nature & Outdoor Activities Near Kissing Camels
Garden of the Gods: Right next to the Kissing Camels community, this park offers stunning views, hiking trails, and opportunities for rock climbing and bird watching.
Rock Ledge Ranch Historic Site: Explore this living history museum and farm, showcasing the region's rich past.
Mesa Road Trail: Ideal for jogging, walking, or cycling, this trail winds through the community, offering serene views.
Other Things to Do Near Kissing Camels, Colorado Springs
Glen Eyrie Castle: Visit this historic English Tudor-style castle nestled in a beautiful, secluded valley.
Space Foundation Discovery Center: Learn about space and the wonders of the universe at this interactive museum.
Miramont Castle Museum: Experience the region's history in this Victorian-era castle that offers fascinating exhibits and stunning views.

Summary
Kissing Camels brings together the best of Colorado Springs - natural beauty, excellent schools, and a wide variety of amenities and recreational opportunities. Whether you're looking to relocate or searching for a tranquil yet engaging lifestyle, Kissing Camels might just be the perfect fit.
If you'd like to learn more about the area, fill out the form to contact Best CS Homes and our team of local, highly-experienced agents or click here to see homes for sale in Kissing Camels. We look forward to working with you!
Did we miss anything about Kissing Camels (or get something wrong)? Leave us a comment here or message us on Social Media to let us know!
This post was written for Best CS Homes by Liam Christie (Lexcan)