Kings Deer, Monument: Tranquility and Togetherness
Posted by Liam Christie on Wednesday, July 26, 2023 at 11:30 AM
By Liam Christie / July 26, 2023
Comment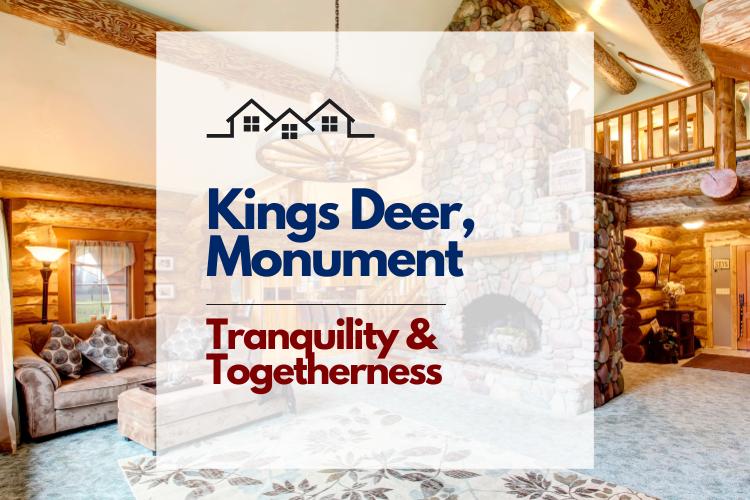 Considering a move to Colorado Springs? Let us introduce you to Kings Deer. Kings Deer is a serene Colorado Springs neighborhood nestled within the tranquil region of Northern El Paso County. This area, with its idyllic, quiet charm, is popular with families and retirees looking for places to live in Colorado Springs.
Sweeping mountain vistas, community amenities, and lots of entertainment options make Kings Deer properties highly sought after, and rightfully so!
In this article, we'll highlight the many reasons why Kings Deer is an exceptional place to call home.

Schools Near Kings Deer
Schools in Kings Deer are part of the acclaimed Lewis-Palmer School District 38. Here are some of the schools serving the Kings Deer community:
Bear Creek Elementary School: Serving grades K-5, this school offers a comprehensive curriculum with a focus on literacy, math, science, and social studies. It also offers art, music, and physical education.
Lewis-Palmer Middle School: This school serves grades 6-8 and offers a comprehensive curriculum with a variety of elective courses. It has a strong athletics program and offers a variety of clubs and activities.
Lewis-Palmer High School: Serving grades 9-12, this school offers a comprehensive curriculum that includes AP and honors courses. It has a strong athletics program and offers a variety of clubs and activities. The school mascot is the Ranger.

Where to Eat Near Kings Deer
Kings Deer residents are just a stone's throw away from several dining options. Here are some you should check out:

Convenience & Shopping Near Kings Deer
Monument Marketplace: Discover a unique shopping experience at Monument Marketplace. This shopping center features a diverse mix of stores, services, and eateries. From fashion to groceries, the Marketplace caters to all your needs.
Tri-Lakes Silver Alliance Thrift Store: An affordable thrift store that supports the local community, offering a variety of goods from clothes to household items.
Chapala Plaza: Chapala Plaza offers a variety of retail stores and services, making shopping easy and convenient for Kings Deer residents.

Nature & Outdoor Activities near Kings Deer
Kings Deer Golf Club: Located right in the community, this championship golf course offers stunning views of Pikes Peak and the Front Range.
Fox Run Regional Park: Experience the great outdoors at Fox Run Regional Park, with its beautiful walking trails, picnic areas, and two ponds. The park's playgrounds and sports fields make it a perfect place for family outings.
Palmer Lake: A picturesque lake that offers an idyllic spot for fishing, hiking, or just relaxing.
Monument Lake: Another tranquil spot for fishing, camping, and picnicking. The lake also hosts community events throughout the year.

Other Things to Do Near Kings Deer, Colorado Springs
Western Museum of Mining and Industry: A unique experience where you can learn about the history of mining in Colorado.
Pikes Peak Historical Society Museum: Step back in time and learn about the rich history of the Pikes Peak region.
Colorado Wolf and Wildlife Center: A chance to see wolves, foxes, and coyotes up close and learn about their role in the ecosystem.
Conclusion
With stunning landscapes, a strong sense of community, and a range of amenities, Kings Deer represents an enticing blend of tranquility and convenience. The appeal of this scenic location within Colorado Springs continues to grow.
Whether you're house hunting or simply looking for a locale that enhances your lifestyle, Kings Deer offers a warm welcome.
If you'd like to learn more about the area, fill out the form to contact Best CS Homes and our team of local, highly-experienced agents or click here to see homes for sale in Kings Deer. We look forward to working with you!
Did we miss anything about Kings Deer (or get something wrong)? Leave us a comment here or message us on Social Media to let us know!
This post was written for Best CS Homes by Liam Christie (Lexcan)