Green Mountain Falls is Your Next Must-Visit Destination
Posted by Liam Christie on Sunday, September 17, 2023 at 11:00 AM
By Liam Christie / September 17, 2023
Comment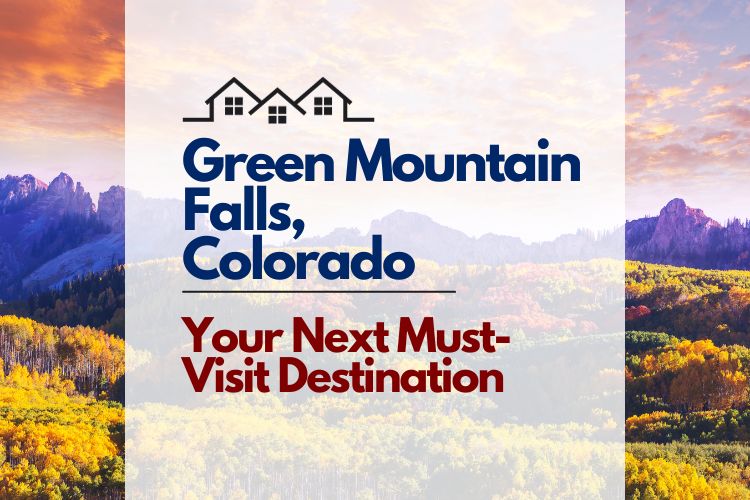 Welcome to the gateway of paradise—Green Mountain Falls, Colorado. Between Colorado Springs and the iconic Pikes Peak, this charming town blends natural beauty, outdoor adventure, and small-town hospitality. If you're yearning for crisp mountain air, scenic trails, and locally brewed coffee, look no further.
Green Mountain Falls is not just another dot on the map; it's a community where every corner is a postcard. From adventure seekers to nature lovers, this town has something special for everyone.
In this article, we'll dive into what makes Green Mountain Falls a destination worth your time and attention. Green Mountain Falls just might jump to the top of your preferred places to live near Colorado Springs. From its picturesque landscapes to its vibrant local culture, get ready to discover a place you'll never want to leave.
Schools Near Green Mountain Falls
Ute Pass Elementary School: This school is a stone's throw from Green Mountain Falls, in neighboring Cascade. The school caters to students from pre-kindergarten to 6th grade. Ute Pass Elementary is known for its educational quality, receiving an 8/10 rating from GreatSchools. The teaching staff employs innovative methods to make the educational experience enjoyable for the kids.
Manitou Springs Middle School: Just a 15-minute car ride from Green Mountain Falls, this middle school enjoys a scenic setting. Outdoor classes are common, with teachers taking advantage of the surrounding natural spendor. This approach enriches the educational experience and enhances students' overall well-being.
Manitou Springs High School: Manitou Springs High School offers small class sizes for more individualized instruction. The institution also features early language education and hands-on, project-based learning. We recommend visiting their website for more information on their educational philosophy.
Woodland Park Middle School: This middle school is celebrated for its robust focus on STEM education. Extracurricular options are diverse, ranging from a robotics team to a theater group. All of this demonstrates the school's dedication to instilling a passion for learning.
Woodland Park High School: As the apex of educational offerings in its district, this high school serves students in grades 9-12. Students benefit from Advanced Placement courses, a comprehensive sports program, and a plethora of clubs to suit diverse interests. The school's cutting-edge facilities create an ideal setting for academic success.
Where to Eat Near Green Mountain Falls
Mucky Duck Restaurant & Catering
Nestled in the scenic town of Green Mountain Falls, Mucky Duck Restaurant & Catering is a culinary haven. With its rustic charm and sophisticated ambiance, this restaurant provides a cozy yet elegant setting for any occasion.
The menu is a smorgasbord of options, ranging from succulent, perfectly-cooked steaks to light and refreshing salads. Vegetarian? No problem. Mucky Duck has something for everyone, including an array of plant-based dishes.
The experience doesn't stop at dining in; the restaurant also offers top-notch catering services. As a result, it's a popular choice for everything from weddings, to corporate events, to family gatherings.
No matter what, Mucky Duck ensures your special occasion is unforgettable with its delectable food and impeccable service.
Located at 10530 Ute Pass Ave, Green Mountain Falls, CO 80819.

The Pantry
If breakfast is your jam, then The Pantry in Green Mountain Falls is your sanctuary. Established in 1950, this charming eatery has been a local favorite for decades, and it's easy to see why.
The moment you step in, the aroma of freshly brewed coffee and sizzling bacon welcomes you. The menu is a breakfast lover's dream, featuring everything from fluffy buttermilk pancakes topped with fresh berries to savory omelets stuffed with your choice of fillings.
The Pantry also serves up hearty lunch options, making it a versatile choice for any time of the day. With its warm, homey atmosphere and friendly staff, it's the perfect place to kickstart your day or enjoy a leisurely brunch.
Located at 6980 Lake St, Green Mountain Falls, CO 80819.

Norbu's Himalayan Hut
Take your taste buds on an exotic trip to the Himalayas without leaving Colorado at Norbu's Himalayan Hut. Specializing in authentic Tibetan and Nepalese cuisine, this restaurant is a hidden gem in Manitou Springs.
The menu is a delightful mix of traditional dishes, from juicy momos (dumplings) to thukpa, a comforting noodle soup. The spices are carefully balanced, offering a flavorful yet not overpowering experience. The ambiance is equally inviting, with Tibetan decor and soft lighting that adds to the cozy atmosphere.
The staff is incredibly friendly, always ready to guide you through the menu and make recommendations. It's a must-visit spot for anyone looking to venture beyond the usual dining options and explore something new.
Located at 915 Manitou Ave, Manitou Springs, CO 80829.

Ruffrano's Hell's Kitchen Pizza
If you're in the mood for pizza but want something that packs a punch, Ruffrano's Hell's Kitchen Pizza in Manitou Springs is your ultimate destination. This isn't your average pizzeria; it's a place where traditional New York-style pizza meets daring flavors.
The menu features an array of spicy pizzas that are not for the faint-hearted. From the "Hellfire," topped with jalapeños and spicy sausage, to the "Damnation," a blend of hot peppers and fiery sauce, each pizza is a culinary adventure. But don't worry, they also offer milder options for those who prefer less heat.
To complement your meal, the pizzeria offers a selection of cold beers, making it the perfect spot for a casual night out with friends or family. Located at 9 Ruxton Ave, Manitou Springs, CO 80829.

Convenience and Shopping Near Green Mountain Falls
Stones, Bones & Wood: Offers an exclusive collection of handmade jewelry, intricately designed wood-turned bowls, captivating artwork, and exquisite pottery. Everything is crafted by local artists and each piece is a unique masterpiece.
Ute Pass Trading: This one-stop shop has stood the test of time, and has been a family-owned cornerstone of the community for decades. From hand-carved bears and stylish outdoor furniture to unique rocks, gems, and gifts, Ute Pass Trading has you covered.

Nature & Outdoor Activities Near Green Mountain Falls
Catamount Trail: This trail offers a moderate hike through a beautiful forested area, leading to stunning waterfalls. It's a tranquil escape that's also perfect for photography.
Green Mountain Falls Lake: This small but scenic lake is great for fishing or just relaxing by the water. Picnic tables and benches are available, making it a cozy spot for a lazy afternoon.
Thomas Trail: A lesser-known path, this trail provides a serene hiking experience with less foot traffic. It's ideal for those looking for a quiet escape into nature.
Other Things to Do Near Green Mountain Falls
Green Box Arts Festival: An annual art extravaganza that takes place in the heart of Green Mountain Falls. From contemporary dance performances to interactive art installations, this festival is a cultural hub that offers a wide range of activities.
Green Mountain Falls Pool: The community pool isn't just a place to cool off. They offer seasonal swimming lessons, water aerobics, and even have designated family swim times. It's a hub of aquatic activities that's perfect for all ages.
Thomas Trail: This is not just another hike; it's a journey through nature. With varying levels of difficulty and several spots perfect for picnics, it makes for a complete day trip.
Summary
Green Mountain Falls, Colorado, is more than just a scenic getaway; it's a community that welcomes you with open arms. From its top-rated schools and diverse dining options to its rich local culture and abundant outdoor activities, this charming town offers something for everyone. Whether you're an adventure junkie, a foodie, or someone looking for a peaceful retreat, Green Mountain Falls is a destination that promises a fulfilling experience.
In summary, if you're on the hunt for a place that combines natural beauty, educational excellence, and community warmth, look no further. Green Mountain Falls is not just a must-visit; it's a must-experience. With its picturesque landscapes, quality schools, and a plethora of things to do, this town is a hidden gem that you'll find hard to leave.
Let us know if you'd like to learn about real estate in Green Mountain Falls and other homes for sale near Colorado Springs. Just fill out the form below, and a member of Best CS Homes' local, highly-experienced agents will be in touch!
Did we miss anything about Green Mountain Falls (or get something wrong)? Leave us a comment here or message us on Social Media to let us know!
Written by Liam Christie (Lexcan) for Best CS Homes.