Fountain Fall Festival and Parade
Posted by Mark Main on Tuesday, August 30, 2022 at 7:00 PM
By Mark Main / August 30, 2022
Comment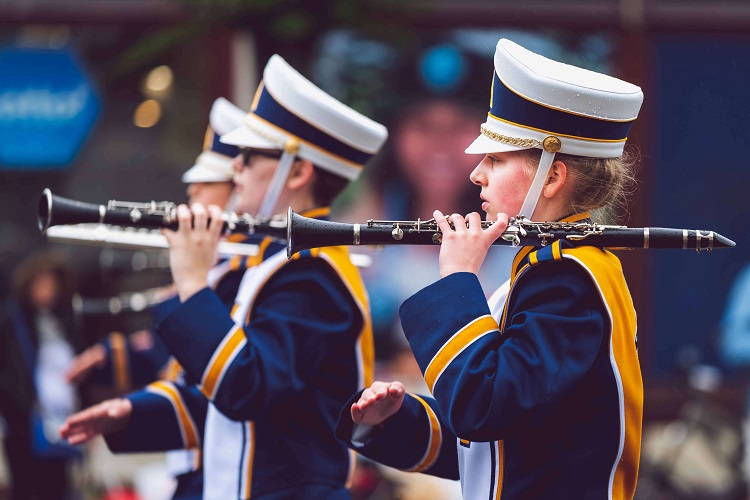 Fall is a great season. The weather cools down, the trees change color, and you can find pumpkin flavored just about anything. Celebrate the coming of fall at the 52nd Annual Fountain Fall Festival and Parade. Many families have made this event an annual tradition. Lasting childhood memories are made at events like this.
This year's theme is "Back in the Saddle" as the community celebrates getting back to fun and celebrations. Since it's a western theme, everyone in attendance is invited and encouraged to dress up. If this event is already a tradition, find the details here. If you've never been, consider checking it out and experiencing the small-town hospitality of Fountain, CO.
Fountain Fall Festival and Parade Schedule
Sunday, September 4th, 2022
-5 PM: Fireman's Dance
Monday, September 5th, 2022
-7 AM: FFCHS JROTC Pancake Breakfast at Aragon
-10 AM: Parade begins along Ohio and Main St.
-11 AM to 3 PM: Festival at Metcalfe Park
52nd Annual Fountain Fall Festival Pancake Breakfast
You don't want to start your day of fun on an empty stomach! Come prepare for the parade and festival by eating pancakes. This will take place on Monday, September 5, 2022, from 7 AM to 9 AM at Aragon Elementary, which is located at:
211 S. Main St.
Fountain, CO 80817
The parade route is nearby, so you can park near the elementary school and then walk over to the parade. You can buy tickets for the breakfast from the FFCHS JROTC Department or from a Cadet for $5. Tickets at the door cost $7 each.
Fountain Fall Festival Parade
The parade will take place on Monday, September 5th, 2022 at 10 AM. The line-up for the parade occurs along El Paso St. and the parade begins at Main St. and Hannover. The parade continues along N. Main St. and then turns on E. Ohio Ave. and ends at Metcalfe Park. Many families look forward to the parade every year. Many set out their chairs the night before to ensure a good spot.
If you'd like to come to the parade, there is plenty of parking throughout the neighborhood near the parade route. Bring chairs or a blanket to sit on and bring a bag to collect your goodies. Many participants in the parade hand out flyers, goodies, and candy. Expect to see marching bands, horses, tractors, clowns, floats, members of the VFW, and much more.
If you have a group that would like to participate in the parade, this is a great way to get your name out there. On average, more than 5,000 people attend this event. It's also fun to be in the parade and connect with those along the parade route. The deadline has passed to register a float in the parade for this year. However, if this is something that interests you for next year, check in with the Fountain Valley Chamber early next summer.
Festival at Metcalfe Park
When the parade ends, head to Metcalfe Park for the festival. Metcalfe Park is located at:
704 E. Ohio
Fountain, CO 80817
Come hungry, ready to be entertained, and to find some special treasures to take home or give as gifts. There will be live music, activities for kids, food vendors, arts and crafts vendors, a beer tent area, and representatives from community organizations. In addition to all this, there will be a tractor pull and a doggy western costume contest. There will be something for the whole family. Wear your finest western gear and celebrate the past, present, and future of this city in Southern Colorado. The festival will take place from 11 AM to 3 PM.
Sponsorship Levels at the Fountain Fall Festival
Sponsoring an event like this has huge perks for area businesses. It gets your name out there and allows you to pick up new customers. There are many perks for sponsors, such as banner displays, social media blasts, DJ announcements, getting your logo on festival t-shirts, having a vendor table, and more. Here is a look at some of the different types of sponsorships and the costs:
Parade Sponsor - $1,500

Gazebo Sponsor - $1,000

Food Court Sponsor - $1,000

Crafters Corner Sponsor - $500

Kiddie Corner Sponsor - $500
Vendor Pricing at the Fountain Fall Festival
In addition to sponsorships, being a vendor at this event is also a great way to get your name out there. Here is a look at the costs of being a vendor. Note that there are discounts for Fountain Valley Chamber of Commerce members.
Food Vendors: FVCC Members - $300, Non-Members - $350

Crafters, MLM's, and 501c3 Non Profits: FVCC Members - $75, Non-Members - $100

Commercial Vendors: FVCC Members - $200, Non-Members - $250

Political Vendors: FVCC Members - $200, Non-Members - $250
About Metcalfe Park
Metcalfe Park is located near the old town district. It's a large park, with plenty of grassy areas, baseball fields, and a large, distinctive gazebo that's perfect for gatherings. In addition, there are playgrounds, a skateboard park, and a dog park. Families are invited to come and play during park hours, which are from 5 AM to 11 PM.
Many community events take part in the park each year. The Fountain Fall Festival is just one example. Other events include movie nights, concerts, and the Fountain Community Metcalfe Park Market.
About Fountain, CO
The City of Fountain has a long and rich history. It's located about 15 miles south of Colorado Springs, and for many years served as a bedroom community to Colorado Springs and Fort Carson. Until recently, residents had to drive a ways to get to amenities and entertainment. However, with the recent rapid growth of the area, new stores, restaurants, and entertainment venues are opening all the time.
There are many opportunities to enjoy parks and open spaces, with the crown jewel being the Fountain Creek Nature Center. In addition, families have access to the highly acclaimed Fountain-Fort Carson School District 8.
Living in Fountain
Everyone in the Colorado Springs area is invited to the Fountain Fall Festival and Parade. However, if you visit Fountain and enjoy the small-town charm, consider making it your permanent home. There are a variety of home types here, from historic homes to 1950s ramblers, to new construction. If you are ready to search for homes, contact Mark Main today. He is an experienced realtor that always puts his client's best interests first.