Fountain, Colorado: All-American City; Rocky Mountain Twist
Posted by Liam Christie on Saturday, September 16, 2023 at 10:30 AM
By Liam Christie / September 16, 2023
Comment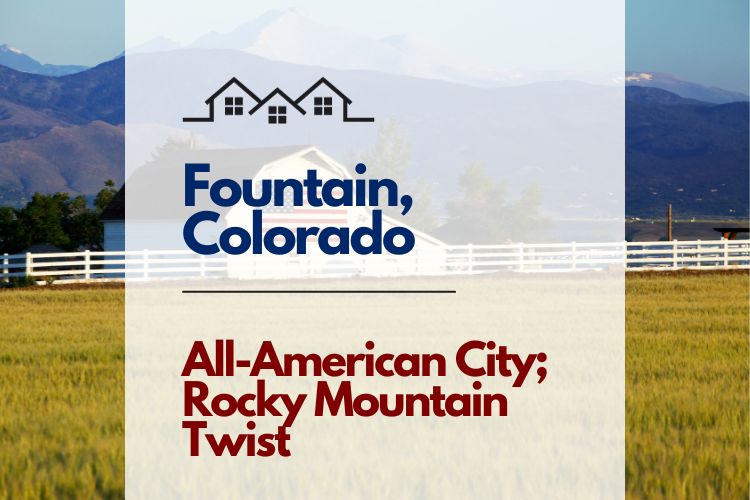 Welcome to Fountain, a city that epitomizes the American dream with a Rocky Mountain backdrop. Located just south of Colorado Springs, Fountain offers a harmonious blend of suburban comfort and natural splendor. Picture a life where community parades and mountain hikes are all in a day's work.
Fountain is not just a city; it's a community where the American spirit thrives. It's a place where neighbors know each other's names and the great outdoors is your playground. Whether you're a family seeking a nurturing environment, an outdoor lover craving adventure, or someone looking for a close-knit community, Fountain is your ideal home base.
In this article, we'll dive into the myriad features that make Fountain a standout city in the Colorado landscape. From its family-friendly atmosphere to its endless outdoor activities, get ready to discover the all-American charm of Fountain, Colorado.

Schools Near Fountain
Fountain, Colorado, has a variety of schools nearby. Whether you're looking for public or private schools, you'll find something that suits your family's needs. Here's a rundown of some schools near Fountain:
Talbott STEAM Innovation School: Located in the Widefield School District 3, Talbott STEAM Innovation School serves grades K-5. The school focuses on science, technology, engineering, arts, and mathematics, and has a student-teacher ratio of 14 to 1. Parents praise the school for its dedicated staff and innovative curriculum.
The Colorado Springs School: This is a private school located in Colorado Springs, serving grades PK-12. With an average review of 4.7 stars, the school has a student-teacher ratio of 8 to 1. The school has received an overall Niche Grade of A+. Parents appreciate the personalized learning experiences and the school's focus on identifying individual learning needs and talents.
St. Paul Catholic School: Also a private school, St. Paul Catholic School is located in Colorado Springs and serves grades PK-8. The school has a student-teacher ratio of 9 to 1. It offers a wide range of extracurricular activities and has received an average review of 5 stars. The academic programs are rigorous, and the faculty is dedicated to creating a safe and supportive learning environment.
James Madison Charter Academy: Part of the Widefield School District 3, this public school serves grades K-8 with a student-teacher ratio of 14 to 1. Parents commend the school for its compassionate teaching standards and the opportunities it provides for one-on-one time between students and teachers.
These schools offer a mix of traditional and innovative educational approaches, making it easier for families in and around Fountain to find a suitable educational setting.

Where to Eat Near Fountain
Harris Boys Barbecue: Looking for authentic Southern BBQ? Harris Boys Barbecue in Fountain, Colorado, is your go-to spot. With a menu featuring mouthwatering ribs, pulled pork, and brisket, this family-owned joint brings the flavors of the South right to your plate. Their homemade sauces and sides are the perfect complement to their smoked meats. Don't forget to try their famous "Harris Special," a combo platter that lets you sample the best of what they offer. This mobile food truck can be found on the north side of Fountain.
All Star Pizzeria: If you're a pizza lover, All Star Pizzeria in Fountain is a must-visit. This local gem offers a wide range of pizzas, from classic Margherita to adventurous specialty pies. Their dough is made fresh daily, and they use only the finest ingredients for their toppings. Pair your pizza with one of their craft beers for the ultimate dining experience. Located at 1736, 1736, 729 Dale St, Fountain, CO 80817.
C'Mon Inn: C'Mon Inn is not just a restaurant; it's an experience. This cozy spot in Fountain offers a diverse menu that caters to all tastes. Whether you're in the mood for a hearty steak or a light salad, C'Mon Inn has you covered. The ambiance is warm and inviting, making it a perfect place for both family dinners and romantic evenings. Located at 711 Dale St, Fountain, CO 80817.
Western Omelette Restaurant: Breakfast lovers, rejoice! Western Omelette Restaurant in Fountain is the place to be for the most important meal of the day. Their extensive menu features a variety of omelettes, pancakes, and breakfast burritos. The atmosphere is laid-back and family-friendly, making it a great spot for weekend brunch or a quick weekday breakfast. Located at 311 N Santa Fe Ave, Fountain, CO 80817.

Convenience and Shopping Near Fountain
Shops at Mainstreet: Located in the heart of Fountain, Colorado, Shops at Mainstreet offers a unique shopping experience. With a variety of local businesses under one roof, you can find everything from handmade crafts to delicious eats. It's a one-stop-shop for those looking to support local artisans and entrepreneurs.
From My Closet to Yours US: This is a trendy consignment store that offers a wide range of gently used clothing and accessories. With a focus on sustainability, this shop provides a platform for fashion enthusiasts to buy, sell, and trade items. It's the perfect place to find hidden gems without breaking the bank.
Connie's Cupboard: Connie's Cupboard is a charming boutique that specializes in home decor and gifts. With a keen eye for quality and style, Connie's offers a curated selection of items that add a touch of elegance to any home. Whether you're looking for a unique gift or something special for your own space, Connie's Cupboard has you covered.
Nature & Outdoor Activities Near Fountain
Fountain Creek Regional Park: This park offers diverse ecosystems, from wetlands to forests, making it great for nature walks and bird-watching. There's even a nature center to enhance your educational experience.
Metcalfe Park: Located in the center of Fountain, this park is a community gathering spot, complete with a playground and seasonal farmers markets. It's a local favorite for outdoor leisure.
Jimmy Camp Creek Park: This park is a great spot for hiking and mountain biking. With varying levels of trails, it's suitable for both beginners and more experienced outdoor enthusiasts.
Other Things to Do Near Fountain
Fountain Creek Nature Center: Perfect for solo nature walks or group outings. The center offers themed walks and bird-watching events regularly.
Fountain Skate Park: Bring your skateboard or rollerblades and hit the ramps. A solid spot for a chill afternoon with friends.
Pikes Peak International Raceway: For the adrenaline junkies, enjoy regular races or even take a spin yourself. Open to groups for a high-speed outing.

Summary
Fountain, Colorado, is more than just a city; it's a lifestyle. With its blend of family-friendly atmosphere, top-notch schools, and a variety of dining and shopping options, it's a place where community and nature coexist. Whether you're an outdoor enthusiast, a parent seeking quality education for your kids, or someone who enjoys the comfort of a close-knit community, Fountain has something for everyone.
Fountain is the epitome of the American dream set against the stunning backdrop of the Rocky Mountains. From its diverse educational options to its mouthwatering local cuisine and vibrant shopping scene, this city offers a quality of life that's hard to beat. So, if you're looking for an all-American city with a Rocky Mountain twist, Fountain, Colorado, should be at the top of your list.
Let us know if you'd like to learn about real estate in Fountain and other homes for sale near Colorado Springs. Just fill out the form below, and a member of Best CS Homes' local, highly-experienced agents will be in touch!
Did we miss anything about Fountain (or get something wrong)? Leave us a comment here or message us on Social Media to let us know!

Written by Liam Christie (Lexcan) for Best CS Homes.