Flying Horse, Colorado Springs: Premier Golf; Upscale Living
Posted by Liam Christie on Monday, August 7, 2023 at 11:00 AM
By Liam Christie / August 7, 2023
Comment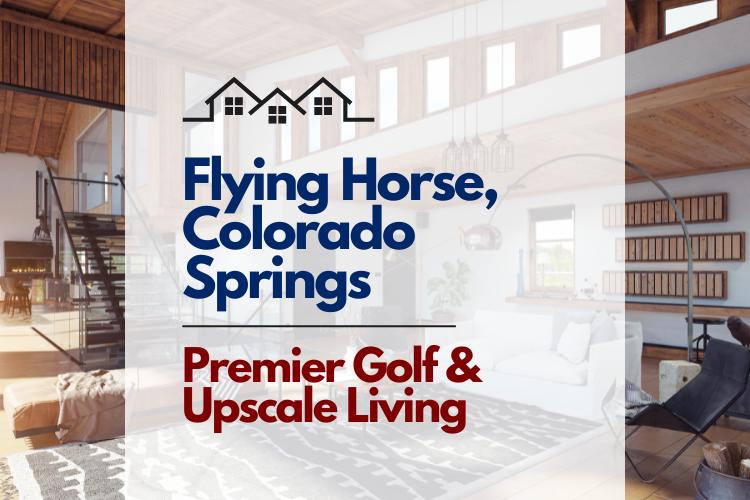 Considering a move to Colorado Springs? Flying Horse, a prestigious planned community located in the northeastern corner of the city, should be a prime contender! The neighborhood features a championship golf course designed by a renowned architect, offering residents and golf enthusiasts an exceptional golfing experience. The well-maintained fairways, scenic views, and upscale clubhouse contribute to the allure of this golf-centric community.
Flying Horse offers an upscale and sophisticated living experience. In this part of the Colorado Springs area, you'll find beautifully designed homes, elegant architecture and luxurious amenities. Residents of Flying Horse enjoy access to exclusive facilities, including a private athletic club, spa, dining options, and recreational activities.
In this article, we explore the unique characteristics that make Flying Horse such an attractive Colorado Springs neighborhood.
Education in Flying Horse
Flying Horse is part of the highly esteemed Academy School District 20, considered one of Colorado's top-performing school districts.
The area is served primarily by the Discovery Canyon Campus School (DCC). DCC is an exceptional educational institution in Colorado Springs, CO, serving students from pre-kindergarten through 12th grade.
DCC is the only pre-K through 12 International Baccalaureate campus in the Northern Hemisphere. Its aim is to develop inquiring, knowledgeable, and caring young people who help to create a better and more peaceful world. Its method for achieving this focuses on developing intercultural understanding and respect.
The campus is divided into three schools: DCC Elementary School, DCC Middle School, and DCC High School. Each school has its unique approach to education:
The DCC Elementary School provides an entry to education like no other, where students learn through creativity and curiosity.
The DCC Middle School pushes the limits of learning through investigation and exploration. Through inquiry, students create an education that fits them and not the other way around.
The DCC High School is where education and experience come together. It drives students to pursue passions and make personal connections.
The connected campus fosters an environment that inspires inclusivity and community among students across grade levels. Students explore personal passions through unique learning experiences with peers, educators, and community professionals.

Dining Near Flying Horse
Flying Horse residents can enjoy a multitude of wonderful dining options. Here are a few worth mentioning:
The Steakhouse at Flying Horse: Enjoy fine dining at this stylish steakhouse located in the Flying Horse community. Located at 1880 Weiskopf Point, Colorado Springs, CO 80921.
La Baguette French Bistro: A charming French bistro offering a variety of classic dishes. Located at 2417 W Colorado Ave, Colorado Springs, CO 80904.
Ted's Montana Grill: Known for its bison steaks, this grill offers a taste of the American West. Located at 1685 Briargate Pkwy, Colorado Springs, CO 80920.

Shopping & Convenience Near Flying Horse
The Promenade Shops at Briargate: This open-air shopping center offers an upscale retail experience with a blend of local boutiques and well-known national retailers.
Interquest Marketplace: A conveniently located shopping center that caters to all your daily needs, offering a variety of retail stores, services, and eateries.
Bass Pro Shops: Bass Pro Shops offers a comprehensive selection of equipment and apparel for camping, hunting, fishing, and other outdoor activities.

Outdoor Activities & Natural Beauty Near Flying Horse
Flying Horse Club: A prestigious club with a Tom Weiskopf designed golf course, a tennis court, a swimming pool, a fitness center, and a spa.
Black Forest Regional Park: With its scenic trails, picnic areas, and playgrounds, it's the ideal location for a family day out in nature.
Fox Run Regional Park: With vast open spaces and beautiful scenery, this park has trails for hiking and horseback riding, plus picnic areas and playgrounds.

Additional Attractions Near Flying Horse, Colorado Springs
Western Museum of Mining and Industry: Learn about Colorado's rich mining history with interactive exhibits at this engaging museum.
The Club at Flying Horse: Experience luxurious spa treatments, a resort-style pool, and fine dining at this elegant club in the community.
Pikes Peak Library District - High Prairie Library: Enjoy a quiet reading afternoon or participate in community programs and events at the High Prairie Library.

In Conclusion
Flying Horse's stunning natural landscapes feature breathtaking panoramic views of the Front Range and the Colorado Springs skyline. Featuring well-manicured parks, open spaces, and walking trails, residents can immerse themselves in the natural beauty that surrounds them.
Flying Horse's golf, luxurious amenities, and scenic views provide residents with an exceptional living experience in Colorado Springs.
If you'd like to learn more about the area, fill out the form to contact Best CS Homes and our team of local, highly-experienced agents or click here to see homes for sale in Flying Horse. We look forward to working with you!
Did we miss anything about Flying Horse (or get something wrong)? Leave us a comment here or message us on Social Media to let us know!
This post was written for Best CS Homes by Liam Christie (Lexcan)