Falcon, Colorado: Rural Haven with City Convenience
Posted by Liam Christie on Monday, August 14, 2023 at 11:00 AM
By Liam Christie / August 14, 2023
Comment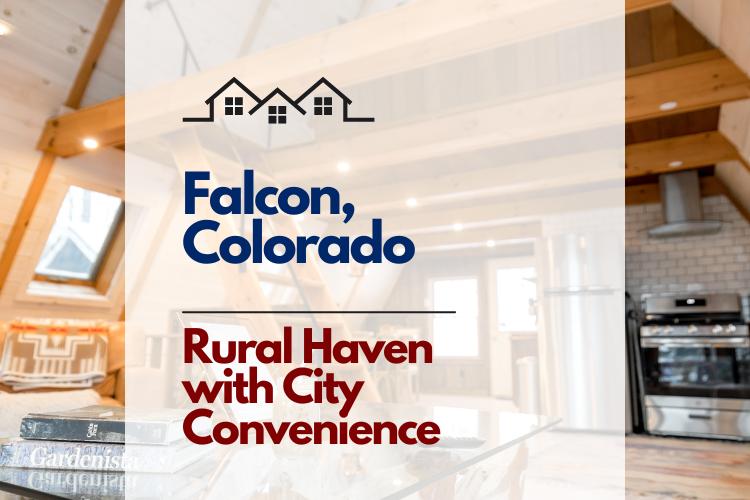 Considering a move to Colorado Springs? Be sure to add Falcon, an inviting community on the eastern edge of Colorado Springs, to your list! Falcon is a thriving rural community that embodies a strong sense of community spirit. The area fosters a close-knit environment, where neighbors support and engage with one another.
Falcon is known for its vast, wide-open spaces. The neighborhood offers expansive landscapes, open fields, and panoramic views of the surrounding prairies and mountains. Residents can enjoy the freedom of space, whether it's for outdoor activities, gardening, or simply appreciating the unobstructed horizons.
Falcon offers a delightful blend of rural charm, panoramic views of the Front Range, ample community amenities, and diverse entertainment options. It's no wonder this place to live in Colorado Springs has been growing in popularity in recent years!
Let's delve deeper into what makes Falcon a unique place to reside.

Schools Near Falcon
The Falcon community is served by Falcon School District 49, which is well-regarded for its student-focused approach.
Here are the schools that cater to Falcon's residents:
Woodmen Hills Elementary School: This school serves grades K-5 and offers a comprehensive curriculum with a focus on literacy, math, science, and social studies. It also offers art, music, and physical education.
Falcon Middle School: Serving grades 6-8, this school provides a rigorous academic program with an emphasis on science, technology, engineering, and math (STEM). It offers a variety of extracurricular activities, including sports, clubs, and music programs.
Falcon High School: This school serves grades 9-12 and offers a comprehensive curriculum that includes Advanced Placement (AP) and honors courses. It has a strong athletics program with various sports teams. The school mascot is the Falcon.

Where to Eat Near Falcon
Residents of Falcon are never far from a variety of enticing dining experiences. Here are a few highlights:
Guadalajara Family Mexican Restaurant: A family-owned restaurant known for its authentic Mexican cuisine. Located at 7336 McLaughlin Rd, Falcon, CO 80831.
The Bar: A laid-back pub offering a wide variety of beverages and delicious meals. Located at 6624 Delmonico Dr, Colorado Springs, CO 80919.
Back East Bar & Grill: A neighborhood bar and grill known for its excellent burgers and draft beer selection. Located at 9475 Briar Village Point, Colorado Springs, CO 80920.

Convenience & Shopping Near Falcon
Falcon Town Center: Your one-stop-shop for all your everyday needs, the Falcon Town Center offers a variety of stores and services, making shopping easy and convenient.
The Shops at Meridian Ranch: A short drive from Falcon, The Shops at Meridian Ranch offer a unique shopping experience with a mix of local boutiques and well-known retailers.

Nature & Outdoor Activities Near Falcon
Antler Creek Golf Course: Golf enthusiasts will love this challenging course set amidst the natural beauty of Falcon.
Falcon Regional Park: This large community park offers athletic fields, trails, and a dog park, making it a favorite spot for outdoor activities.
Meridian Ranch Recreation Center: This community center offers a pool, fitness center, and various recreational programs.
Other Things to Do Near Falcon, Colorado Springs
The Pinery: This unique venue offers various events throughout the year, including wine tastings and live music.
Rocky Mountain Roosters: Try your hand at pheasant hunting at this private hunting preserve.
Paint Mines Interpretive Park: This geological park offers a fascinating look at Colorado's natural history and is a great spot for hiking and photography.

Summary
Falcon offers a captivating rural ambiance, excellent schools, and a range of community services and leisure activities. It's no wonder that it's gaining popularity in the Colorado Springs area.
Falcon's balanced lifestyle combines the tranquility of rural living with convenient amenities. It retains its rural charm while offering essential services, schools, and local businesses that cater to the needs of its residents. This balance allows for a peaceful and relaxed lifestyle without sacrificing modern conveniences.
This is a thriving rural community that embraces wide-open spaces and a balanced lifestyle. Falcon is an ideal destination for those seeking a peaceful and connected living experience in Colorado Springs. With its strong sense of community and expansive landscapes, it offers a perfect retreat or a forever home.
Whether you're house-hunting or looking for a community that makes life more enjoyable, Falcon has much to offer.
If you'd like to learn more about the area, fill out the form to contact Best CS Homes and our team of local, highly-experienced agents or click here to see homes for sale in Falcon. We look forward to working with you!
Did we miss anything about Falcon (or get something wrong)? Leave us a comment here or message us on Social Media to let us know!
This post was written for Best CS Homes by Liam Christie (Lexcan)