Explore Larkspur: A Colorado Haven
Posted by Liam Christie on Monday, September 18, 2023 at 10:00 AM
By Liam Christie / September 18, 2023
Comment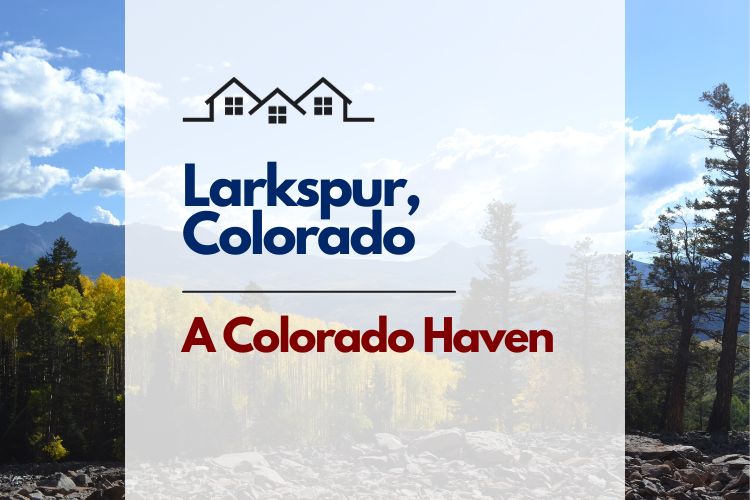 Step into Larkspur, Colorado, where the allure of the Rockies meets the comfort of home. Situated conveniently between Denver and Colorado Springs, Larkspur offers a tranquil escape without sacrificing modern amenities. Imagine a place where you can hike through wildflower meadows in the morning and enjoy gourmet dining by evening.
In Larkspur, you can experience a different pace of life where community and nature coexist harmoniously. Whether you're an outdoor enthusiast, a peace seeker, or contemplating a fresh start, Larkspur beckons.
In the following article, we'll unpack the unique qualities that make Larkspur more than just a place on a map. From its stunning natural vistas to its warm, inviting community, prepare to be captivated by all that Larkspur has to offer.
Schools Near Larkspur
Palmer Lake Elementary School: Located in Palmer Lake near Larkspur, this public elementary school serves students from kindergarten to 6th grade. The school follows the Colorado state curriculum, covering subjects like Math, English, and Science. Additionally, the school offers special education programs. Palmer Lake Elementary also has numerous extra-curricular sports and arts programs.
World Compass Academy: The aim of this charter school near Larkspur is to provide a global perspective in education. The curriculum covers core subjects plus foreign languages and cultural studies. Students have the opportunity to participate in extracurricular activities like sports and arts.
Palmer Ridge High School: This school's curriculum has a strong focus on STEM and AP courses, and also offers vocational training. Students can join various clubs and sports teams, including drama and music programs.
St. Peter Catholic School: St. Peter Catholic School is a short drive away from Palmer, in nearby Monument Colorado. The school blends religious studies with a standard curriculum for students from preschool to grade 8. Plus, a recent $5 million expansion added new state-of-the-art facilities.

Where to Eat Near Larkspur
Larkspur Pizzeria & Cafe:
Looking for a cozy spot to enjoy some classic Italian fare? Larkspur Pizzeria & Cafe is the place to be.
Nestled in the heart of Larkspur, this charming eatery offers a variety of pizzas, pastas, and salads that are sure to satisfy your cravings. The restaurant is adorned with rustic Italian decor, complete with wooden tables and vintage photos of Italy, creating an inviting atmosphere.
Whether you're a fan of their signature "Larkspur Special" pizza, topped with a medley of fresh vegetables and meats, or you're in the mood for some creamy fettuccine Alfredo, there's something for everyone.
Don't forget their delightful dessert options, including classic tiramisu and cannoli that transport you straight to the streets of Rome.
Located at 8815 Spruce Mountain Rd, Larkspur, CO 80118.
Spur of the Moment
If you're in the mood for some hearty American cuisine, Spur of the Moment in Larkspur is your go-to destination. This family-friendly restaurant offers a diverse menu that ranges from juicy burgers to succulent steaks.
The interior is designed with a rustic, Western flair, featuring cowboy boots and antler chandeliers, making you feel like you've stepped into a classic American saloon. Their "Spur Burger," topped with crispy bacon and cheddar cheese, is a local favorite and a must-try.
With a rustic ambiance and a selection of local beers on tap, it's the perfect place to unwind after a long day. Whether you're a local or just passing through, you'll appreciate the warm hospitality and delicious food.
Located at 8885 Spruce Mountain Rd, Larkspur, CO 80118.
Sasquatch and Yeti Taqueria
Looking for a taco experience that's as legendary as its name? Sasquatch and Yeti Taqueria in Palmer Lake is the place to be.
This taqueria offers a wide range of mouth-watering tacos, burritos, and other Mexican favorites. The decor is as unique as its name, featuring vibrant murals of mythical creatures and folklore, adding a whimsical touch to your dining experience.
With a cozy atmosphere and friendly staff, it's the perfect spot for a casual meal or a fun night out. Don't forget to try their signature "Bigfoot Burrito," a feast that lives up to its mythical name, packed with your choice of meat, rice, beans, and a special house sauce.
Whether you're a fan of traditional tacos or looking to try something new like their "Yeti Quesadilla," you're in for a treat.
Located at 259 Highway 105, Palmer Lake, CO 80133.
Convenience and Shopping Near Larkspur
Sabersmith Swords: A rapidly-growing company offering high-quality, functional, and artistic swords. Swords are crafted using a blend of historic techniques and modern tools. The shop is worth exploring for collectors and enthusiasts alike, and their blades appear at renaissance fairs across the country.
Unicorn Clothing: A high-quality renaissance and victorian era-inspired clothing store that first opened in 1978. That same year, the store became part of the Colorado Renaissance Festival, and has grown significantly since then. Now, you can shop with them online or find multiple booths at the annual festival.
Larkspur Farmer's Market: The Larkspur Farmers Market is a one-stop destination for farm-fresh produce like fruits, vegetables, eggs, and meat, as well as artisanal goods such as oils, soaps, and candles. Organized by local resident Kelly Smith, the market creates a harmonious and festive atmosphere that appeals to both the community's residents and visitors. Beyond just food, you can also discover local crafts and art, making it a wholesome family experience.
Nature & Outdoor Activities Near Larkspur
Spruce Mountain Open Space and Trail: This space offers well-maintained trails that run through lush forests and open fields. The trails culminate in scenic overlooks, providing panoramic views of the surrounding area.
Bear Dance Golf Club: Here, you can enjoy a round of golf in a picturesque mountain setting. The club's scenic course is seamlessly integrated into its natural surroundings, elevating your outdoor experience.
Larkspur Community Park: Ideal for family outings, this park offers a variety of sports courts, picnic areas, and walking paths. The well-maintained playground makes it a hit with younger children.
Other Things to Do Near Larkspur
Renaissance Festival: Think knights, jousting, and turkey legs as big as your forearm. This is not just a festival; it's a step back in time. Go with a group, dress up, and immerse yourself in a different era.
Spruce Mountain Ranch: This is not your typical ranch experience. With guided horseback tours and several walking trails, the ranch offers a full day of activities in a serene, natural setting.
Jellystone Park: It's not just a campground; it's an adventure destination. From scavenger hunts to karaoke nights, the park offers a range of activities ideal for group getaways.

Summary
Larkspur, Colorado is more than just a scenic spot; it's a community where nature and modern life blend seamlessly. From top-notch schools to a variety of dining options, Larkspur offers a balanced lifestyle that caters to both the adventurer and the homebody. Whether you're into hiking, dining, or shopping for artisanal goods, this town has something for everyone. Its close to major cities like Denver and Colorado Springs, which makes it a convenient yet tranquil escape.
In summary, Larkspur is not just a place to visit; it's a place to live and thrive. With its strong sense of community, excellent educational institutions, and an array of outdoor and indoor activities, it's a hidden gem in the heart of Colorado. So, if you're looking for a change of pace without sacrificing amenities, Larkspur beckons you to explore its unique charm.
Let us know if you'd like to learn about real estate in Larkspur and other homes for sale near Colorado Springs. Just fill out the form below, and a member of Best CS Homes' local, highly-experienced agents will be in touch!
Did we miss anything about Larkspur (or get something wrong)? Leave us a comment here or message us on Social Media to let us know!

Written by Liam Christie (Lexcan) for Best CS Homes.