Emma Crawford Coffin Races and Festival
Posted by Mark Main on Monday, October 24, 2022 at 7:00 PM
By Mark Main / October 24, 2022
Comment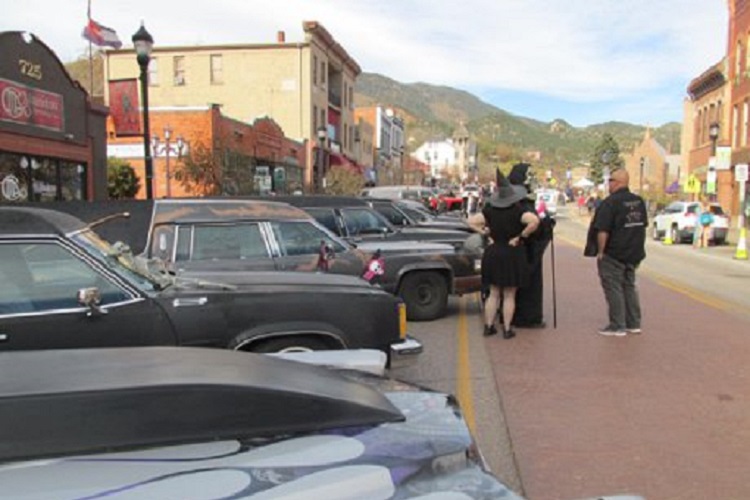 Are you looking for a unique experience this Halloween season? If so, don't miss the Emma Crawford Coffin Races and Festival in Manitou Springs. This race has been a tradition for 28 years. After a small hiatus, the races are back this year on October 29, 2022, for the 150th Anniversary of Manitou Springs.
Coffin Races
Here is the timeline for the coffin races:
8 AM to 9 AM - Check-in for racers
10 AM to 11:30 AM - Tech inspection and pre-judging
12 PM - The Coffin Parade begins and final judging takes place from the stage
12:30 PM - Coffin Races
1:30 PM - Awards Ceremony at the Bud Ford Pavilion at Soda Springs Park
Info for Racers
All coffins must meet the event specifications. Any coffins that do not meet these specifications during the inspection will be disqualified. The entry fee is $100 per team. Each team consists of five members, four to push the coffin, and one to ride in the coffin. All team members must be 18 or over. All riders (Emmas) must wear helmets.
The race course is approximately 585 feet and pushers must keep their hands on the coffin at all times. All coffins must stay in their own lanes. Teams can decide if they wish to participate in the "Coffin Cup" in Nederland, CO. Of the teams that express interest, the team with the fastest time will represent Manitou Springs and the Emma Crawford Coffin Race at the Tuff Shed Coffin Race in March 2023. All participants should view the entire list of rules here.
Info for Spectators
This is a popular event, so if you'd like to view the parade and coffin races, you will want to show up early to stake out a good spot. If you'd like to ensure a great spot, consider purchasing a VIP ticket. People who hold these tickets will have access to a designated seating area right at the finish line. Purchase VIP tickets here.
Additional Festival Events
There is much more to this event than just the coffins. Check out these other spooky experiences.
Emma's Wake at Miramont Castle
Come on October 28, 2022, to experience a glimpse into the interesting and eerie traditions of the Victorian era when someone passes away. View Emma laid out in the parlor of Miramont Castle in her pure Victorian splendor. Continue experiencing a Victorian wake by enjoying a large buffet dinner and beverages in the Great Hall and having access to the whole Castle. Viewings begin every 20 minutes starting at 6 PM and the last exits at 7:20 PM. The cost to attend is $50 for adults and $30 for children aged 12 and under. Call 719-685-1011 to make your reservation. Read more about this event and Miramont Castle here.
Ghost Stories and Walking Tours
Ghost Stories of Old Manitou Walking Tours have been taking place all October. You still have a chance to come to be spooked on Thursday, October 27, or Friday, October 28, 2022. Advance tickets are recommended. These can be purchased online or by calling 719-685-1454.
The tours are outdoors and depart from the Manitou Springs Heritage Center, which is located at 517 Manitou Avenue. Tours depart every 15 minutes starting at 6 PM and last about 45 minutes. The ghost tours are eerie, yet fun, to provide a family experience. The tours tell the stories of real people from the history of Manitou Springs. Join a Spirit Guide on your tour that will tell you the stories and guide you from scene to scene to visit the ghosts. The proceeds of this event benefit the Heritage Center, which is a free museum open to all.
Who was Emma Crawford?
Emma Crawford is a well-known name in the Pikes Peak region. Legend has it that she is the ghost of Red Mountain. However, facts and legends may have different stories.
Emma Crawford was born on March 24, 1863, in South Royalston, Massachusetts. She showed musical talent from an early age, especially the piano. She also mastered the violin, cello, viola, and mandolin. It is said that she learned these instruments through "spirit instruction" having never taken a lesson from a person.
Emma had been ill since age seven and moved with her mother to Manitou around 1889. They hoped the local mineral springs and mountain air might cure her illness (likely tuberculosis). As Emma grew, she became engaged to Mr. William Hildebrand, an engineer from New York working in the Pikes Peak Cog Railroad. Emma loved music and nature. She could often be seen climbing Red Mountain in a red dress. She wished to be buried at the top of this mountain.
Emma died on December 4, 1891. Funeral services were held on December 8, 1891, at 137 Ute Ave. Emma was never able to marry her fiancée, who worked diligently to have her buried at the top of Red Mountain.
Because of the construction of a powerhouse and depot on the summit of Red Mountain, Emma's grave was moved to the west side of the mountain. Years later, in 1929, boys found a human skull on the mountain, and later a bundle of human bones and a coffin handle were found. Emma's remains remained in storage for two years until they could be buried at Crystal Valley Cemetery. Emma's coffin washed away between the time when her grave was moved and her remains were found, hence the inspiration for this event.
Attend or Participate in the Emma Crawford Coffin Races and Festival
Residents of Manitou Springs, Colorado Springs, and the entire Pikes Peak region are invited to participate in this event, come and watch, or volunteer. Manitou Springs offers many events throughout the year. Don't miss the Manitou Springs Colorado Wine Festival, summer concert series, Commonwheel Arts Festival, Carnivale Weekend, and much more.
Manitou Springs offers an active historic downtown area, including many restaurants, shops, and the Penny Arcade. This is a unique town that values arts and culture. If you are looking for a one-of-a-kind place to call home, take a look at Manitou Springs. Start your home search with Best Colorado Springs Homes and contact Mark Main, an experienced local realtor, today.