Elbert, Colorado: A Hidden Gem of Tranquility and Tradition
Posted by Liam Christie on Friday, September 15, 2023 at 10:00 AM
By Liam Christie / September 15, 2023
Comment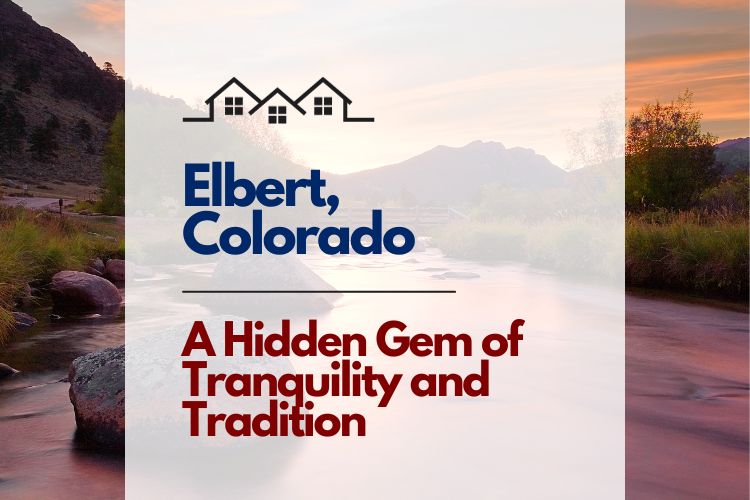 Welcome to the hidden gem that is Elbert, Colorado! This charming place to live near Colorado Springs offers a slice of authentic Americana that's becoming increasingly rare. From outdoor enthusiasts to history buffs to people just looking for a peaceful retreat, Elbert has something for everyone.
Elbert's stunning landscape accompanies a long, rich history. Elbert's population has grown steadily since the Elbert Post Office opened its doors in 1875. The town offers a variety of activities including camping, hiking, biking, fishing, and hunting in nearby National Forests. Elbert also boasts a rich cultural heritage with many historical buildings dating back to the founding of the town.
Regardless of whether you're looking for beautiful places to visit or homes for sale near Colorado Springs, keep reading! We're about to dive into what makes Elbert, Colorado, a destination that's not just another dot on the map.
Schools Near Elbert
The Elbert School District #200 has been educating students from pre-k through grade 12 since 1928! In 2014, the school district proudly opened a new school facility that is also home to a community library.
Elbert Elementary School: Elbert Elementary School provides a comprehensive education from Kindergarten to 5th grade. The school offers a variety of subjects including art, music, physical education, and library arts. Each grade has a specific school supply list, which includes items like crayons, pencils, notebooks, and more.
Elbert Middle School: The middle school at Elbert transitions students from elementary to a more structured academic setting. The curriculum includes Language Arts, Differentiated Math, Science, and Social Studies. Students also have the option to choose from various electives like Industrial Arts, FACS, Band, and Art. Physical Education and sports practice are also part of the daily schedule.
Elbert High School: Elbert High School offers a wide range of courses from 9th to 12th grade. Freshmen can expect classes like English 9, Physical Science, and World History. As students progress, they have more elective options and can even opt for concurrent enrollment classes with administrative approval. Seniors have the flexibility to participate in work-study or become a teacher's aide.
High school students in Elbert have two other impressive options to help prepare for their future after grade 12. Concurrent Enrollment allows high school students to enroll in college courses alongside their regular high school classes. Also, Seniors can get practical experience through available work-study and teacher's aide programs.
Where to Eat Near Elbert
South 40 Bar and Grill: A special small-town restaurant featuring food such as elk, bison, and beef alongside a beer and cocktail menu. Located at 6735 Garfield Ave, Elbert, CO 80106.
The Grill at Latigo: A highly-rated dining experience in an understated building, this restaurant offers seating with a view of the Latigo Events area. Located at 13710 Halleluiah Trail, Elbert, CO 80106.
Convenience & Shopping Near Elbert
Naked Goat Farm: This store combines a soap shop, café, and general store under a single roof, and it specializes in farm-fresh products. Located at 6739 Lavell Ave, Elbert, CO 80106.

HI-TEST: Self-described as an "independent and hyper-local filling station", there's much more than just gas pumps here. This popular local staple also offers snacks, pizza, a liquor selection, and general convenience supplies. Located at 24501 N Elbert Rd, Elbert, CO 80106.
Nature & Outdoor Activities Near Elbert
Castlewood Canyon State Park: This park near Franktown offers hiking, hunting, and fishing. It's a great spot to learn about Colorado's unique history through its educational exhibits.
Fishing at Lake Pueblo: Known for its fishing opportunities, Lake Pueblo is a haven for anglers. You can catch a variety of fish including rainbow and brown trout.
Multi-Use Trail: A scenic 8.8-mile trail that circles a lake, perfect for cyclists and horseback riders. The trail offers beautiful views of the neighboring foothills and Platte River valley.
Other Things to Do Near Elbert
Rocky Mountain Roosters: Rocky Mountain Roosters offers bird hunting experiences on huge open spaces. In addition to not requiring a license, the service provides all the necessary equipment for your next outing. This includes things like trained dogs and professional guides.
Camp Cris Dobbins: This privately-owned Boy Scouts of America camp offers sweeping views of Pikes Peak and the front range. This particularly scenic BSA location also offers campsites, cabins, and more for rent during the off-season.
Summary
Elbert, with its 150-year history, is a special place that has a lot to offer. A single drive through the mountain-framed countryside with your windows down will show you why everyone finds something in Elbert.
The schools in Elbert are great too. From little kids to high schoolers, everyone gets a good education. Plus, high school students have extra options like taking college classes or getting work experience.
If you are seeking a pleasant destination to visit or reside in, consider Elbert. The area's great schools, delicious food, and tremendous variety of outdoor fun means there's something for everyone here.
Let us know if you'd like to learn about real estate in Elbert and other homes for sale near Colorado Springs. Just fill out the form below, and a member of Best CS Homes' local, highly-experienced agents will be in touch!

Did we miss anything about Elbert (or get something wrong)? Leave us a comment here or message us on Social Media to let us know!
Written by Liam Christie (Lexcan) for Best CS Homes.