Downtown Colorado Springs: The Pulse of Mountain City Life
Posted by Liam Christie on Wednesday, September 27, 2023 at 10:30 AM
By Liam Christie / September 27, 2023
Comment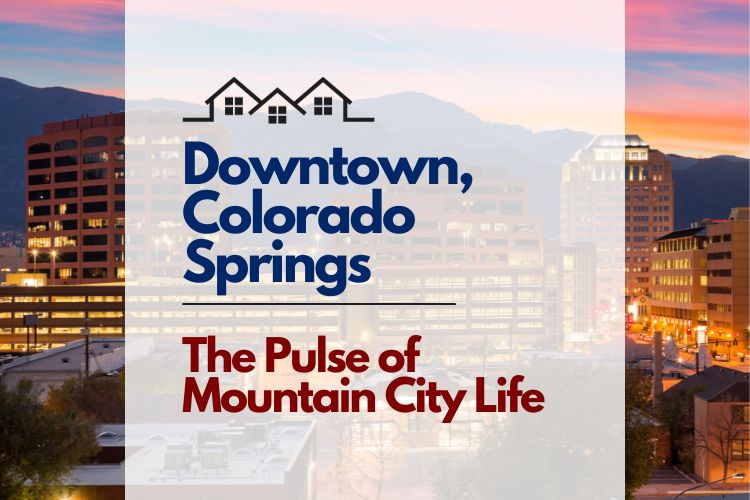 Step right into Downtown Colorado Springs, where the energy of urban life meets the tranquility of mountain scenery. Located at the heart of Colorado Springs, this bustling area is a hub for arts, dining, and entertainment. Imagine a day where you can explore cutting-edge art galleries, savor international cuisine, and catch a live performance—all within walking distance.
Downtown isn't just a place; it's the heartbeat of a city that blends natural beauty with cultural richness. Whether you're a city slicker who loves the arts, a foodie on the hunt for the next culinary delight, or someone seeking a vibrant community, Downtown Colorado Springs has something for everyone.
Today, we're looking at the diverse attractions that make Downtown a hotspot for residents and visitors alike. From its lively arts scene to its historic landmarks, prepare to immerse yourself in the multifaceted allure of Downtown Colorado Springs.

Schools Near Downtown Colorado Springs
Downtown Colorado Springs is a bustling area with a variety of educational options. Whether you're looking for a preschool or a specialized academy, you'll find something that suits your needs. Here's a snapshot of some schools in the vicinity.
First Class Preschool: Downtown Colorado Springs
First Class Preschool in Downtown Colorado Springs is a nurturing environment for young learners. The school focuses on early childhood education, providing a curriculum that includes language arts, math, and social skills. Extracurricular activities are also part of the package, offering a well-rounded experience for kids.
Richard C. Bristol Elementary School
Richard C. Bristol Elementary School offers a comprehensive curriculum that includes STEM programs and art education. With a student-teacher ratio of 17:1, the school provides ample attention to individual learning needs. Extracurricular activities like sports and clubs are also available, making it a holistic educational hub.
North Middle School
North Middle School, located in Colorado Springs, serves grades 6-8 and has a diverse student body. The school's curriculum includes core subjects like math and reading, where 18% and 42% of students score at or above the proficient level, respectively. With a student-teacher ratio of 17:1 and extracurricular options, it offers a balanced educational experience.

Where to Eat Near Downtown Colorado Springs
P74: The Downtown Paninos
If you're in the mood for Italian with a twist, P74: The Downtown Paninos is the place to go. Located in the heart of Downtown Colorado Springs, this eatery offers a variety of paninos, pasta, and salads. Their paninos are a local favorite, featuring freshly baked bread filled with delicious ingredients like Italian sausage, pepperoni, and mozzarella. It's the perfect spot for a casual lunch or dinner with friends and family. Located at 604 N Tejon St, Colorado Springs, CO 80903.
Stellina Pizza Cafe
For pizza lovers, Stellina Pizza Cafe is a must-visit. This cozy spot in Downtown Colorado Springs serves up artisanal pizzas that are sure to satisfy your cravings. From classics like Margherita to unique offerings like the "Truffle Shuffle," there's something for everyone. Don't forget to pair your pizza with one of their craft beers or wines. Located at 749 E Willamette Ave, Colorado Springs, CO 80903.
The Wild Goose Meeting House
Looking for a place to relax, work, or catch up with friends? The Wild Goose Meeting House has got you covered. This Downtown Colorado Springs gem offers a cozy atmosphere, complete with coffee, craft beer, and a menu that ranges from breakfast to dinner. Whether you're there for a morning latte or an evening cocktail, it's a versatile space that caters to all. Located at 401 N Tejon St, Colorado Springs, CO 80903.
Poor Richard's Restaurant
For a dining experience that offers something for everyone, head to Poor Richard's Restaurant in Downtown Colorado Springs. This spot is known for its diverse menu, featuring everything from pizzas with house-made sauce to hearty soups and stews. They even offer vegan and gluten-free options, making it a hit among health-conscious diners. Located at 324 1/2 N Tejon St, Colorado Springs, CO 80903.

Convenience and Shopping Near Downtown Colorado Springs
Poor Richard's Complex: This is more than just a bookstore. Poor Richard's is an institution in downtown Colorado Springs, offering books, toys, gifts, and even a café that serves local and organic food. It's your go-to spot for a relaxed afternoon of shopping and dining.
Perch Décor: If you're in the market for upscale, trendy home décor, Perch Décor is a must-visit. The shop offers a range of products from furniture to unique decorations, aiming to provide stylish and sustainable options for your home. The staff is helpful and can assist in finding the perfect piece for any room.
Walmart Supercenter: Barely outside of the core downtown area, this Walmart offers a comprehensive range of products from groceries to clothing and electronics. It isn't locally-owned, it still provides a one-stop-shop for most home needs.

Nature & Outdoor Activities Near Downtown Colorado Springs
Monument Valley Park: Located right in the heart of downtown, this park is a slice of tranquility amidst the urban hustle. With picturesque trails perfect for walking and jogging, as well as sculptures and fountains, it's a multifaceted outdoor experience.
Acacia Park: This park is a hub for all kinds of outdoor activities. Whether you're interested in a game of chess on the life-sized board, taking the kids to the playground, or ice-skating in the winter, it's a diverse and lively spot.
Colorado Springs Pioneers Museum: While the main attractions are indoors, the museum's landscaped grounds provide a serene outdoor setting. You can explore the carefully curated gardens or simply enjoy a peaceful moment by the fountain.

Other Things to Do Near Downtown Colorado Springs
Downtown Food Tours: These are not your average guided walks; they combine the history of Colorado Springs with culinary stops at local eateries, making it a feast for both mind and palate.
Kimball's Peak Three Theater: This independent cinema offers a unique experience with its rooftop events during the summer. Watch a classic film under the stars or attend one of their themed parties.
Pikes Peak Center: This performing arts venue frequently hosts outdoor concerts and festivals in its adjacent plaza, offering a diverse range of entertainment options in an open-air setting.

Summary
Downtown Colorado Springs is more than just a location; it's a vibrant community that offers a blend of urban excitement and natural beauty. From a diverse range of educational institutions to an array of dining options, it caters to various tastes and needs. Whether you're an art enthusiast, a foodie, or someone looking for outdoor activities, Downtown Colorado Springs has got you covered. The area also offers convenient shopping options, from locally-owned boutiques to a Walmart Supercenter for all your essentials.
In summary, Downtown Colorado Springs is the pulse of the city, offering a rich cultural experience combined with the serenity of mountain landscapes. It's a hotspot for both residents and visitors, featuring everything from cutting-edge art galleries and international cuisine to tranquil parks and historic landmarks. So whether you're looking to enrich your mind, tantalize your taste buds, or simply relax in a natural setting, Downtown Colorado Springs is the place to be.
Let us know if you'd like to learn about real estate in Downtown Colorado Springs and other homes for sale near Colorado Springs. Just fill out the form below, and a member of Best CS Homes' local, highly-experienced agents will be in touch!
Did we miss anything about Downtown Colorado Springs (or get something wrong)? Leave us a comment here or message us on Social Media to let us know!
Written by Liam Christie (Lexcan) for Best CS Homes.