Divide, Colorado: A High-Country Oasis
Posted by Liam Christie on Wednesday, August 23, 2023 at 11:00 AM
By Liam Christie / August 23, 2023
Comment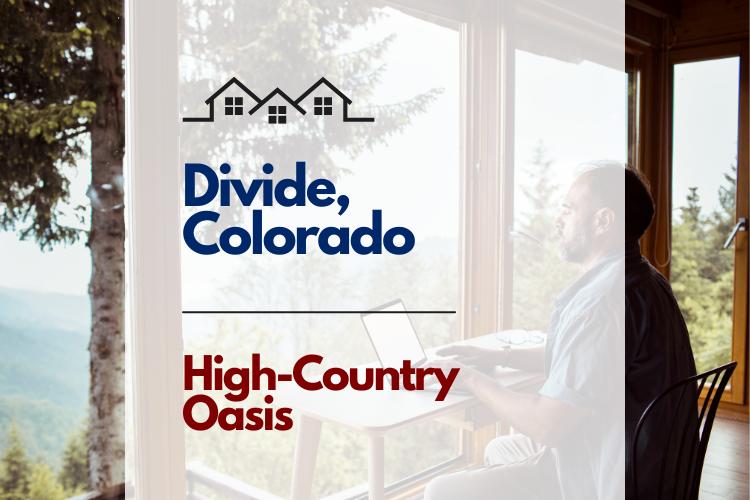 If you're looking for a tranquil mountain town in the heart of Colorado, consider Divide. Situated in Teller County, Divide offers a high-country living experience that's hard to beat. With its breathtaking vistas, rustic charm, and abundance of outdoor recreational activities, Divide truly embodies the essence of Colorado mountain living.
Known for its abundant wildlife, dense forests, and access to world-class trails, Divide is a paradise for nature lovers. Whether you're a hiker, cyclist, or simply someone who appreciates the peace and tranquility of nature, Divide has a lot to offer. Now, let's delve into the myriad features that contribute to Divide's appeal as a place to call home.

Schools Near Divide
Divide falls under the jurisdiction of the Woodland Park School District RE-2, a district known for its high academic standards and supportive community.
Here's a brief look at some of these schools:
Summit Elementary School: This school serves students from Pre-Kindergarten to Grade 5. Summit Elementary School is part of the Woodland Park School District RE-2, ensuring a consistent and high-quality education for all its students. The school is known for its nurturing environment and commitment to student success.
Woodland Park Middle School: This school caters to 6th to 8th grade students, and is renowned for its comprehensive STEM program and dedication to cultivating a passion for learning. In addition, the middle school offers a wide selection of extracurricular activities, such as a robotics club and drama club.
Woodland Park High School: Woodland Park Middle School caters to students in grades 6-8 and is renowned for its strong STEM program and dedication to inspiring a passion for learning. It also offers a range of extracurricular activities, including robotics and drama clubs. Woodland Park High School serves students in grades 9-12 and is the top destination for education in the area. With its numerous AP courses, extensive athletics programs, and diverse selection of clubs and activities, its cutting-edge facilities provide an exceptional learning atmosphere for students to excel.

Where to Eat Near Divide
Residents of Divide can indulge in a range of culinary delights, from hearty American classics to international cuisine. Here are some local favorites:
McGinty's Wood Oven Pub: An Irish-inspired pub with a cozy atmosphere, serving delicious wood-fired pizzas and a selection of craft beers. Located at 11115 US-24, Divide, CO 80814.
Blue Moose Tavern: A friendly local bar and grill offering a wide range of dishes and beverages. Located at 10530 Ute Pass Ave, Green Mountain Falls, CO 80819.
Costello Street Coffee House: A beloved local café serving fresh coffee, pastries, and sandwiches. Located at 2679 W Hwy 24, Florissant, CO 80816.

Convenience & Shopping Near Divide
Gold Hill Square South: Conveniently located, this shopping center offers a diverse mix of stores and services to meet your everyday needs.
Woodland Park: This nearby town provides additional shopping opportunities, with a range of stores from local boutiques to national chains.
Pikes Peak Regional Hospital and Surgical Center: A fully equipped medical facility offering comprehensive healthcare services is just a short drive away in Woodland Park.

Nature & Outdoor Activities Near Divide
Mueller State Park: A pristine natural reserve, perfect for hiking, camping, and wildlife viewing.
Crags Trail: This popular trail offers hikers panoramic views of the Continental Divide.
Eleven Mile State Park: Ideal for boating, fishing, and camping, with stunning views of the Rocky Mountains.
Other Things to Do Near Divide, Colorado
Pikes Peak Historical Society Museum: Learn about the local history and culture at this interesting museum.
Florissant Fossil Beds National Monument: Explore ancient fossil deposits and hike through beautiful trails at this unique national monument.
Colorado Wolf and Wildlife Center: Visit this wildlife center to learn about wolves and other wild canines, and participate in their conservation efforts.

Summary
Divide is more than just a scenic mountain town. With its reputable schools, varied amenities, and countless recreational opportunities, it's a vibrant, welcoming community that would make an ideal home for anyone seeking a peaceful, nature-oriented lifestyle.
Whether you're searching for your dream home or desiring a lifestyle that combines tranquility and adventure, Divide has plenty to offer.
If you'd like to learn more about the area, fill out the form to contact Best CS Homes and our team of local, highly-experienced agents or click here to see homes for sale in Divide. We look forward to working with you!
Did we miss anything about Divide (or get something wrong)? Leave us a comment here or message us on Social Media to let us know!
This post was written for Best CS Homes by Liam Christie (Lexcan)