Cordera, Colorado Springs: Community and Convenience
Posted by Liam Christie on Monday, July 24, 2023 at 2:00 PM
By Liam Christie / July 24, 2023
Comment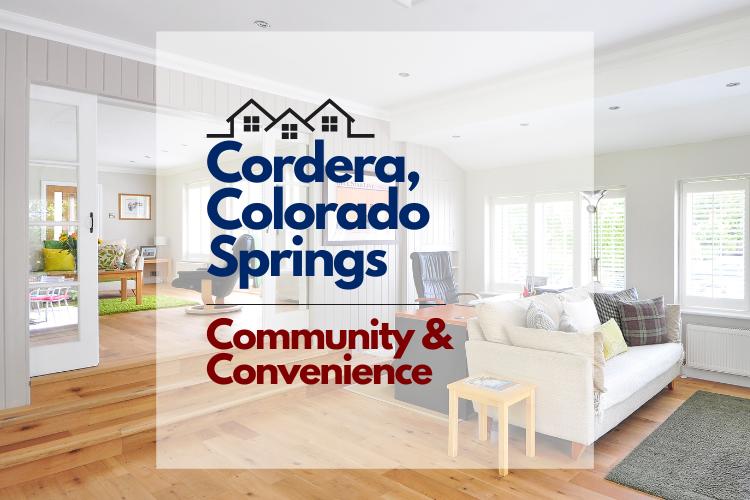 Are you thinking of moving to Colorado Springs? Then Cordera, a sought-after planned community located in the heart of Northern Colorado Springs, should be on your list! Just 15 minutes from the Air Force Academy in El Paso County, Cordera is popular with families and retirees alike.
The beautiful mountain views, community amenities, and various entertainment centers mean Cordera homes for sale often disappear quickly!
In this article, we'll highlight some of the things that make Cordera such a special place to live.
Schools Near Cordera
Schools in Cordera are part of Academy School District 20, one of Colorado's highest-performing school districts.
Here are some of the specific schools that serve the Cordera community:
Chinook Trail Elementary School: This school serves grades Pre-K to 5. It offers a comprehensive curriculum that includes art, music, physical education, and technology. The school has a strong focus on character education and offers a variety of clubs and activities for students.
Chinook Trail Middle School: Serving grades 6-8, this school provides a rigorous academic program with an emphasis on science, technology, engineering, and math (STEM). It offers a variety of extracurricular activities, including sports, clubs, and music programs.
Pine Creek High School: This school serves grades 9-12 and offers a comprehensive curriculum that includes Advanced Placement (AP) and honors courses. It has a strong athletics program with various sports teams. The school mascot is the Eagle.
Where to Eat Near Cordera
Residents in and around Cordera are just a short drive away from many fantastic dining options to explore. Here are a few noteworthy options:
Convenience & Shopping Near Cordera
The Promenade Shops at Briargate: Experience the best of outdoor shopping at The Promenade Shops at Briargate! This upscale lifestyle center features a mix of local boutiques and national retailers, offering everything from fashion to home goods. With its beautiful architecture, landscaped walkways, and variety of dining options, it's more than just a shopping destination—it's a place to gather, dine, and enjoy the Colorado sunshine.
Marketplace at Briargate: Discover a unique shopping experience at the Marketplace at Briargate. This open-air shopping center offers a diverse mix of stores, services, and eateries. Whether you're looking for the latest fashion trends, need to pick up some groceries, or want to enjoy a meal out, the Marketplace at Briargate has something for everyone.
Briargate Crossing: Conveniently located, Briargate Crossing offers a variety of retail stores and services to meet your everyday needs. From fitness centers to beauty salons, and a variety of dining options, Briargate Crossing makes shopping easy and convenient.
Nature & Outdoor Activities near Cordera
John Venezia Community Park: Enjoy the great outdoors at John Venezia Community Park! With its state-of-the-art playground, splash pad, sports fields, and picnic areas, it's the perfect place for a family outing. The park's beautiful walking trails offer a peaceful retreat in the heart of the city.
Cave of the Winds Mountain Park: Adventure awaits at Cave of the Winds Mountain Park! Explore stunning underground caverns on guided tours, soar above the landscape on the Bat-A-Pult zip line, or test your courage on the Terror-Dactyl ride. With its breathtaking views and thrilling attractions, it's a must-visit for nature lovers and adrenaline junkies alike.
Cottonwood Creek Park: Unleash your spirit of adventure at Cottonwood Creek Park! With its sprawling green spaces, sports fields, and a family-friendly playground, it's the perfect place for outdoor fun. Don't miss the in-line hockey rink and the disc golf course for some unique recreational activities. The park's scenic trails and picnic areas make it a great spot for relaxation too.
Rampart Park: Experience the joy of outdoor activities at Rampart Park! This expansive park offers a variety of sports fields, including baseball and soccer, as well as tennis courts for enthusiasts. The park's well-maintained walking trails are perfect for a leisurely stroll or a morning jog. With its open spaces, dog park, and beautiful surroundings, Rampart Park is a haven for nature lovers.
Gateway Park: Discover the beauty of nature at Gateway Park! This charming park offers a tranquil setting with its lush greenery and serene pond. The park's picnic areas are perfect for a family outing or a quiet lunch in the great outdoors. Whether you're looking to relax, play, or simply enjoy the scenery, Gateway Park is the place to be.
Other Things to Do Near Cordera, Colorado Springs
Ghost Town Museum: Step back in time at the Ghost Town Museum! This preserved gold rush town offers a glimpse into the 1800s with its authentic buildings and artifacts. Interactive exhibits and activities like gold panning make it a fun and educational experience for all ages.
Miramont Castle Museum: Discover the elegance of the Victorian era at Miramont Castle Museum. This beautifully preserved castle offers a unique glimpse into the past with its period furnishings, historic exhibits, and stunning architecture. Don't miss the Queen's Parlour Tea Room for a truly regal experience.
Play Street Museum: Ignite your child's imagination at Play Street Museum! This interactive children's museum has play areas and exhibits that inspire creativity and learning. From the grocery store to the farm, kids can explore different environments in a safe and fun setting.
MagiQuest: Embark on a magical adventure at MagiQuest! This interactive live-action game lets you become the hero of your own story. With a magic wand in hand, you'll solve puzzles, discover secrets, and battle dragons in a world of fantasy and fun. It's an unforgettable experience for wizards and witches of all ages.
Summary
Cordera offers stunning mountain views, a strong job market, family-friendly amenities, and many recreational opportunities. It's easy to see why Cordera is rapidly becoming one of the most sought-after locations in the Colorado Springs area.
Whether you're in the market for a new home or searching for a destination that will make living life easier and more enjoyable, Cordera is sure to offer everything you need and more. It's time to get excited about all that Cordera has to offer!
If you'd like to learn more about the area, fill out the form to contact Best CS Homes and our team of local, highly-experienced agents or click here to see homes for sale in Cordera. We look forward to working with you!
Did we miss anything about Cordera (or get something wrong)? Leave us a comment here or message us on Social Media to let us know!
This post was written for Best CS Homes by Liam Christie (Lexcan)