Complete Guide to Colorado Springs Golf Courses
Posted by Mark Main on Monday, May 9, 2022 at 7:00 PM
By Mark Main / May 9, 2022
Comment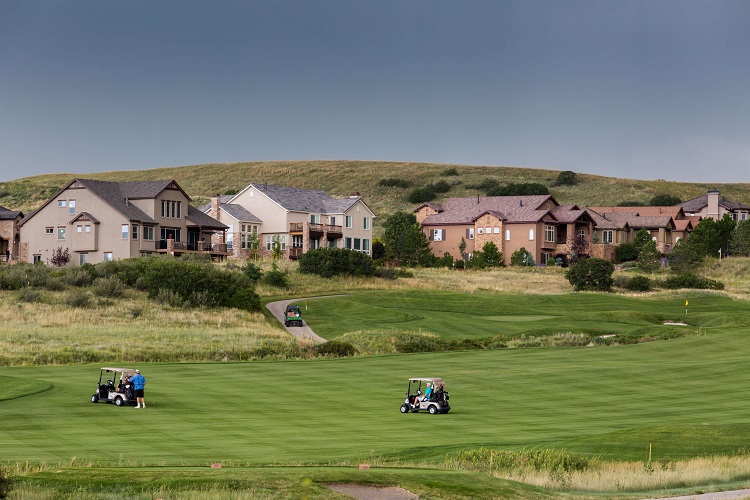 With all the beautiful days filled with sunshine, Colorado Springs is an excellent city for golf. There are a variety of courses, from affordable public courses to the prestigious courses at the Broadmoor. Whether you are looking to occasionally play a round or join a golf club with extra amenities, there are plenty of choices for Colorado Springs Golf Courses.
City-Owned Colorado Springs Golf Courses
Two city-owned golf courses are available for play in the city. These are excellent choices for leisure golfers who like to play an occasional round. These courses require online tee time reservations, and payment made two days in advance.
Valley Hi Golf Course
610 South Chelton
Colorado Springs, CO 80910
(719) 385-5968
Offering scenic views of Pikes Peak and Cheyenne Mountain, Valley Hi Golf Course is a gem in Southeast Colorado Springs. The course was built in 1956 and purchased by the city of Colorado Springs in 1975. Throughout the years, the course has seen significant improvements. It's a unique 18-hole course that is par 72. There is a clubhouse and on-course restrooms. In addition, the Valley Hi Grill and Pub offers a tasty meal.
Patty Jewett Golf Course
1401 Recreation Way
Colorado Springs, CO 80905
(719) 385-5940
City-owned since 1919, Patty Jewett Golf Course is the third oldest public course west of the Mississippi. The course in the heart of the city includes majestic 100-year-old trees and a grand view of Pikes Peak. It is an 18-hole par 72 course with a separate 9-hole course available. In addition, the Patty Jewett Grill is open for a refreshing drink or a meal.
Colorado Springs Golf Courses Offering Public Tee Times
There are several options for privately owned golf courses that offer public tee times. Be sure to check individual websites for information about booking tee times.
Cherokee Ridge Golf Course
1850 Tuskegee Pl.
Colorado Springs, CO 80915
(719) 597-2637
Cherokee Ridge Golf Course has a regulation 9-hole course and a par 3 course. This course is located in the Cimarron Hills neighborhood in the southeast part of the city. This public golf course opened in 1971 and features three sets of tees. Golf instruction is available, and players can participate in outings and tournaments throughout the year.
Pine Creek Golf Club
9850 Divot Trl.
Colorado Springs, CO 80920
(719) 594-9999
If you'd like to live in a golf community, consider Pine Creek Golf Club. Those who would like easy access to play golf can choose a home nestled around the course. Opened in 1988 and designed by Richard Phelps, this golf course winds through wandering creek beds. It's an 18-hole course located in the Pine Creek neighborhood and offers lovely views. It's a golf destination complete with the Pine Creek Bar and Grill and various events and tournaments throughout the year. Public tee times are available.
Sand Creek Golf Course
6865 Galley Rd.
Colorado Springs, CO 80915
(719) 570-`1587
World Golf and Sand Creek Golf Course offer a 9-hole executive golf course in Southeast Colorado Springs. In addition, there is a lighted grass tee driving range, miniature golf course, golf shop, and full-service club repair shop. Membership programs, golf leagues, and the Fairway Grill and Pub are available at this course. This is a family-owned and operated course that was established in 1977.
Colorado Springs Private Golf Courses
If you are looking for a club atmosphere with extra amenities, the city also offers many private golf courses. These courses require memberships or other requirements to play.
Colorado Springs Country Club
3333 Templeton Gap Rd.
Colorado Springs, CO 80907
(719) 634-8851
Enjoy a traditional course layout at the Colorado Springs Country Club. This course is a Certified Audubon Cooperative Sanctuary and provides a challenge for every level of golfer. The 18-hole course is completed in under four hours, on average. Additional amenities at the club include dining, fitness, tennis, pickleball, aquatics, and Caddy Shack, a kids recreation center.
Country Club of Colorado
3225 Broadmoor Valley Rd.
Colorado Springs, CO 80906
(719) 538-4000
The Country Club of Colorado at Cheyenne Mountain resort offers a terrific round of golf in Southwest Colorado Springs. The course spans 7,000 yards and was designed by Pete Dye. PGA professionals are available for lessons, and the golf shop has everything you need for the game. This club also offers dining, pools, a beachfront lake, and a spa.
Broadmoor Golf Club
1 Lake Ave.
Colorado Springs, CO 80906
(719) 577-5790
The Broadmoor Golf Club is an exclusive private resort in the Broadmoor area. World-class amenities are available to members all year long. This golf club was established in 1819 to coincide with the opening of the Broadmoor resort. The course is a part of this Forbes Five-Star, AAA Five-Diamond resort. Designed in 1916 by Donald Ross, part of the course was reimagined in 1964 by Robert Trent Jones Sr. In addition to this reimagination, nine holes were added to the original course to allow member play during tournaments. Presidents, celebrities, and athletes have played this course.
Club at Flying Horse
1880 Weiskopf Pt.
Colorado Springs, CO 80921
(719) 494-1222
Two 18-hole golf courses are available at the Club at Flying Horse. One was designed by Tom Weiskopf, and the other by Phil Smith. The landscape is breathtaking in Flying Horse, and the club includes a clubhouse, athletic club and spa, a Golf Channel Academy, and a restaurant. The Steakhouse at Flying Horse offers a delicious meal. Open since August 2005, this golf club continues to receive rave reviews.
Kissing Camels Golf Club
4500 Kissing Camels Dr.
Colorado Springs, CO 80904
(719) 636-2520
The Kissing Camels Golf Club was established in 1961. It was designed by architects J. Press Maxwell and Mark Rathert. The course boasts 27 holes and features immaculate fairways. There are also bunkered greens, towering pines, and a short game practice area. The course offers fantastic views since it's located in West Colorado Springs.
Colorado Springs Military Golf Courses
The Air Force Academy and Fort Carson offer golf courses. Peterson Space Force Base used to have a course, but it recently closed. Now, there is only a driving range, putting green, sand traps, and chipping green available on base.
Eisenhower Golf Club
123 Golf Dr.
USAF Academy, CO 80840
(719) 333-2606
Located on the Air Force Academy, Eisenhower Golf Club features two 18-hole courses. The Blue Course and the Silver Course both offer a challenging round and beautiful views of the Rocky Mountains. Golf instruction, golf clinics, and a summer junior golf program are available. In addition, this course is the home of the Air Force Academy's intercollegiate golf team. A newly built clubhouse includes The Grill, a Pro Shop, and locker rooms.
Cheyenne Shadows Golf Club
1050 Titus Ave.
Fort Carson, CO 80913
(719) 526-4102
Fort Carson also offers a championship golf course. Cheyenne Shadows Golf Club is an 18-hold golf course that sits at the base of Cheyenne Mountain. Play the course, visit the Pro Shop, or participate in tournaments, lessons, and events. Civilian access is available at this course. You need to apply online for a pass and wait for approval. Before or after golf, stop into Mulligan's Grill for a bite to eat.