Colorado Springs Garden Tour
Posted by Mark Main on Monday, July 4, 2022 at 7:00 PM
By Mark Main / July 4, 2022
Comment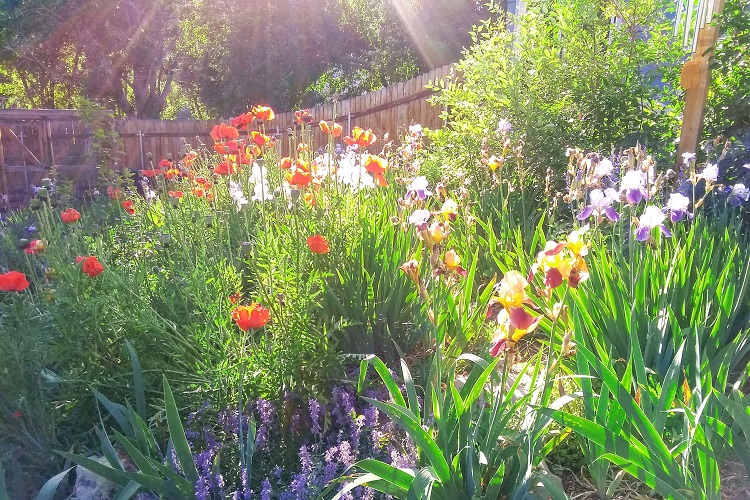 The summer months are a wonderful time to live in Colorado Springs. The weather is warm and you have the chance to view gorgeous gardens in the yards in Colorado Springs neighborhoods. If you are interested in getting some ideas for your own garden, the Colorado Springs Garden Tour is a terrific place to start. Not only can you view gardens, but also chat with master gardeners. These individuals will be available at each of the gardens to answer your questions about plants and gardening practices.
2022 Colorado Springs Garden Tour From Ashes to Beauty: A Decade of Recovery from the Waldo Canyon Fire
This year, the garden tour will take place July 9-10, 2022 in the communities of Rockrimmon and Mountain Shadows. The gardens will be open from 9 AM to 3 PM on both days and your ticket can be used on either day. With your ticket, you can visit eight private gardens in the Rockrimmon and Mountain Shadows communities as well as the Foothills Learning Garden.
To begin your tour, go to one of the addresses listed on the ticket. When you get to your first address, your ticket will be exchanged for a tour brochure that has a map with the location of each garden. In addition to the map, you will also receive a wristband at the first garden. This will give you entry into each garden. If you leave your wristband on, you can visit gardens on both days. Children under 13 don't need a ticket but should get a wristband.
While at each garden, chat with Colorado Master Gardeners. These individuals can answer questions about any plants that you see. You can also ask them questions about the best gardening practices in Colorado Springs.
The gardens will be open regardless of the weather. Bring a hat, an umbrella, and water to drink. There will be no refunds because of inclement weather. Please be mindful of driveways when parking in neighborhoods. It's important to be courteous to neighbors. Also, as these gardens are located at private residences, keep in mind that not all can be accessed by wheelchair, walker, or stroller.
Tickets to the 2022 Colorado Springs Garden Tour
Tickets to the garden tour can be purchased online for $25 here. However, these are subject to a handling fee. If you would like to save on the handling fee, buy your tickets from select local garden centers in Colorado Springs or Monument. Be sure to have cash or a check to purchase these tickets. Here is a list of the garden centers selling tour tickets:
About the Friends of Extension
Proceeds from the garden tour benefit FOX, or the Friends Of eXtension. This is a non-profit organization that has been raising money for the Colorado State University Extension in El Paso County since 2009. Money raised by FOX supplements funding for youth programs that promote nutrition, food safety, agriculture, and horticulture. This is the primary fundraiser for this organization.
About the Waldo Canyon Fire
It has been 10 years since the Waldo Canyon Fire. This devastating fire ignited on June 22, 2012 northwest of Colorado Springs, and grew quickly. On June 24, a full evacuation order was issued for Manitou Springs and Highway 24 was closed. On June 26, the area saw high heat and high winds, which pushed the fire into the Mountain Shadows community in Colorado Springs. The fire wasn't contained until July 10.
The Waldo Canyon Fire burned 18,247 acres. It may not have been the largest fire in terms of size, but it became the costliest in state history to that point. Insurance claims totaled 352.6 million and 340 houses were destroyed. Two residents lost their lives in the blaze and the landscape in the area has been altered.
The Pike National Forest area that burned suffered extensive damage and was closed to the public until 2017. Many residents rebuilt their homes and a group called Re-Imagine Waldo Canyon worked hard to create a plan for the burned area.
Colorado Springs residents showed immense resilience during this crisis. This garden tour pays homage to the recovery efforts from the fire.
Tips for Gardening in Colorado Springs
Colorado Springs has a challenging climate and challenging soil. The summer sun is intense and winters can see long periods of freezing temperatures. Low humidity, alkaline clay soils, and drying winds also affect plants. Plus, the city can see frosts when plants aren't prepared for them. In many states, you can just stick a plant in the ground and it grows. Unfortunately, that's not the case in Colorado Springs. While growing beautiful lawns, flowers, and vegetables are possible, it takes more work here.
If you would like to grow a garden, this garden tour is an excellent place to start. Not only can you get ideas from local gardens, but you can also chat with master gardeners to get tips for your success.
One of the most important places to start is to choose plants that will thrive in our challenging climate. Colorado Springs Utilities has multiple resources across the city to help you learn about the best plants to grow and how to raise them. Xeriscaping is one of the best ways to get a beautiful garden in Colorado Springs. Since saving water is essential, this practice is growing in popularity. You can learn more about xeriscaping and selecting the right plants for our climate here.
Living in Colorado Springs
If you have fallen in love with the natural beauty of Colorado Springs and have decided to make it your permanent home, consider purchasing a house and starting a beautiful garden. Stop renting and have the freedom to make the yard the paradise you've always wanted. Work with a local Realtor who knows and loves Colorado Springs. Dedicated to helping his clients, Mark Main will always put your best interests first. Contact Mark and begin your home search with Best CS Homes today.