Cathedral Pines, Colorado Springs: Tranquil Forests
Posted by Liam Christie on Friday, August 4, 2023 at 11:00 AM
By Liam Christie / August 4, 2023
Comment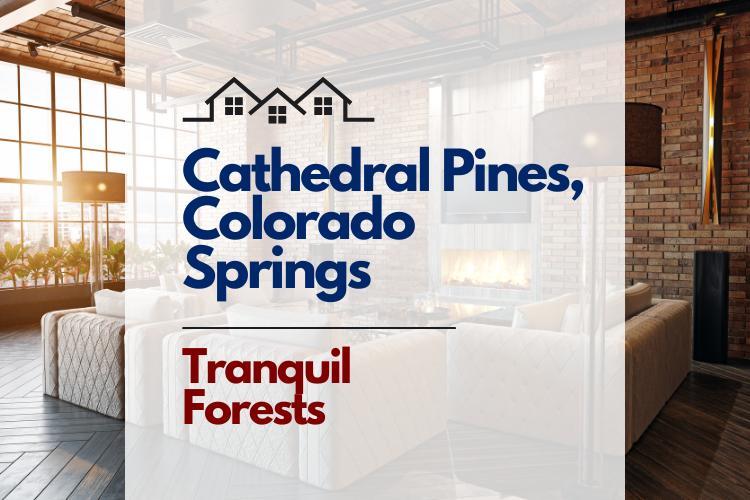 Planning on relocating to Colorado Springs? Cathedral Pines, an idyllic neighborhood nestled in the northeast section of the city, could be your dream destination!
In the Cathedral Pines neighborhood, you'll find elegant custom-built homes and high-end amenities. From spacious estates to meticulously designed interiors, Cathedral Pines provides residents with a sense of prestige and exclusivity.
Nestled among tall pine trees and surrounded by nature, the neighborhood offers a peaceful and secluded environment. Lush greenery and natural beauty create a tranquil atmosphere that allows residents to escape the hustle and bustle of the city.
This article provides a detailed look at what makes Cathedral Pines such a desirable place to live in Colorado Springs.

Schools in Cathedral Pines
Cathedral Pines is part of the highly regarded Academy School District 20, which ranks among the top school districts in Colorado.
Discovery Canyon Campus School (DCC) is the primary school serving the Cathedral Pines area. DCC is an exceptional educational institution in Colorado Springs, CO, serving students from pre-kindergarten through 12th grade.
DCC is the only pre-K through 12 International Baccalaureate campus in the Northern Hemisphere. Its aim is to develop inquiring, knowledgeable, and caring young people who help to create a better and more peaceful world. Its method for achieving this focuses on developing intercultural understanding and respect.
The campus is divided into three schools: DCC Elementary School, DCC Middle School, and DCC High School. Each school has its unique approach to education:
The DCC Elementary School provides an entry to education like no other, where students learn through creativity and curiosity.
The DCC Middle School pushes the limits of learning through investigation and exploration. Through inquiry, students create an education that fits them and not the other way around.
The DCC High School is where education and experience come together. It drives students to pursue passions and make personal connections.
The connected campus fosters an environment that inspires inclusivity and community among students across grade levels. Students explore personal passions through unique learning experiences with peers, educators, and community professionals.

Dining Options Near Cathedral Pines
Cathedral Pines residents have access to an array of fantastic dining options. Here are a few standouts:
Abby's Irish Pub: A pub with a diverse menu and a wide selection of beers. Located at 9697 Prominent Point, Colorado Springs, CO 80924.
Thai Taste Cuisine: A Thai restaurant known for its authentic dishes and inviting atmosphere. Located at 5069 N Academy Blvd., Colorado Springs, CO 80918.
Caspian Cafe Mediterranean: A popular Mediterranean eatery with a vibrant ambiance. Located at 4375 Sinton Rd, Colorado Springs, CO 80907.

Shopping & Amenities Near Cathedral Pines
The Promenade Shops at Briargate: Enjoy an upscale shopping experience at The Promenade Shops at Briargate. This lifestyle center features a blend of local boutiques and national retailers, offering everything from fashion to home essentials.
Briargate Crossing: A one-stop destination for retail stores and services, Briargate Crossing caters to all your everyday needs, including fitness centers, beauty salons, and various dining options.
Pine Creek Shopping Center: With a diverse array of stores, Pine Creek Shopping Center is conveniently located and designed to make shopping easy and enjoyable.

Outdoor Activities & Nature Near Cathedral Pines
Black Forest Regional Park: Immerse yourself in nature at Black Forest Regional Park! With its scenic trails, picnic areas, and playgrounds, it's a perfect setting for a family day out.
Cathedral Pines Open Space: This sprawling open space provides residents with trails for hiking, jogging, and biking. Enjoy the serene natural surroundings and the captivating views.
Edmondson Trailhead: Venture into the heart of nature with a visit to the Edmondson Trailhead. It's a popular choice for hiking and mountain biking.

Other Attractions Near Cathedral Pines, Colorado Springs
Western Museum of Mining and Industry: Step into the past and learn about Colorado's rich mining history at the Western Museum of Mining and Industry.
Pikes Peak Library District - Black Forest Library: Enjoy a quiet afternoon exploring the extensive collection of books at the Black Forest Library. It also hosts a variety of community programs and events.
Serenity Springs Wildlife Center: A must-visit for animal lovers, this wildlife center is home to a variety of exotic animals and offers informative guided tours.
Summary
Cathedral Pines is a luxurious retreat nestled in a tranquil forest setting. Its high-end living experience combined with a peaceful environment, makes it a sought-after neighborhood in the Colorado Springs area.
If you're searching for a new home or seeking a lifestyle upgrade, Cathedral Pines promises to exceed your expectations.
If you'd like to learn more about the area, fill out the form to contact Best CS Homes and our team of local, highly-experienced agents or click here to see homes for sale in Cathedral Pines. We look forward to working with you!
Did we miss anything about Cathedral Pines (or get something wrong)? Leave us a comment here or message us on Social Media to let us know!
This post was written for Best CS Homes by Liam Christie (Lexcan)