Cascade, Colorado: Live in a Colorado Paradise with History
Posted by Liam Christie on Thursday, September 14, 2023 at 10:00 AM
By Liam Christie / September 14, 2023
Comment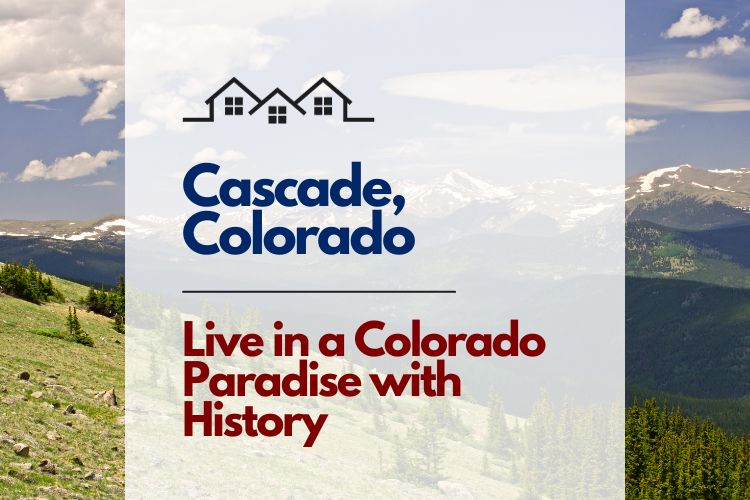 Cascade is a picturesque mountain retreat that offers residents a peaceful and secluded escape. The town provides a serene and idyllic living environment with breathtaking views, crisp mountain air, and a sense of tranquility. There are few places in the world where you can find this kind of connection with nature while at home!
Close to Pikes Peak, stunning waterfalls, and historic landmarks, Cascade is more than just a place to live near Colorado Springs. Cascade is a destination for those who love the great outdoors and a touch of history.
Today, we're looking at some of the things that make Cascade a special place to be!

Schools Near Cascade
The Manitou Springs School District 14 serves Cascade. Ute Pass Elementary School is the only school located in the town, however, that's mostly thanks to Cascade's small size. Middle Schools and High Schools are within a 10-minute drive, making them an easy drive or school bus ride away! Here's some info about the schools near Cascade, Colorado.
Ute Pass Elementary School: Ute Pass Elementary School is the center of education in Cascade. The school serves grades PK-6 and has a student population of 177. The school earns recognition for its academics, receiving a GreatSchools Summary Rating of 8/10. Ute Pass Elementary teachers bring a fresh approach to learning to keep the classroom an exciting place where learning is fun.
Manitou Springs Middle School: A 15-minute drive from Cascade, this middle school is in a beautiful location. To take advantage of the natural beauty around them, teachers regularly take classes outside. This enhances the curriculum and gives students a refreshing change of environment, plus it boosts overall well-being!
Manitou Springs High School: You'll find Manitou Springs High School roughly halfway between Cascade and Colorado Springs. The school has a small class size, providing personalized learning for students. Plus, the school offers early second-language education and interactive project-based learning.

Where to Eat Near Cascade
Cascade offers a variety of dining options that capture the essence of mountain living:
Wines of Colorado: This unique dining spot offers a selection of local wines and hearty American fare. Located at 8045 W. Hwy 24, Cascade, CO 80809.

The Pantry: A local favorite for breakfast and lunch, known for its homemade pastries and comfort food. Located at 6980 Lake St, Green Mountain Falls, CO 80819.

Fern's Diner + Drinkery: A top-rated vegan restaurant named after a French Bulldog that promotes warmth and boldness. Located at 4645 Fountain Ave, Cascade, CO 80809.

Convenience & Shopping Near Cascade
Natural Grocers: Just a few minutes from the heart of Cascade, this chain offers natural and organic groceries.
Crystal Reservoir Gift Shop: A popular place to stop in for trinkets and souvenirs geared towards an introduction to Pikes Peak.
The Olive Tap: A boutique store offering award-winning Olive Oils and Balsamic Vinegars, enjoyable tastings, and top-notch customer service.

Nature & Outdoor Activities Near Cascade
Pikes Peak Highway: A scenic drive that leads you to the summit of Pikes Peak, offering breathtaking views and hiking opportunities.
North Cheyenne Cañon Park: Known for its hiking trails and waterfalls, this park is a haven for nature enthusiasts.
Garden of the Gods: A National Natural Landmark featuring stunning red rock formations. Perfect for hiking, rock climbing, and horseback riding.

Other Things to Do Near Cascade, Colorado
The Pikes Peak Cog Railway: Take a historic train ride to the summit of Pikes Peak. A unique experience that offers stunning views.
Miramont Castle Museum: This museum offers a glimpse into the Victorian era with its well-preserved architecture and period furnishings.
Cave of the Winds Mountain Park: A natural cave system with guided tours and activities like zip-lining and rope courses.
Summary
Nature, in all its forms, embraces Cascade. Beautiful forests, pristine waterfalls, and mountain trails surround the city. Here, you can immerse yourself in outdoor activities such as hiking, fishing, and wildlife spotting. There aren't many places that offer so many ways to truly connect with the natural beauty that surrounds you. Cascade is a perfect fit for anyone seeking a serene and nature-centric lifestyle in Colorado.
Let us know if you'd like to learn about real estate in Cascade and other homes for sale near Colorado Springs. Just fill out the form below, and a member of Best CS Homes' local, highly-experienced agents will be in touch!
Did we miss anything about Cascade (or get something wrong)? Leave us a comment here or message us on Social Media to let us know!
This post was written for Best CS Homes by Liam Christie (Lexcan)