Broadmoor Revealed: The Crown Jewel of Colorado Springs
Posted by Liam Christie on Wednesday, September 27, 2023 at 10:00 AM
By Liam Christie / September 27, 2023
Comment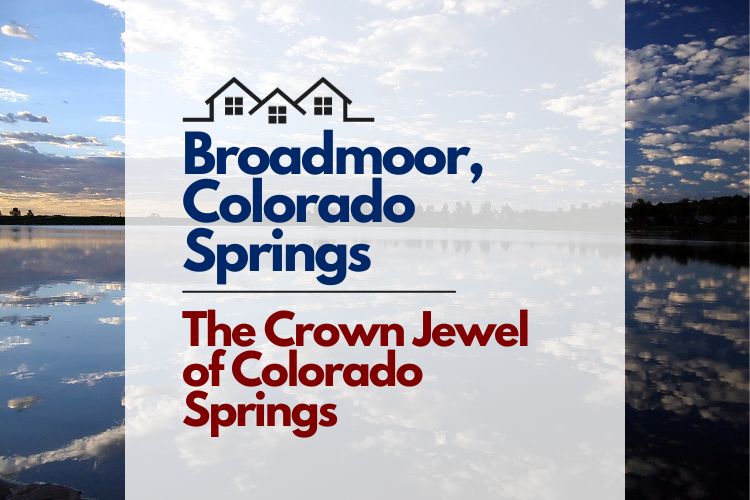 Broadmoor is a luxurious neighborhood in Colorado Springs that offers a sophisticated lifestyle. It is located at the foot of Cheyenne Mountain and has world-class golf courses, five-star restaurants, and stunning mountain views. Broadmoor is the perfect place for those who enjoy golf, spas, or simply want to experience the best of Colorado living.
Here's a preview of what Broadmoor has to offer:
Play golf on one of the world-class golf courses, including the Broadmoor East Course, which has hosted the PGA Championship, and the Broadmoor West Course, which has hosted the Senior PGA Championship.
Dine at one of the five-star restaurants, such as The Broadmoor Dining Room, which offers a seasonal menu of contemporary American cuisine, or The Penrose Room, which serves classic French dishes.
Relax at the spa, which offers a variety of treatments, including massages, facials, and body wraps.
Go hiking or biking in the mountains, with trails for all experience levels.
Visit the Cheyenne Mountain Zoo, home to over 7,000 animals from around the world.
See a show at the Broadmoor World Arena, which hosts various events, including concerts, ice shows, and family shows.
Broadmoor is the perfect place to relax and enjoy the finer things in life. With its stunning scenery and luxurious amenities, it is no wonder that Broadmoor is considered the crown jewel of Colorado Springs. Today, we'll explore what makes Broadmoor one of the most sought-after places to live near Colorado Springs.

Schools Near Broadmoor
Broadmoor, Colorado, offers a diverse range of educational options that cater to varying needs and interests. From traditional public schools to specialized private institutions, families in Broadmoor have a wealth of choices. Let's dive into a quick overview of some of the schools in the area.
Canon School
Canon School is a public elementary school that offers a comprehensive curriculum designed to meet the needs of its diverse student body. The school provides a variety of extracurricular activities, including sports and arts programs, to enrich the educational experience.
Skyway Park Elementary School
Skyway Park Elementary School is another public school option that offers a strong academic program. The school is known for its focus on STEM education and also provides a range of extracurricular activities, including a robotics club and a choir.
Cheyenne Mountain Junior High School
Cheyenne Mountain Junior High School is part of the Cheyenne Mountain School District and offers a robust academic program. The school has a variety of extracurricular activities, including sports and arts programs, and places a strong emphasis on community service.
The Colorado Springs School
The Colorado Springs School is a private institution that offers a unique, experience-centered curriculum. The school provides a wide range of core and elective courses, as well as Advanced Placement options for students looking for college-level coursework. Extracurriculars are diverse, including sports, arts, and a strong community service program.

Where to Eat Near Broadmoor
Gates Grille
For a dining experience that's as scenic as it is scrumptious, Gates Grille is your go-to spot. Located within the Cheyenne Mountain Resort, the restaurant offers a blend of gourmet bites and hand-crafted cocktails, all set against the backdrop of the stunning Cheyenne Mountain and a Pete Dye–designed golf course. Whether you're there for lunch or dinner, the atmosphere is sure to elevate your meal. Open daily from 11:00 am to 9:00 pm. Located at 125 Clubhouse Dr, Colorado Springs, CO 80906.
Panino's Restaurant
If you're in the mood for Italian, Panino's Restaurant in the Broadmoor area is a local legend. Founded in 1974 and originally named Pizza Plus, it has grown into a family-owned chain known for its Famous Panino Sandwich. With a focus on food quality and consistency, this Italian eatery has been a Southern Colorado favorite for over 45 years. Located at 1721 S 8th St, Colorado Springs, CO 80905.

Convenience and Shopping Near Broadmoor
Broadmoor Outfitters: Located within The Broadmoor Hotel, this shop specializes in outdoor gear tailored for the Colorado terrain. You can find hiking boots, sportswear, and equipment for outdoor adventures. The staff are well-versed in local outdoor activities, making this an excellent resource for both gear and advice.
The Broadmoor Shops: Also located within The Broadmoor Hotel, these boutique stores offer high-end goods ranging from fine jewelry to designer clothing. If you're in the mood for a little luxury shopping, this is your go-to spot. It's an elegant retail experience that complements the grandeur of the Broadmoor area.
Walmart Supercenter: Also within a 5-minute drive, this Walmart offers a one-stop shopping experience. You'll find clothing, electronics, groceries, and pretty much everything in between. Again, it's not a local shop, but it's a highly convenient option.

Nature & Outdoor Activities Near Broadmoor
Seven Falls: This natural attraction isn't merely a visual feast of seven cascading waterfalls—it's a full-fledged celebration of the great outdoors. The hiking trails leading to the top of the falls don't just offer a challenging trek; they serve as an invitation to immerse yourself in the lush greenery, tweeting birds, and the therapeutic sound of flowing water. Once you're at the summit, the view is something straight out of a postcard, presenting the perfect moment for that Instagram selfie you've been craving. But wait, there's more! If hiking isn't enough to get your adrenaline pumping, there's a zip-line adventure that will make you feel like Tarzan as you soar above the falls and the green canopy below. This experience makes it a comprehensive outdoor excursion that blends scenic beauty with physical activity and a dash of thrill.
Broadmoor Golf Course: This isn't your average pitch-and-putt—it's golf in an almost ethereal setting. Picture yourself swinging your club on an immaculately designed 18-hole course that looks like it's been lifted from the Scottish Highlands and placed amid Colorado's grandeur. You're surrounded by lush forests that seem to stretch on forever, and set against stunning mountain backdrops that could easily distract you into a bogey. But the distractions are so gorgeous, you won't even mind. The natural setting enhances not just the joy of the game but also the sheer aesthetic pleasure of being enveloped in such vibrant scenery.
Cheyenne Mountain Zoo: What sets this zoo apart is its unique blend of the exotic and the aerobic. Located at a high elevation, walking through this zoo is no leisurely stroll; it's an uphill trek that's like a workout in disguise. But the physical exertion is amply rewarded with glimpses of exotic animals—think snow leopards and orangutans—and captivating views of Colorado Springs that you'd usually have to hike miles to see. The multi-level design of the zoo adds to the feeling that you're exploring uncharted territory, making it an adventurous day out for the whole family.
Other Things to Do Near Broadmoor
Starsmore Visitor and Nature Center: This place is the Swiss Army knife of visitor centers. It serves as the gateway to North Cheyenne Cañon Park, providing more than just maps and brochures. The interactive exhibits plunge you into the local ecology and history, giving you a crash course in everything from local flora and fauna to geological formations. But that's just the appetizer. The main course consists of nature trails that promise both adventure and education. Whether you're a birdwatcher, a hiker, or just someone who wants to take in the mountain air, Starsmore offers a smorgasbord of outdoor activities.
Will Rogers Shrine of the Sun: This monument is not just a stack of stones commemorating Will Rogers; it's a panoramic perch that offers sweeping vistas of the surrounding area. It's the sort of place where you can lose yourself in thought or simply enjoy the overwhelming tranquility. The ascending drive to the shrine itself is picturesque, and once you reach the top, you're rewarded with a 360-degree view that will leave you speechless. It's not just a place to snap photos; it's a contemplative space where the silence is only broken by the occasional gust of wind or the distant chatter of birds, making it a unique spot for mindfulness and reflection.
The Golden Bee: Don't let the old English-style pub décor fool you—this isn't just about tipping back a pint of ale. Every evening, the pub transforms into a musical haven featuring a nightly piano sing-along that turns strangers into friends. Picture yourself surrounded by both locals and visitors, all drawn into a community by the universal language of music. The atmosphere is so electric that even the most introverted patron will find themselves singing along to classic tunes and modern hits alike. It's an evening of camaraderie and song that can easily become the highlight of your stay in Broadmoor, providing a melodious end to an already picturesque day.
Summary
Broadmoor is more than just a neighborhood in Colorado Springs; it's a lifestyle destination that offers a blend of luxury and natural beauty. From world-class golf courses and fine dining to a diverse range of educational options and shopping experiences, Broadmoor caters to both the adventurous and the refined. Whether you're into outdoor activities like hiking and zip-lining or prefer a more laid-back experience like spa treatments and gourmet meals, Broadmoor has something for everyone.
Convenience is also a key feature of this upscale area. With a variety of shops ranging from high-end boutiques to practical options like Walmart, residents and visitors have easy access to all their needs. Schools in the area offer robust academic programs and a range of extracurricular activities, making it a great place for families as well. In short, Broadmoor is the crown jewel of Colorado Springs, offering a lifestyle that's as versatile as it is luxurious.
Let us know if you'd like to learn about real estate in Broadmoor and other homes for sale near Colorado Springs. Just fill out the form below, and a member of Best CS Homes' local, highly-experienced agents will be in touch!
Did we miss anything about Broadmoor (or get something wrong)? Leave us a comment here or message us on Social Media to let us know!
Written by Liam Christie (Lexcan) for Best CS Homes.