Black Forest, Colorado Springs: Serene Natural Escape
Posted by Liam Christie on Friday, August 11, 2023 at 11:00 AM
By Liam Christie / August 11, 2023
Comment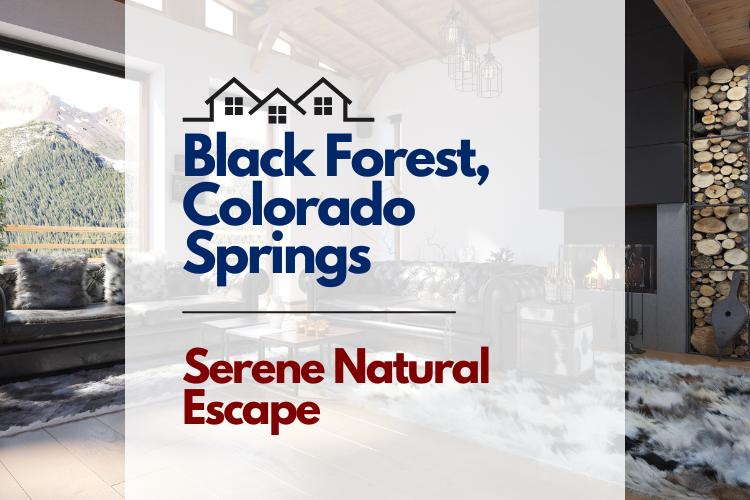 Considering a move to Colorado Springs? Consider Black Forest, an enchanting wooded haven, characterized by its dense forested areas and enchanting landscapes. Tall pine trees, lush foliage, and winding roads create a setting that feels like a hidden retreat away from the city.
With its vast stretches of untouched land and minimal commercial development, the homes in Black Forest enjoy a tranquil environment. Residents can enjoy the peacefulness of the natural surroundings, taking in the sights and sounds of nature.
The area is home to several parks and trails, perfect for leisurely walks or outdoor activities. There's also an abundance of wildlife in the area - including deer, foxes, and even bald eagles! For those looking for a bit of adventure, there are plenty of opportunities to explore the beauty of the Black Forest.
Black Forest is an ideal location for any nature lover. The combination of fresh air, serene surroundings and plenty of outdoor activities make it the perfect spot to relax and recharge. Whether you're looking for a peaceful escape or an exciting outdoor adventure, the Black Forest can provide the perfect experience.
For families and individuals looking for an escape from city life, Black Forest is a great option. Close enough to the Colorado Springs area to make for an easy day trip, but far enough to appreciate nature's tranquility.
There are plenty of trails and sites to explore, as well as many outdoor activities like biking, fishing, kayaking and more. In this article, we delve into what makes Black Forest a great place to live in Colorado Springs.

Schools Near Black Forest
Black Forest falls under the jurisdiction of Academy School District 20, one of the most acclaimed school districts in Colorado.
The following schools serve the Black Forest community:
Edith Wolford Elementary School: In the Black Forest's vibrant history, educators at EWES establish robust learning communities with highly-engaged families. This enables students to explore and develop their unique talents and passions.
Discovery Canyon Campus School (DCC): DCC is an exceptional educational institution in Colorado Springs, CO, serving students from pre-kindergarten through 12th grade.
DCC is the only pre-K through 12 International Baccalaureate campus in the Northern Hemisphere. Its aim is to develop inquiring, knowledgeable, and caring young people who help to create a better and more peaceful world. Its method for achieving this focuses on developing intercultural understanding and respect.
The campus is divided into three schools: DCC Elementary School, DCC Middle School, and DCC High School. Each school has its unique approach to education:
The DCC Elementary School provides an entry to education like no other, where students learn through creativity and curiosity.
The DCC Middle School pushes the limits of learning through investigation and exploration. Through inquiry, students create an education that fits them and not the other way around.
The DCC High School is where education and experience come together. It drives students to pursue passions and make personal connections.
The connected campus fosters an environment that inspires inclusivity and community among students across grade levels. Students explore personal passions through unique learning experiences with peers, educators, and community professionals.

Where to Eat Near Black Forest
Residents of Black Forest can enjoy an assortment of excellent dining spots. Here are some top picks:
Whistle Pig Brewing Company: A craft brewery with delicious comfort food and a laid-back atmosphere. Located at 1840 Dominion Way, Colorado Springs, CO 80918.
Cheddar's Scratch Kitchen: Offering homemade American classics in a friendly setting. Located at 1140 Interquest Pkwy, Colorado Springs, CO 80921.
Back East Bar & Grill: A local favorite serving hearty burgers, wings, and craft beers. Located at 9475 Briar Village Point #168, Colorado Springs, CO 80920.

Convenience and Shopping Near Black Forest
Chapel Hills Mall: Dive into a delightful shopping experience at Chapel Hills Mall. This retail hub features a variety of stores, ranging from fashion boutiques to home goods.
Briargate Crossing: This shopping center offers a variety of retail stores and services.
Union Town Center: This shopping center offers a range of retail stores, eateries, and services, providing a one-stop shopping solution for residents.

Nature and Outdoor Activities Near Black Forest
Black Forest Regional Park: Discover nature's beauty at Black Forest Regional Park! The park offers scenic trails, picnic areas, and playgrounds, making it an ideal location for a family day out.
Section 16 Trail: This popular trail provides an excellent opportunity for hiking, biking, and equestrian activities, making it a favorite among outdoor enthusiasts.
Fox Run Regional Park: Home to towering pine trees and beautiful meadows, this park offers picnic areas, sports fields, and scenic trails that invite exploration.

Other Things to Do Near Black Forest, Colorado Springs
Western Museum of Mining and Industry: Get a glimpse of Colorado's mining heritage at this fascinating museum.
High Plains Library: Relax with a good book or participate in one of the many community programs offered at this local library.
Pine Creek Golf Club: Enjoy a round of golf at this beautifully maintained course, offering stunning views of Pikes Peak and the Front Range.

Summary
Black Forest combines the charm of rural living with convenient modern amenities.
The neighborhood, while offering a serene and rural setting, still provides essential amenities. This allows residents to enjoy the tranquility of the area without sacrificing access to necessary services.
Black Forest is sure to impress, whether you're hunting for your dream home or seeking a community that complements your lifestyle.
If you'd like to learn more about the area, fill out the form to contact Best CS Homes and our team of local, highly-experienced agents or click here to see homes for sale in Black Forest. We look forward to working with you!
Did we miss anything about Black Forest (or get something wrong)? Leave us a comment here or message us on Social Media to let us know!
This post was written for Best CS Homes by Liam Christie (Lexcan)