Best Places to Fly Fish Near Colorado Springs
Posted by Mark Main on Monday, January 17, 2022 at 7:00 PM
By Mark Main / January 17, 2022
Comment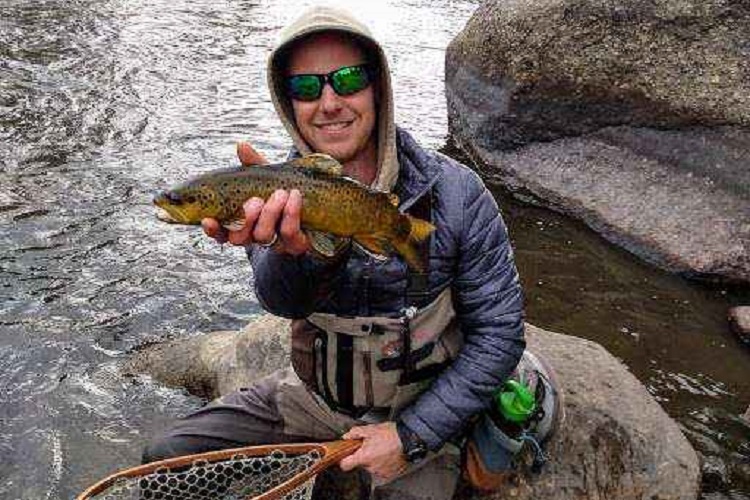 Fly fishing is a great pastime for those who like spending time outdoors. Whether you're looking for serenity, quiet, and a connection to nature, or hoping for the thrill of catching a trout on a fly, you will find it in fly fishing. Luckily for those living in the Colorado Springs area, there are dozens of great places to fish within a short drive of home.
In addition, you don't have to look far to find fly shops full of knowledgeable guides and staff members eager to answer questions, provide gear, and ensure that your day on the water will be enjoyable. Angler's Covey and Peak Fly Shop are both located in Colorado Springs, and will provide you with excellent service. The Colorado Springs area is home to both rivers and lakes great for fly fishing.
Popular River Locations for Fly Fishing Near Colorado Springs.
Fly fishing on a river provides excitement and a good workout. As such, there are many beautiful rivers for anglers to enjoy in the area.
Elevenmile Canyon
To get to Elevenmile Canyon, drive west on highway 24 past Woodland Park, through the towns of Divide and Florrissant. Then, you will reach the small town of Lake George, home of beautiful Elevenmile Canyon. This is a section of the South Platte River. The rough dirt road leads about 9 miles through the canyon, and there is plenty of access for fishermen throughout.
No matter where you choose to fish in this area, the scenery will not disappoint. For example, the sides of the canyon are made up of large gray boulders and rock faces, and there are plenty of pine and aspen trees. Because of the strong hatches of blue wing olives, tricos, and midges, people who love fishing dry flies especially love this area. Even in the coldest winter months, trout can be seen eating bugs on the water's surface. The average fish in Elevenmile Canyon is 12-14", but much larger fish are caught regularly. This happens mostly in the uppermost two miles of the river.
Cheesman Canyon
Cheesman Canyon is another section of the South Platte River. It is a popular destination for experienced fly fisherman seeking challenging but rewarding trout fishing. The trailhead for this area is located off highway 285, just north of the tiny town of Deckers. From here, anglers must hike along the Gill trail, which follows the river for several miles.
Although there are plenty of average sized trout in this section, Cheesman Canyon is a well-known home to some real whoppers over 20". Once hooked, these fish will put up a big fight, often rushing into deep water or swimming around one of the numerous boulders in the river. To catch one of these wily trout, anglers must be sure to have a good selection of flies to imitate the insects in the river. They must also present their flies with good technique.
Deckers
Directly downstream of Cheesman Canyon flows the Deckers section of the South Platte. Like Cheesman, this area is popular with anglers from both Colorado Springs and Denver. Because of its popularity, these experienced fish demand good technique, but will reward anglers in size and fight. With higher flows in the summertime, bring plenty of stonefly and caddis pupa nymphs. Cooler water temperatures in both spring and autumn bring good hatches of mayflies and midges.
Arkansas River
The old mining town of Leadville is very close to the headwaters of the Arkansas River, which flows from here through the mountain towns of Buena Vistas and Salida. This section, known as the Upper Arkansas basin, is home to a very healthy population of brown trout, and a smaller population of rainbows. This is a freestone river, and will fluctuate in flows depending on the time of year.
Springtime brings a tremendous Caddisfly hatch along with great opportunities to fish dry flies. In the summer, along with much higher flows comes the chance to float and fish from a raft. Anglers targeting quiet side currents and calm pockets behind rocks should find plenty of trout seeking refuge from the high flows. Large stoneflies are a particular favorite during this time of year. Fishing a streamer in these same types of water can also provide exciting results.
In the colder months of late autumn and winter, anglers can turn their attention to the tailwater section of the Arkansas River. This area can be accessed just downstream of Pueblo Dam all the way through downtown Pueblo. Using small mayfly and midge nymphs, anglers have an excellent chance of catching trout 16"-20" and over. Because temperatures in Pueblo are on average 10 degrees warmer than Colorado Springs, it is even more popular in the winter months.
Best Lakes for Fly Fishing Near Colorado Springs
For a more relaxing experience, consider fly fishing on a lake. Either stand on the bank or get out in your boat. There are several lovely locations to choose from. Here is a look at just a few in the Colorado Springs area.
Rampart Reservoir
Rampart Reservoir is accessed via a dirt road starting in the town of Woodland Park. This large lake has a boat ramp, and is most effectively fished from a small boat, kayak, or float tube. The Colorado Department of Fish and Wildlife stocks Rampart Reservoir several times a year. These stocked rainbow trout are hungry and aggressive eaters, making this reservoir a great option for introducing children to the sport of fly fishing.
Spinney Reservoir
The entrance to Spinney Reservoir is found at the foot of Wilkerson Pass. This is a large lake in a very open area without trees. Because of its location, Spinney can be very windy, but this doesn't stop fishermen from trying their luck at this lake. Spinney holds many large and feisty trout, and is a popular destination for anglers seeking the fish of a lifetime.
Elevenmile Reservoir
Trout and northern pike thrive in Elevenmile Reservoir. Anglers hoping to take a fish home should consider this area, as the bag limit is 8 per day. As the weather turns warmer in June, attention turns to pike fishing. Elevenmile Reservoir is home to pike of over 20 pounds. Anglers casting big streamers into areas with vegetation or structure maximize their chances to hook one of these monsters.
If you are seeking a Colorado Springs home for sale, know that amazing fly fishing is a short drive away. Whether you prefer lake or river fishing, there are ample choices and plenty of natural beauty.