9 Best Places to Hike in Colorado Springs
Posted by Mark Main on Monday, January 31, 2022 at 7:00 PM
By Mark Main / January 31, 2022
Comment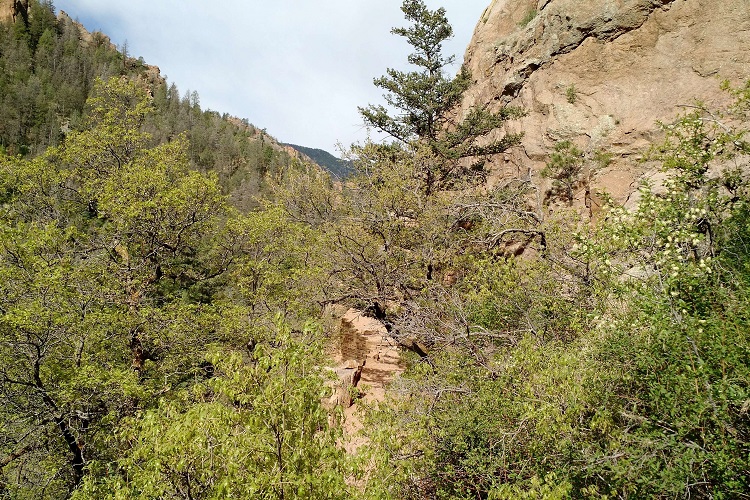 The natural beauty of the area lures many people to Colorado Springs. As such, there are many gorgeous places to hike right in the city. You don't have to drive far to find a hiking spot. Also, there are opportunities for all ages and abilities to hike.
Find handicap accessible paved trails, steep challenging trails, and everything in between. Many parks in town are free, while others do charge a fee. The bottom line is that there are many options for hiking. Take a look at these opinions and plan your next outdoor adventure.
1. Garden of the Gods
Perhaps the most iconic spot in Colorado Springs, Garden of the Gods features breathtaking red rock formations. There are many different trails available in the park. All are available to hikers and some trails welcome horseback riders and mountain bikers. Before hitting the trail, start your day at the Visitor and Nature Center. Within the visitor center, learn about the red rocks, the history of the area, and plan your adventure.
Keep in mind that Garden of the Gods gets extremely busy during the summer, especially on the weekends. For this reason, if you can, try to visit on a weekday or in the off season.
Garden of the Gods is located on the west side of the city, close to Manitou Springs. Many residents who live on the west side can bike to the park and avoid the headaches of parking.
2. Red Rock Canyon Open Space
Like a little brother or sister to Garden of the Gods, Red Rock Canyon Open Space also includes red rock formations. Generally, it is usually not as busy as Garden of the Gods. Within the park, find a variety of trails as well as a mountain bike only area.
In addition, find a dog park, rock climbing (by permit only), and a picnic pavilion. Be sure to stop by the interpretive signage that talks about the old quarry, it's very interesting.
Red Rock Canyon Open Space is located off Hwy. 24. It's on the west side of town, close to Manitou Springs.
3. Cheyenne Mountain State Park
Many locals enjoy spending time at Cheyenne Mountain State Park. It's less busy than other parks because a fee is required for entry. Locals can purchase a State Parks Pass to be able to visit all state parks in a given year.
Most trails at Cheyenne Mountain State Park can be accessed via the Limekiln Trailhead. There are 21 trails in the park that total over 27 miles. You can piece the trails together to create a hike of whatever length you please. Unlike some other parks in the area, the trails are well marked and easy to follow. Recently, the Dixon Trail opened. This trail takes hikers to the top of Cheyenne Mountain. It's a challenge, but the views from the top are worth it.
Dogs are only allowed on designated trails. In addition to hiking, the park features camping, an archery range, and a visitor center with a gift shop.
Cheyenne Mountain State Park is located on the southwest side of the city. It sits across from Fort Carson off Hwy. 115.
4. North Cheyenne Canyon Park
At North Cheyenne Canyon Park, you can feel like you have left the city and driven hours to get to the mountains. Yet, it's right on the edge of the city. Come to this park to cool off in the summer amongst the trees. There is also a creek that flows through the park that you can take off your shoes and wade in.
The park includes two visitor centers and portable toilets. Trails are open to hikers, bikers, and runners. Also, dogs are allowed as long as they are on a leash. Be sure to check out Helen Hunt Falls and stop into one of the visitor centers to plan your hike. There are more than eight trails to choose from.
North Cheyenne Canyon Park is located on the West side of Colorado Springs. It spans 1,600 acres and is free to access.
5. Ute Valley Park
There are multiple access points available to reach Ute Valley Park. This park offers hiking, mountain biking, and trail running. Dogs are also welcome on a leash. There are many miles of trails available, which are not always well marked. For this reason, consider downloading a map to take with you. With a variety of trails available, you can piece together a hike as short or as long as you wish.
The main entrance to the park is located at 1705 Vindicator Dr. near the Rockrimmon neighborhood. There are interesting rock and archeological features to check out. Just beware of rattlesnakes in the summer.
6. Palmer Park
There are more than 25 miles of trails to explore in Palmer Park. None of the trails are very strenuous, but it can be hard to follow the trails. As such, there are many unmarked spur trails, making it easy to get turned around. Be sure to take note of your surroundings and the paths you take so you can make it back to your car.
In addition to the trails, this park has much more to offer. Additional amenities include baseball/softball fields, a playground, restrooms, football/soccer fields, picnicking, volleyball courts, and a dog park.
Palmer Park is located at Maizeland Rd. and N. Academy Blvd. It's close to the Palmer Park and Vista Grande neighborhoods.
7. Blodgett Peak
The Blodgett Peak trail is a 3.5 mil out and back trail that is pretty heavily trafficked. It is a moderately difficult trail, starting out easy but getting more difficult toward the top. The higher you get, the steeper the inclines and the looser the gravel. While you hike, you can enjoy looking for wildlife and various plant species. Once you make it to the top, you are rewarded with amazing views of the city.
The Blodgett Peak Trail is located within Blodgett Peak Open Space. This is part of the Pike National Forest. The trailhead is located off W. Woodmen Road in the Mountain Shadows neighborhood.
8. Aiken Canyon Preserve
If you would like to hike in a less busy environment, consider Aiken Canyon Preserve. Not many people know about this spot, which allows for a more serene experience. This hike is located in the foothills and is a 4-mile loop. If you wish to make your hike a bit longer, there is a short trail that branches off through the canyon. In addition, there are interpretive signs, nice views, and opportunities to see wildlife and wildflowers. Seasonal restrooms are also available.
Aiken Canyon Preserve is located in Southwest Colorado Springs off of Hwy. 115 about 12 miles south of Cheyenne Mountain State Park.
9. Pulpit Rock Park Trail
Visible from I-25, this trail takes you to the top of an impressive rock formation in Colorado Springs. It is a 4.4 mile loop and includes some nice wildflowers during the spring and summer. If you are hiking with small children, do be careful at the top, there are steep drop offs on the rock formations.
The trailhead for Pulpit Rock Park Trail is found off N. Nevada Ave., north of the University Village Shopping Center.