2022 Guide to Spray Grounds and Fountains in Colorado Springs
Posted by Mark Main on Monday, May 30, 2022 at 7:00 PM
By Mark Main / May 30, 2022
Comment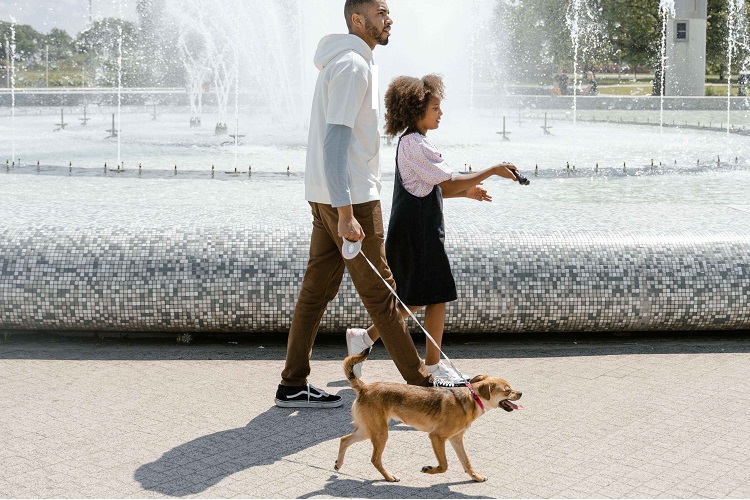 As the weather heats up and school gets out for the summer, it's time to think about summer activities that help keep you cool. There are a variety of spray grounds and fountains around the city that are worth checking out.
These water features are located in parks and can be accessed free from around Memorial Day to Labor Day. Keep in mind that sites may close for the day if it's cold and temperatures aren't expected to reach 65 degrees. In addition, on hot days, know that these sites do get busy, so be prepared for a crowd.
Uncle Wilber Fountain at Acacia Park
This favorite spot is located downtown in Acacia Park. It can be found at the corner of Tejon and Bijou near the Old North End neighborhood. The opening day for the fountain was Saturday, May 28. Daily hours of operation are from noon to 6 PM. However, fountain sessions are available from 12-2 PM, 2:30-4:30 PM, and 5-6 PM. Admission is free, but you will likely need to park at a metered space.
The fountain plays music and has changing spray patterns. In addition, some large trees provide shade, and a staff member supervises the area. If you need restrooms, they are available on the other side of the park.
Be aware that there is construction in Acacia Park this summer. The old playground equipment, located near the fountain, has been removed, and crews are working to build a new play area. This new play area will open this fall.
Julie Penrose Fountain at America the Beautiful Park
The opening day for this Fountain was also Saturday, May 28. This large fountain is visible from the interstate and is directly across from the new Park Union Pedestrian Bridge. Hours of operation are from 11 AM to 5 PM each day, with fountain sessions from 11 AM to 1 PM, 1:30 PM to 3:30 PM, and 4 PM to 5 PM. Admission is free, and it does get crowded, especially on hot days.
If you visit this fountain, bring your own shade. There are few trees around. However, there is a covered pavilion some distance away in the park. There are also restrooms. However, they are not always clean. There are staff members at the fountain keeping an eye on everyone. In addition to the flowing fountain, there is also some shallow water at the structure's base. This is a fun place for small kids to wade and play.
Deerfield Hills Spray Ground at Deerfield Hills Community Center
This spray ground is located in Southeast Colorado Springs, adjacent to the Deerfield Hills Community Center. The opening day for this spray ground is Wednesday, June 1. Daily hours of operation are 11:30 AM to 5 PM on Wednesdays and 10 AM to 5 PM every other day. Several spray ground sessions are available each day. Note that there is no 10 AM session on Wednesdays. Here are the other sessions:
10–11 AM
11:30 AM to 12:30 PM
1–2 PM
2:30 PM to 3:30 PM
4–5 PM
You can even enjoy this spray ground on July 4 and Labor Day. Children can splash and play in 16 different water spray features. These include 50 individual spray nozzles. Additional features include:
foaming and ground geysers
water quests
soak stations
water jellies
bell trios
water trios
water wall
If you have a child celebrating a summer birthday, consider hosting a party at this spray ground. Parties can be arranged on weekends from 10–11 AM or 11:30 AM to 12:30 PM. The cost is only $35 per hour. This package also includes using the party pavilion with one table, 10 invitations, and 10 goody bags.
The Water Hole at Venezia Park
Located in Northeast Colorado Springs, the Water Hole at Venezia Park opened this year on Saturday, May 28. Daily hours of operation are 10 AM to 6 PM Sessions are available at:
10 AM to noon
12:30 PM to 2:30 PM
3–4:30 PM.
5–6 PM.
Admission is free, and restrooms are located in this area of the park. This park has a ranch theme and includes many elements in addition to the splash pad. You can find a large pavilion and picnic area with orchards, a universally accessible playground and shade shelters, and a small artificial turf field. In addition, there are three large soccer fields, a basketball court, pickleball courts, and gravel walking loops. There is also a good amount of parking at this location.
Spray Ground Rules and Tips
To keep everyone safe and allow everyone to have fun, here are some rules and tips:
Only eat food in designated areas.
Please don't bring glass containers to the spray ground area.
Any children wearing diapers must wear plastic pants over the diapers.
Leave your valuables at home. There are no lockers or storage areas at the spray grounds.
Smoking and alcoholic beverages are prohibited on park property.
Groups of 12 or more need to fill out a reservation agreement.
No pets are allowed on the spray ground.
The site will close in the case of inclement weather. Staff follows the "30/30" rule for lightning. This means that the spray grounds are turned off when there is less than 30 seconds between lighting and the resulting thunder. The spray grounds are turned back on 30 minutes after the last time thunder is heard.
Additional Ways to Stay Cool in Colorado Springs This Summer
There are more options if you are looking for other ways to stay cool in Colorado Springs this summer. Two outdoor pools are operated by a partnership with the City of Colorado Springs and the YMCA of the Pikes Peak Region. The Monument Valley Pool is located in central Colorado Springs, and the Wilson Ranch pool is located in West Colorado Springs.
In addition, you can spend time at Prospect and Quail Lake. Prospect Lake allows fishing, paddle boarding, and swimming. However, there are no lifeguards, so swimming is at your own risk on designated swimming days. These are Tuesday, Thursday, and Saturday. Quail Lake, located in Southwest Colorado Springs, offers fishing, non-motorized boating, and paddle boarding.
Neighborhoods all over the city have easy access to pools, spray grounds, fountains, and lakes. If you want to find a home near one of these amenities, work with an experienced realtor, like Mark Main, and begin your home search at Best CS Homes.
/search-by-popular-area/southeast-colorado-springs/