Virnisha Pastore
GRI, SFR, SRS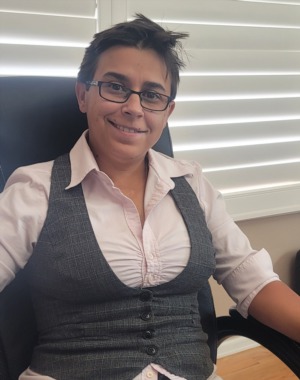 We talk all the time about building generational wealth, but rarely do we talk about escaping generational poverty. I believe that one of the best ways to escape generational poverty and build wealth is through home ownership.
Purpose: We believe in helping people achieve their wildest dreams, building wealth, and securing stability for themselves and their families.
Process: We advocate for, mentor, guide, and advise our clients on all things real estate, while empowering them to intelligently and confidently buy and sell land, homes, and investment properties.
Result: Our clients fulfill their home ownership dreams, investment goals, and walk away with a wealth of real estate knowledge. This enables them to make amazing decisions wherever they may move in the future.
I believe that everyone deserves to enjoy the safety of a home and the fruits of their labor, that the best way people can build wealth is through real estate, and that your agent should be a trusted advisor. I provide real estate services in the following areas: Buying, Selling, Relocation, Market Analysis, Consulting, Short Sales & Foreclosures, Raw Land, Military Relocation (I am a veteran), Downsizing, New Construction, First Time Home Buyers, Investment Properties, and Trusted Referral Partners in various industries.
Testimonials
Virnisha is truly a one of a kind realtor. We had to make a decision on which realtor to go with and she was without a doubt the right one and my wife and I are glad of that. She is setting a new standard when it comes to service in the realty industry!
She is extremely responsive to questions and concerns, whether that's through phone, text, or email (it was whichever we preferred and were comfortable with). If she was with us in person, she focused on us and only us, not calls from family/friends or coworkers as we were her number one priority.
Her care and passion for her job and serving her clients is more dedication than anything I've ever seen and this is what other realtors should be striving for. Due to this, my wife and I had a much easier time selling our house than we ever expected. If something went wrong even if it wasn't her fault, she found a way to mend the situation and reduce our stress in being involved.
Her knowledge of realty is also a huge benefit as she knew just how to price and list our home, yet she still put our considerations first. Not only all of this but she also knew how to explain and teach us the processes (listing, photos, showings, inspections, and closing), realty jargon, and concepts to us in a way that we understood. This is how you tell when someone knows what they are doing and talking about! They can break it down for someone completely unknowledgable and unfamiliar with something in a way they can learn it.
Finally, and this is the most important one, is that we truly felt like she was here to help us. Not to make a quick buck, another number, and/or get recognition. In fact, we found that this was the core of her philosophy as a realtor. She's here to set a new standard for the field of realtors and while it may take some time for her to achieve that, she's off to an amazing start and we'll see a shift in how realty is done sooner than we know!
I could go on for days about what was great about Virnisha but her actions as your realtor will speak for themself!
Shawn T.
Nisha was AWESOME! We couldn't have asked for a more AMAZING realtor to find the perfect fit for our family. She genuinely cares about her clients and is not one of those realtors that's just in it for the commission. She actually took the time to get to know us to see the must have in the house we were looking for. If you are married…. You know you and your spouse may not always agree what those things are. Nisha made it easy by taking both views into consideration and making it work. Essentially, she was our mediator. If you want someone who is loyal, honest and genuine, she is the right person for you. She was with us start to close and even worked the day before her wedding to see our inspection through. If we were worried about something or the anticipation gets your nerves going….she was knocking on doors or calling until she gets you an answer. You cannot get anyone more dedicated and loyal than that. Thank you, Nisha! For making this experience a less stressful and AWESOME experience in finding our new home.
Danielle A.
Virnisha is everything and more we could have ever asked for in a realtor! She made our first time home buying process so enjoyable. She went above and beyond to invest all of her time, energy, and skills in order to help us find our perfect home. She has the best communication skills, she is so knowledgeable about the home buying process, and she works all hours of every day to fight for the house of your dreams. She was always a text or phone call away. We truly felt like she was on the journey with us and for us. We feel so lucky to have found her and worked with her. We couldn't recommend a better realtor!
Sarah A.
Nisha was always available when needed, she even responded to messages when she was away on her family trip: above and beyond. She was able to handle getting two homes sold and purchasing another.
Yakitta R.
We worked with Virnisha to buy a house sight unseen and she was fantastic through the whole process! She was always reliable and quick to answer any questions. You will not find a better realtor out there! Virnisha took care of us and fought to get us the best deal possible. She also ensured we signed a contract that was correct and safe for us. We will definitely call her next time we need a realtor!
Chase G.
More Testimonials